Las Vegas Attractions and Activities for the Family
Mixed in the adult glitz, glamour and gaming, there are plenty of things to do with kids in Las Vegas. Whether your kids are looking to go on rides, watch a performance, go on a hike or hang out above the city, Las Vegas has something for everyone. Below is a list of family activities for you to experience on your next family trip to Sin Kid City.
Things to Do with Kids in Las Vegas on the Strip
Adventuredome Theme Park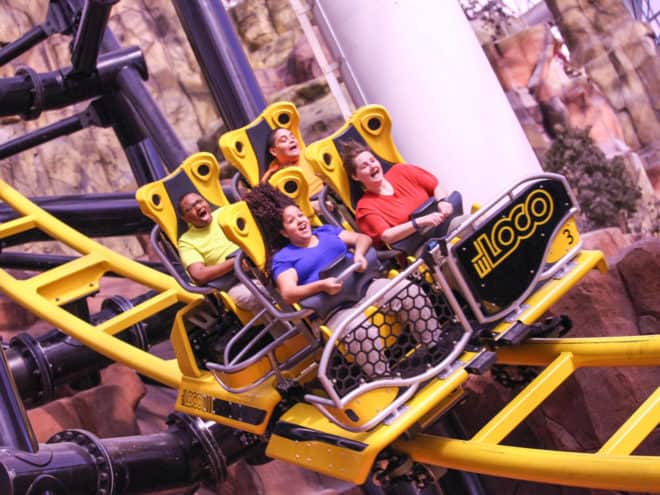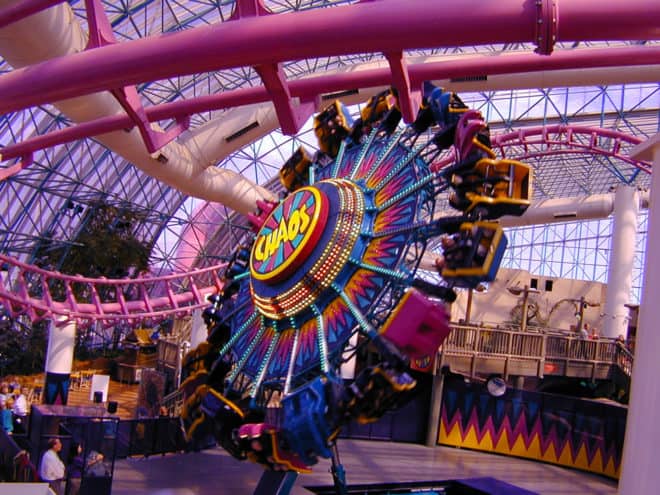 Situated under a massive pink dome behind Circus Circus, this five acre indoor theme park is a great place for kids and adults to enjoy rides and games all year long. The theme park offers rides for every age and range from family and kid rides up to thrill rides and roller coasters. To go along with all of the rides, there are fair games, arcades, miniature golf and a 4-D movie adventure. It costs nothing to enter and only costs to ride and play. If you plan on spending some time at the theme park, we recommend getting the all day ride pass. The Adventuredome should be at the top of your "things to do with kids in Las Vegas" list. See our article on the family things to do at Circus Circus or visit the Adventuredome website for more information.
---
Conservatory & Botanical Gardens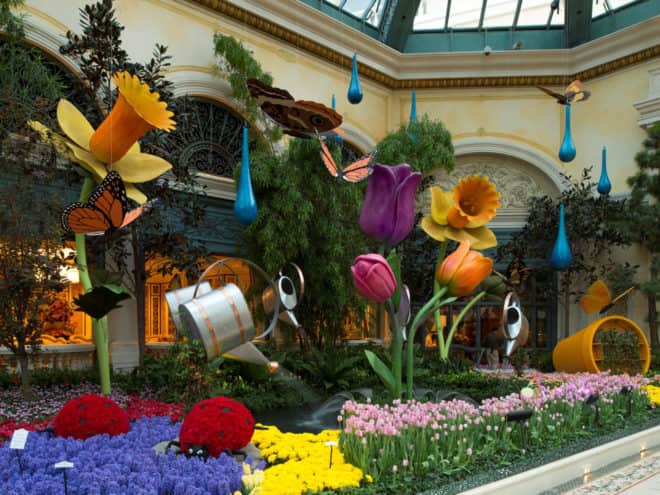 In a huge glass dome just past the lobby of the Bellagio Hotel is the Conservatory & Botanical Garden which has 120 horticulturists arranging stunningly beautiful seasonal scenes. These scenes use flowers, plants, trees and constructed pieces, like lighthouses, gazebos and bridges, to create unique visual scenes. Along with the season scenes, the Bellagio also changes the scenes for holidays. The Conservatory & Botanical Garden is open 24 hours a day, and is free to enter. The amazing scenes and the ton of photo opportunities should have you putting the Conservatory on your list of things to do with kids in Las Vegas.
---
Shark Reef Aquarium at Mandalay Bay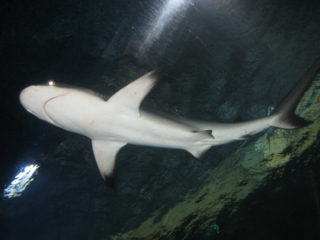 The Shark Reef at the Mandalay Bay brings you into the unique underwater world that is filled with dangerous predators. With 14 exhibits that feature 100 sharks, Piranhas, rays and crocodiles, as well as, the less intimidating exotic fish and sea turtles. The touch pool and the 1.3 million gallon shark exhibit with a walk through tunnel are the highlights not to be missed at the Shark reef. For more information, visit the Shark Reef Aquarium Website.
High Roller Observation Wheel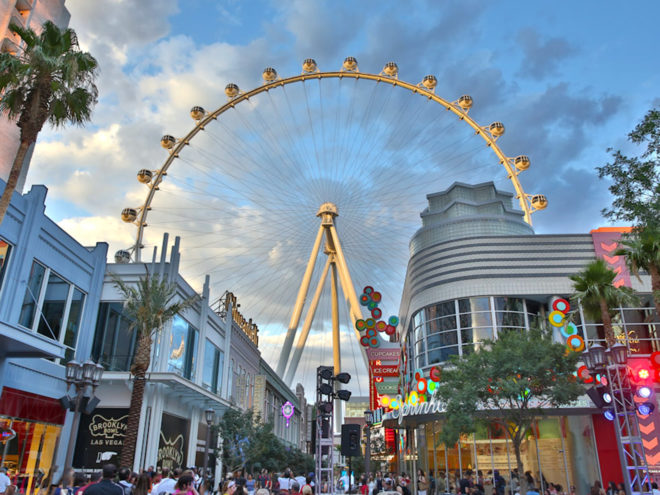 Towering high over Las Vegas Boulevard is the 550-foot-tall High Roller observation wheel, which is one of the world's tallest. The High Roller at The LINQ Hotel, gives riders an amazing view of the strip and far beyond. Visitors step aboard spherical glass-enclosed cabins that slowly rotate at one foot per second to give them a leisurely 30 minute ride to admire the 360-degree views of the city.
Gondola Ride at The Venetian

Winding through the Venetian Hotel are the man made canals where gondolas are guided through by a personal gondolier who sings you Italian songs during your ride. Our gondolier had a great voice, sang a wonderful rendition of "That's Amore" and rocked the boat which delighted our daughter. There is a choice of indoor and outdoor gondola rides and each gondola seats up to four people and last about 14 minutes.
---
See a Las Vegas Show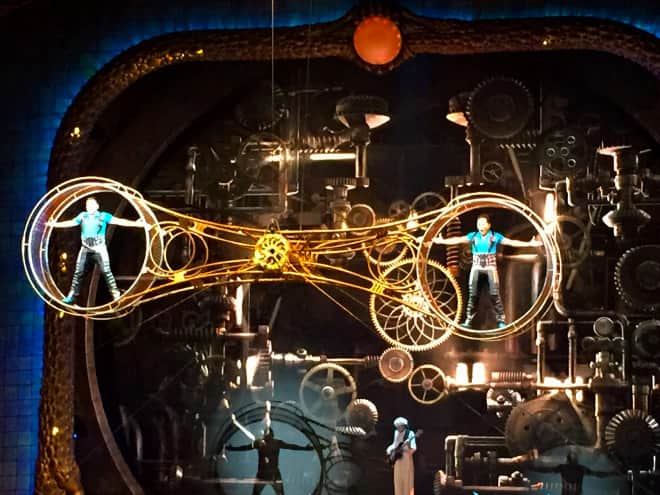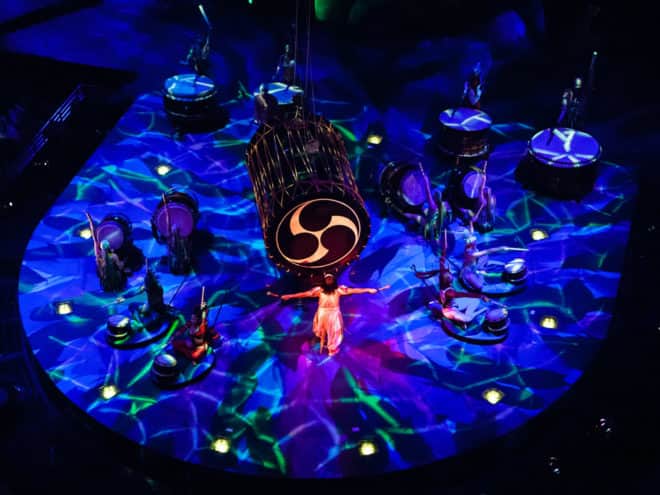 Known as the Entertainment Capital of the World, Las Vegas lives up to its nickname by offering an incredible variety of spectacular shows. While most of the shows are geared towards adults, Las Vegas does have plenty of shows that are appropriate for the whole family. Whether you and the kids are in the mood for a Broadway production, the magical world of Cirque du Soleil, celebrity headliners, magicians, comedians or variety shows – Las Vegas has what you are looking for. Our top recommended family friendly show in Las Vegas is Mystère by Cirque du Soleil, which is an amazingly beautiful show with non-stop breathtaking acrobatic and artistic acts. See our Best Las Vegas Shows for Kids and Family article for a list of the best kid friendly Las Vegas shows.
---
The Big Apple Coaster & Arcade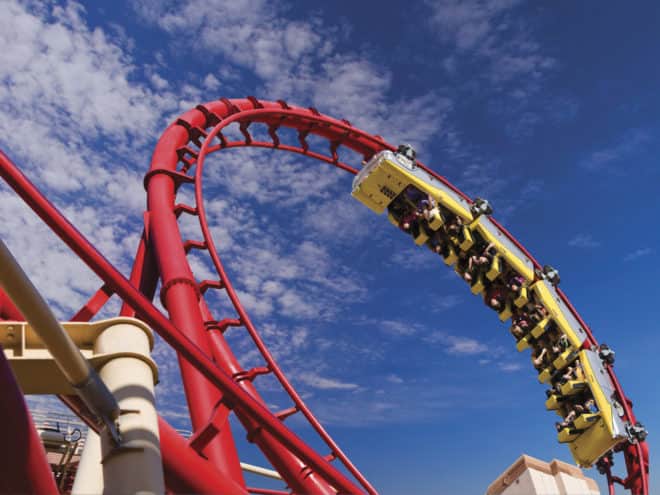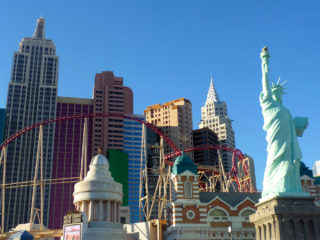 Winding its way around the outside of the New York New York Hotel, this roller coaster will give you and the kids a nice view (if you can keep your eyes open long enough) of the Las Vegas Strip. The Big Apple Coaster has an opening drop of 144 feet, speeding around the track maxing out at 67 mph and inverts you with a loop and 180-degree twist. Near the coaster entrance is the arcade which has video games and midway style carnival games.
---
The Eiffel Tower Experience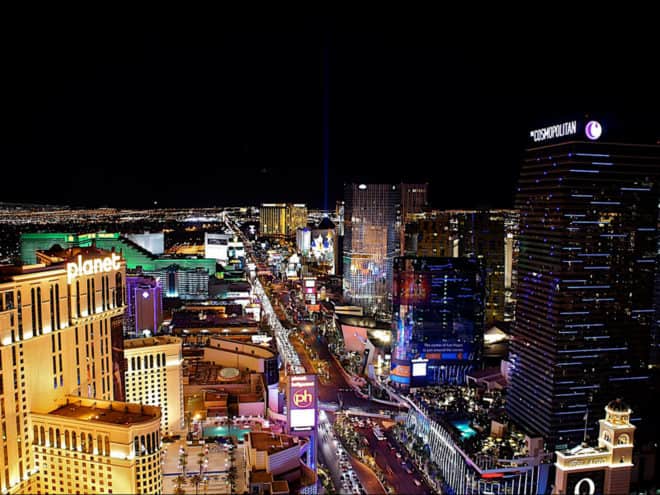 Outside of the Paris Las Vegas Hotel is the half scale replica of the Eiffel Tower. At the top of the Eiffel Tower is an open-air caged observation deck that offers amazing 360° views of Las Vegas. You start with a glass elevator ride up 460 feet above the Las Vegas Strip where you will get amazing bird's eye view of strip, the Bellagio fountains and the valley. Although it opens in the morning, the Eiffel Tower Experience is especially radiant at night when all the Vegas lights illuminate the city. Visit the Paris Hotel Website for tickets and more information. Do note that they do not allow baby strollers up to the observation deck.
Madame Tussauds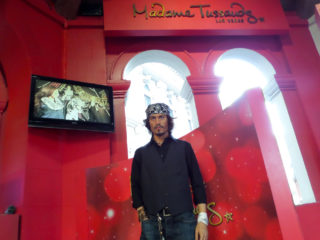 A short moving walkway ride from the Las Vegas Strip at the front of The Venetian Resort is Madame Tussauds Las Vegas. Have fun posing and interacting with the amazingly life-like celebrity wax figures situated in multiple themed rooms ranging from television and film to music and Las Vegas legends. Grab some of the props to become one with your favorite celebrity – throw on boxing gloves to go a round with Muhammad Ali, put on a cape and sit on Evel Knievel's motorcycle or grab the microphone on stage with The Rat Pack. For more information visit the Madame Tussauds website.
Marvel Avengers S.T.A.T.I.O.N.

At the Marvel Avengers S.T.A.T.I.O.N. (Scientific Training and Tactical Intelligence Operative Network), you and the kids can step off the Las Vegas Strip and into the world of the Marvel Universe. Guests participate in recruitment and training as a qualified station agent. On display is a variety of the Avengers equipment such as Iron Man's armor suits (including the Hulkbuster), Bruce Banner's laboratory, Captain America's shield, Vision's birth cradle, Thor's hammer, Ant-Man's helmet and Hawkeye and Black Widow's uniforms and weapons. This interactive and immersive experience will have you filling out your S.H.I.E.L.D. agent profile, answering questions through each superhero exhibit, watching videos, hoping on Captain America's motorcycle, experiencing Iron Man's Heads Up Display, facing off as a team in a fight against Ultron and much more. For more information visit the Marvel Avengers S.T.A.T.I.O.N. website.
Mirage Hotel Volcano, Aquarium and Atrium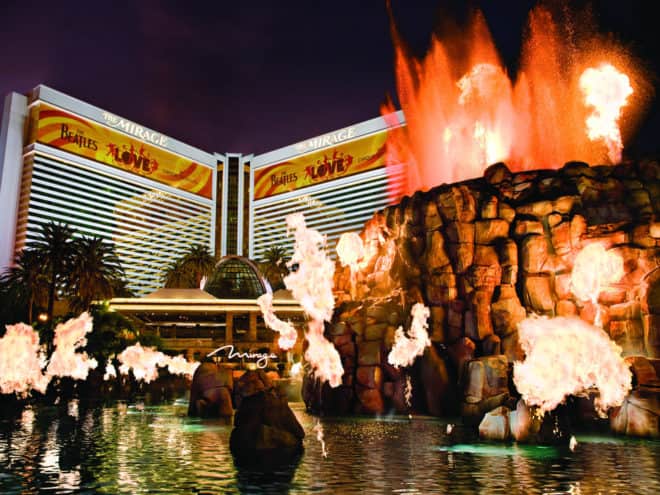 The Mirage Hotel and Casino has three great free attractions for the family to enjoy. Behind the front desk is a beautiful 20,000-gallon saltwater aquarium filled with artificial corals and around 450 tropical fish. Close by the aquarium in the lobby of the hotel is the rainforest atrium which has lagoons, waterfalls, lofty palms and beautiful plants. Out in front of the hotel is the volcano show which is a Las Vegas Strip icon. The Mirage volcano erupts nightly – 8:00 and 9:00 PM (and 10:00 PM on Friday and Saturday) – shooting fire in the air and spewing smoke with thunderous sound effects. See our Mirage Hotel attractions article or visit the Mirage Hotel website for more information.
---
The Wildlife Habitat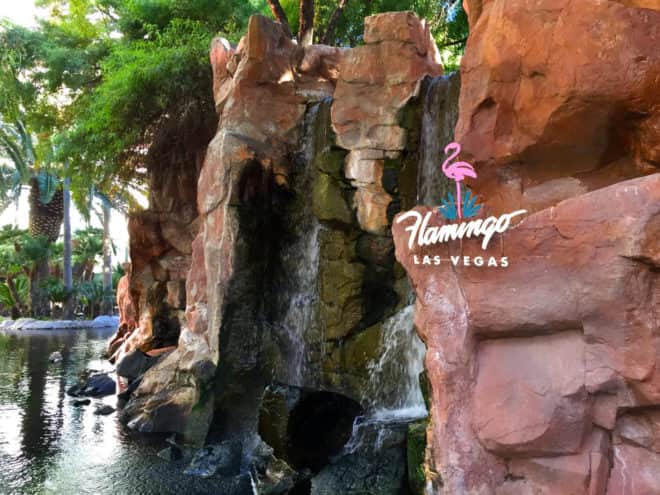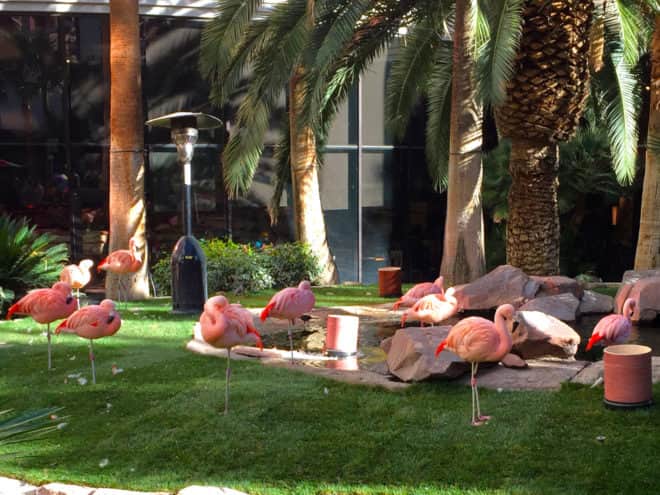 The Flamingo Hotel has a beautifully lush outdoor animal habitat that is unique, fun and absolutely free. Nestled in the lush wildlife habitat are the signature Chilean flamingos, turtles, koi fish, parrots and other exotic birds. Along with the animals is the wonderful environment with lovely foliage, waterfalls, fountains and ponds. The Flamingo Wildlife Habitat is open daily from 8 a.m. to dusk and they also have two live feedings every day. For more information visit the The Wildlife Habitat Website.
---
Siegfried and Roy Secret Garden and Dolphin Habitat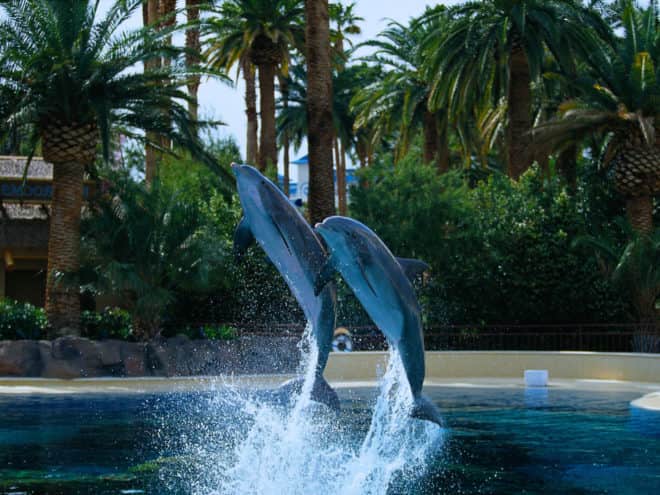 This animal sanctuary is located inside of The Mirage Hotel and Casino and focuses on dolphins and big cats. The Dolphin Habitat is a 2.5 million gallon tank that houses the bottlenose dolphins and is surrounded by lush foliage and palms. There are no "shows", but there are times when the dolphins do tricks with the trainers. There is also an underwater viewing which is a great place to watch the dolphins play and interact with one another. The Secret Garden is where the variety of big cats are housed. Among the beautiful greenery and waterfalls you will see panthers, tigers, leopards and lions. Not only will the kids have fun watching these animals, they will also learn about them.
---
Circus Acts and Carnival Midway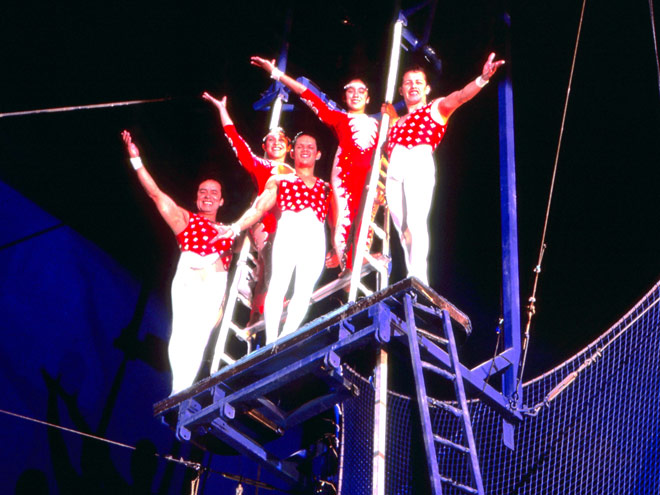 Circus Circus Las Vegas Hotel has a variety of free circus acts that perform daily starting at 11 a.m. at the center stage of the Carnival Midway. Some of the circus performances you will see there include flying trapeze, juggling, aerial silks, slack wire, circus clowns and much more. Before and after the circus acts, you and the kids can enjoy playing carnival type games to win prizes at the Carnival Midway. The circus acts will definitely entertain the kids and should be on your short list of things to do with kids in Las Vegas. See our article with more details and other fun things to do at the Circus Circus Hotel.
---
Bellagio Fountains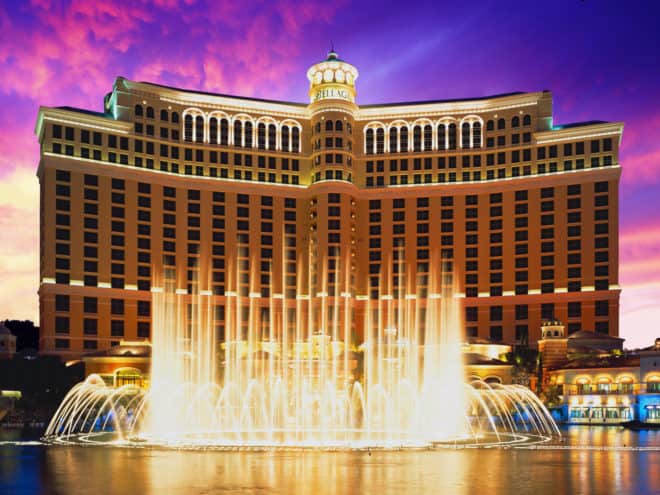 Outside of the Bellagio Hotel is a huge man made lake that has over a 1,000 fountains which provide a wonderful show of choreographed dancing water, lights and music. Watch geysers shoot lit water hundreds of feet in the air while listening to the music it is in sync with. The free shows take place every half hour until 8 pm and then every 15 minutes until midnight. Visit the Bellagio Hotel Website for show times and more information.
---
Tastes of the World at the Coca-Cola Store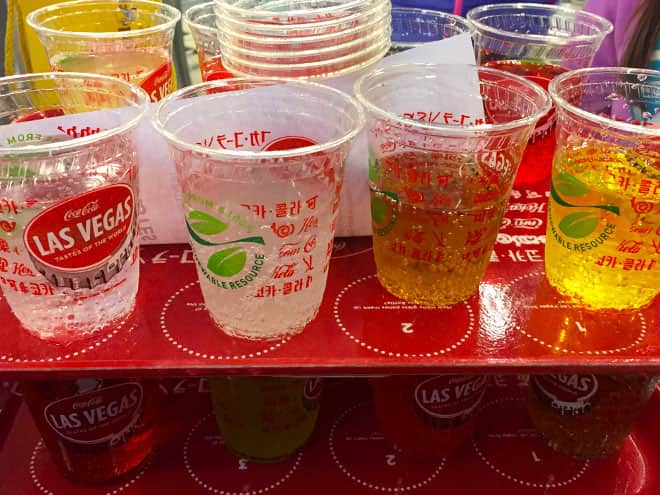 Just north of the MGM Grand on the Strip is the Coca-Cola Store, a.k.a. Everything Coca-Cola, which has a vast array of Coca-Cola brand apparel, accessories, housewares and other novelty items. Shopping for Coca-Cola merchandise is not what got the store added to our list of things to do in Vegas with kids.
The second floor of the store has a beverage bar and seating area where you can order an Around the World Tray. These tastes of the world trays consists of two trays of eight (sixteen total) sodas that are popular soda drinks from various parts of the world. Along with the soda trays you get a list of all the drinks and what country they are from. It is a whole lot of fun, especially for the kids, to try various drinks from different countries. Make sure to share your sodas with everyone to lighten the sugar overload. See our Tastes of the World at the Coca-Cola Store article for more on this fun family activity, the drink menu and store information.
---
M&M's World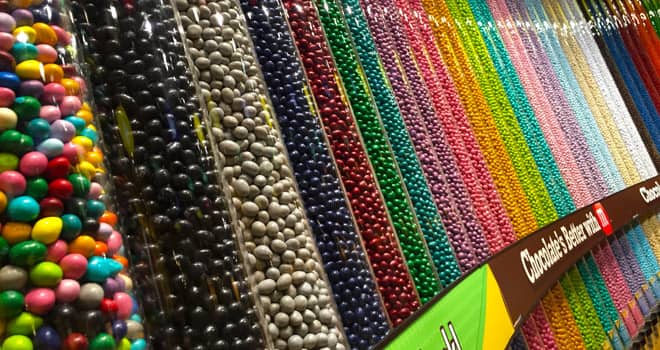 Next door to the MGM Grand is M&M's World which is four stories of candy and M&M gift items. The floors are filled with M&M themed mugs, luggage, stuffed animals, clothes, cookware, office supplies and a whole lot more. They have an area where you can personalize your own M&M's and watch them being made as well as an area called "M&M's My Color" that has a wall with dozens of tubes filled with different color M&M's that you won't get out of a regular bag. It is a fun place to find gifts to bring back home, your kids will have a blast looking around and you can expect that they will want to buy something whether it is candy or a souvenir.
Things to Do with Kids in Las Vegas off the Strip
Grand Canyon Helicopter Tour

Although this is the most expensive activity listed here, our helicopter tour is our number one experience on our "Things to Do with Kids in Las Vegas" list. We have been on a few helicopter flights in Vegas that ranged from short tours over the Strip to the amazing flights that soar over and into the Grand Canyon. Our favorite tour is the Grand Canyon Helicopter Picnic Tour from Sundance Helicopters.
Our tour started with a limo ride to the airport, hopping aboard the luxurious touring helicopter, flying over the Mojave Desert, Hoover Dam, Lake Mead and then following the Colorado River into the Grand Canyon where we landed for a picnic. What a wonderful family experience this was and we highly recommend adding this to everyone's Las Vegas bucket list. See our Grand Canyon Helicopter Tour from Las Vegas article to see pictures and details of this amazing experience.
Valley of Fire State Park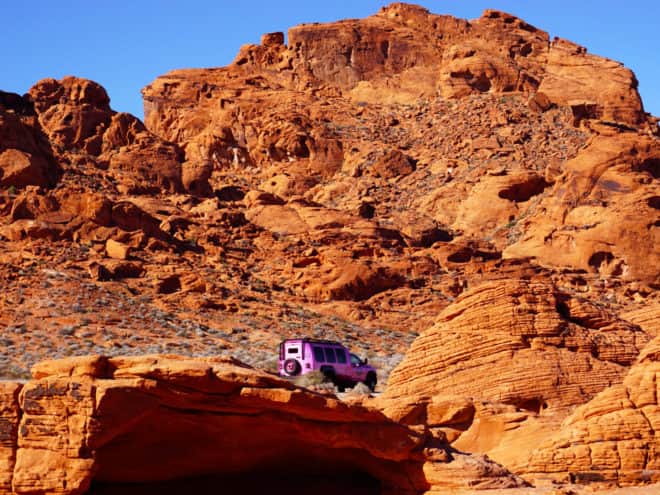 About an hour's drive northeast of the Las Vegas Strip is the Valley of Fire State Park, which is perfect for a family day of exploring and hiking Nevada's largest state park. The Valley of Fire is filled with naturally beautiful points of interest around every turn and can easily fill your day exploring its wonders that formed millions of years ago.
Our family took a tour with Pink Jeep Tours as we wanted a guide to show us around for our first visit to the state park. Our day tour was amazing and we saw many points of interest that we wanted to see along the way, which included visits to the Beehive, Rainbow Vista, Arch Rock, Atlatl Rock, Elephant Rock, Balanced Rock, Gorilla Rock, The Cabins and much more. Spending a day at the Valley of Fire State Park was a unique and wonderful family adventure and we highly recommend adding it to your itinerary.
---
Bootleg Canyon Ziplines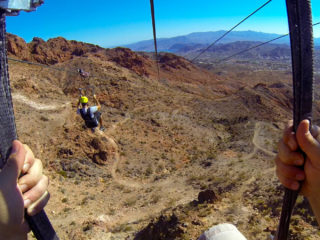 Just outside of Las Vegas in the red mountains high above Boulder City is an outdoor adventure that you and the family will love. Flightlinez Bootleg Canyon has four separate zipline runs that cover over 8,000 feet of the Mojave Desert and can reach speeds of up to 60 MPH.
Your adventure starts off with the zip line safety flight school before hoping aboard your bus for a scenic ride up the canyon. Once at the top of the mountain, your tour group will take a short hike through the canyon to your zipline launch platform. Once everything is all set up by your zipline tour guides and you are all strapped in, you will be launched and sent soaring high above the canyons at thrilling speeds. During your three hour zipline tour from the mountain heights, you will get great aerial views of the Las Vegas Strip, Lake Mead and Boulder City. See our article, video and pictures on our Flightlinez Bootleg Canyon zipline adventure.
---
SlotZilla Zipline and Zoomline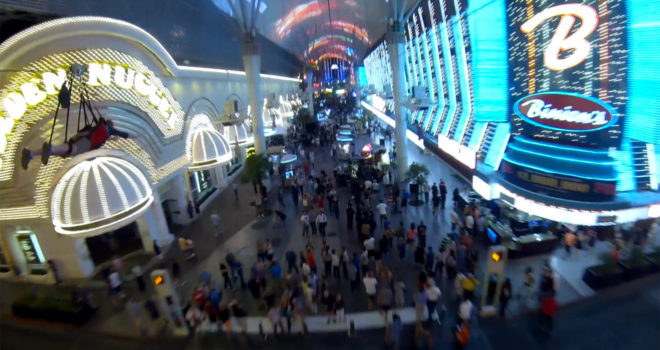 If you and the family are looking for some unique thrills and excitement, then head on over to Downtown Las Vegas to ride the SlotZilla Zipline and Zoomline. Just east of the Fremont Street Experience is a massive 12-story slot machine shaped launch tower that has two zipline options to choose from.
The SlotZilla Zipline has riders in a seated position and launches you from 77ft above the street and lands you half way down Fremont Street, between the Fremont and Four Queens casinos. If that's not enough of an adrenaline rush for you, there is the SlotZilla Zoomline which launches you in a prone (flying superhero) position from around 10-stories high, at speeds up to 40 MPH and travels the entire distance of the Fremont Street Experience.
Why walk down Fremont Street when you can fly over it on a zipline. Try it at night during the Viva Vision light show to make it an extra special ride. See our article on the SlotZilla Zipline and Zoomline for more information as well as the GoPro video of our ride on the SlotZilla Zoomline.
---
VooDoo ZipLine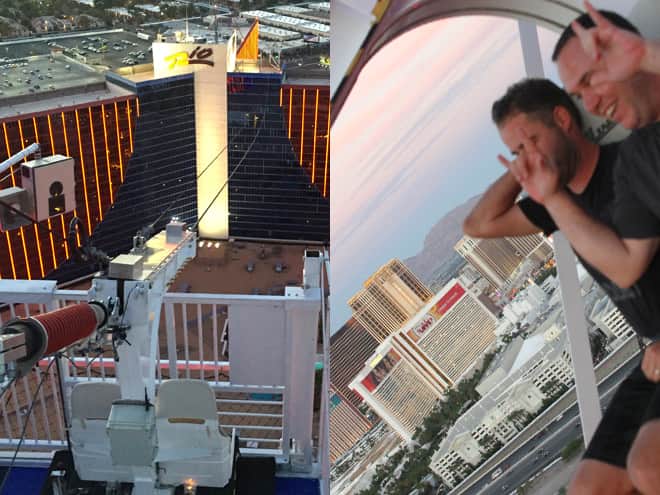 If you are looking for a pure adrenaline rush, the VooDoo ZipLine will oblige by giving you a mix of speed and towering heights. Starting from the VooDoo Lounge, which is on the 51st floor of the Rio Hotel, the VooDoo ZipLine will send riders soaring higher than 500 feet in the air and at speeds of up to 33 miles per hour. This zipline starts with a fast 800 foot downward ride over to the Ipanema tower and then a slower 800 foot return trip going backwards. Don't think the slower return trip is any less scary than the faster initial ride.
We recommend the VooDoo ZipLine for those families with kids (pre-teen +) who are looking for a fun and hair raising ride high above Las Vegas. Before and after your zipline ride, the family can hang around the lounge area on the 50th floor and take in the lovely views of Las Vegas and the Las Vegas Strip. For more information visit the VooDoo ZipLine Website.
---
Red Rock Canyon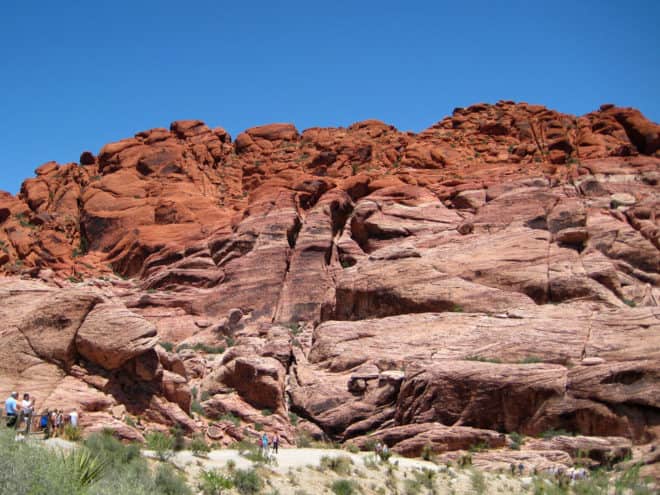 Red Rock Canyon is a beautiful place for families to enjoy the Nevada desert and is only about 22 miles west of the Las Vegas Strip. For a nominal entrance fee, vehicles can drive the one-way 13-mile scenic drive and stop along the way at the 26 numbered hiking trails and rock climbing areas. Hiking trails range from easy to strenuous, but each family should find plenty of places along the way for kids and adults alike to hike and climb.
---
Dune Buggy in the Desert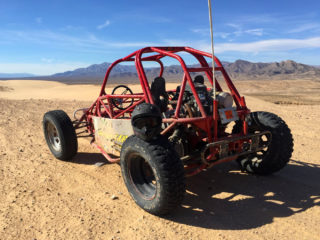 The Las Vegas desert provides the perfect place for families to get out of the city, strap into a dune buggy (or an ATV) and go wild. Just about a half hour drive north of the Las Vegas Strip is SunBuggy Fun Rentals which offers a variety of off-road experiences that range from the casually paced tour to the high-speed aggressive chase runs. We chose the most popular Vegas Mini Baja Chase, which is fast-paced 60 minute dune buggy run where you follow (or try to follow) your expert dune buggy guide as they carve up the desert.
We drove our fast buggies over dunes, sideways up the hills, through gravel & creek beds and so much more off-road fun. Your older teens with a valid driver's license can drive themselves or your younger kids can be a passenger while you drive. The younger passenger kids will enjoy the experience just as much as they get all the ride excitement without any of the driving task. With 15,000 acres of Las Vegas desert terrain to drive through and each tour guide making their own paths, you and the family will have a unique full throttle adventure. SunBuggy has options for one, two and four person dune buggies, day or night tours as well as a Family Fun Romp tour with your whole family in the same vehicle.
---
UTV Off-Road through the Desert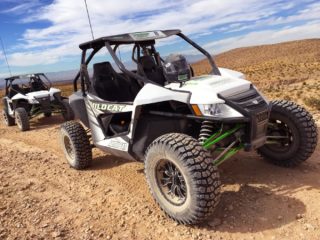 Another unique off-road experience is tearing through the Las Vegas desert in a UTV. Unlike other off-roading vehicles, the UTV (Utility Terrain Vehicle ) doesn't need a clear trail to follow. These 2 and 4 passenger side-by-sides have a mix of speed and off-road agility, which gives you the freedom to go outside the trails and take on the most daring off-road courses.
We booked a two hour off-road tour with Desert Off Road Adventures, which had us driving our 2-seat Arctic Cat Wildcat far into the desert. Our off-road tour had us following our tour guide in the lead UTV and we were followed by the chase UTV behind us, so we were covered. This 2 hour off-road adventure took us well beyond where we have driven before.
Following our lead driver, we sped down the desert trails, easily drove over rocks and uneven roads, climbed and descended the steep hillsides, weaved through the sandy dunes, squeezed through hillside openings and just about everything else the desert threw at us. It was quite an exhilarating adventure where every twist and turn gave us something new to tackle. The Arctic Cat UTVs that we drove were super easy to drive and have a four point harness system and a roll cage for safety. To drive on the tour, you must be 16 years old and have a driver's license and passengers must be at least 12 years of age.
---
Hoover Dam and Colorado River Float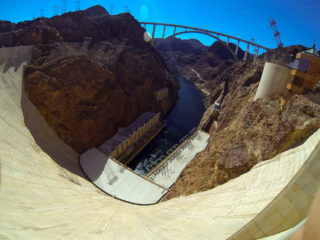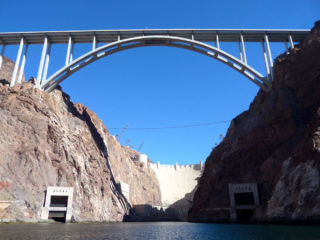 The Hoover Dam is a wonderful place to take the family to learn about its construction, see how it operates and to take in its awe inspiring views in and around the dam. To make the trip to this National Historic Landmark even more amazing we recommend booking a tour that includes the Colorado River float. The river float has you boarding a motorized inflatable raft at the base of the Hoover Dam and giving you and the kids a close-up, unique and beautiful view from the bottom of the dam as well as a float down the river. Our half day Hoover Dam tour with Pink Jeep Tours included a drive to and from Las Vegas in their pink luxury off-road vehicle, a 20 minute river float, the Hoover Dam tours and some free time to explore the dam and its surroundings.
---
Vegas Indoor Skydiving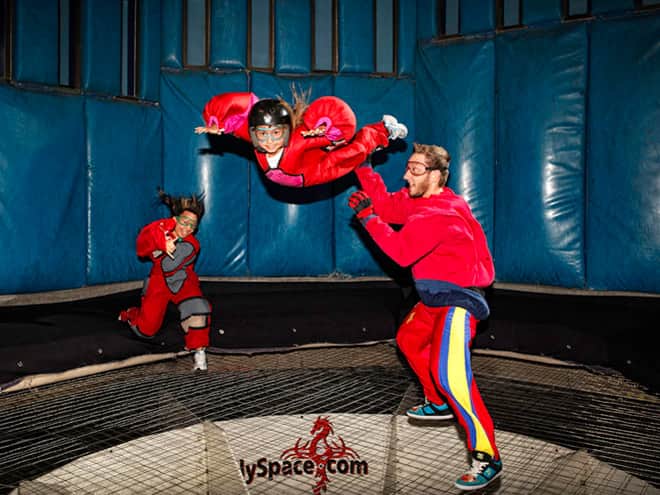 While jumping out of a plane might scare you and is something you would never do with your little kids, indoor skydiving is a great alternative that the whole family will really enjoy. Adults and kids alike can get the adrenaline rush of the free fall experience in a vertical wind tunnel that churns out 120 mph winds. Floating, flying and falling are all part of the fun in this unique experience that is minutes away from the north end of the Las Vegas Strip. See our article on our Vegas Indoor Skydiving experience.
---
The Pinball Hall of Fame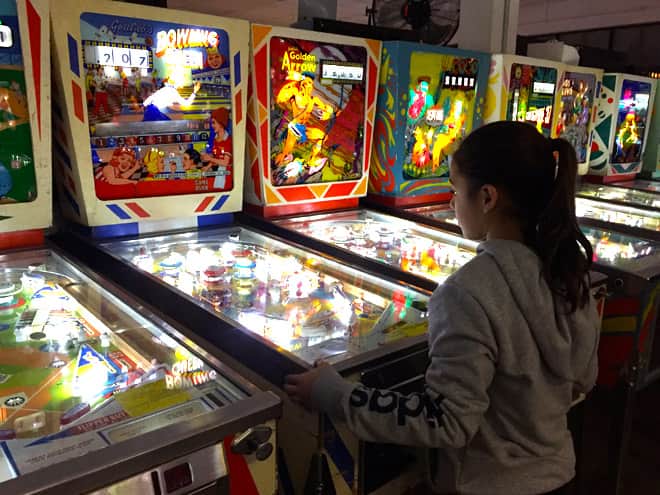 The Pinball Hall of Fame is a large play space with over 200 pinball and vintage arcade games. This non-profit "museum" has aisles and aisles of fully restored pinball machines from the 1950s to the 1990s and arcade games from the 80s and 90s. Adults can play some of their favorite childhood games while introducing their kids to a whole new set of games that they most likely have never seen before – unless in app form. With games costing 25¢ to $1 per play, the whole family can have fun without spending a whole lot of money. The Pinball Hall of Fame is a very short drive from the Las Vegas Strip and has ample free parking.
---
Container Park & Treehouse Playground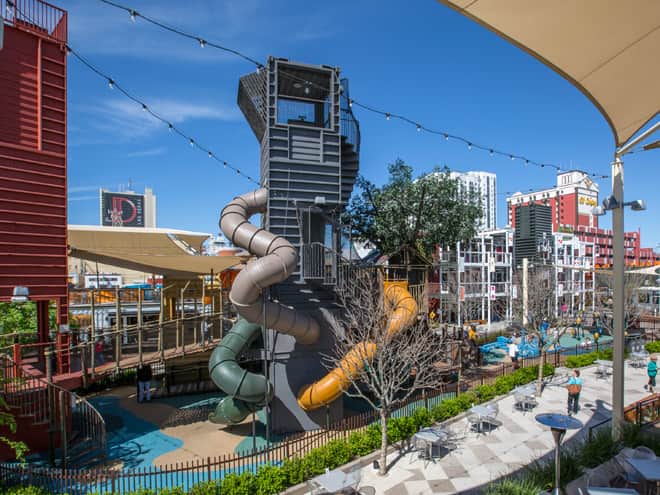 Just a couple of blocks over from the Fremont Street Experience is Container Park, which is a unique and family friendly open-air mall made from shipping containers. There is a variety of restaurants, boutique shops, entertainment and a great interactive playground for the family. The playground has a huge Treehouse with a 33 foot slide, bridges, an interactive NEOS play system and foam building blocks. At the entrance of Container Park, everyone will get a kick out the 35 foot tall praying mantis sculpture that shoots flames from its antennae. There are also free live concerts, kid friendly events and seasonal family movie nights and holiday celebrations. Visit the Container Park website for restaurant, shop, event and other information.
---
Pole Position Raceway

If you and the kids are seeking a bit of speed, this indoor go kart raceway will have you flying around the track at speeds of up to 45 MPH. Race on the large indoor race track against your family and friends on high tech electric go karts the blaze through the turns, curves and straightaway's. At the end each driver gets a printed SpeedSheet which shows your average lap time, fastest lap time as well as the overall race results. See our article on the Pole Position Raceway along with a GoPro video of one of our races.
---
Wet 'n' Wild Las Vegas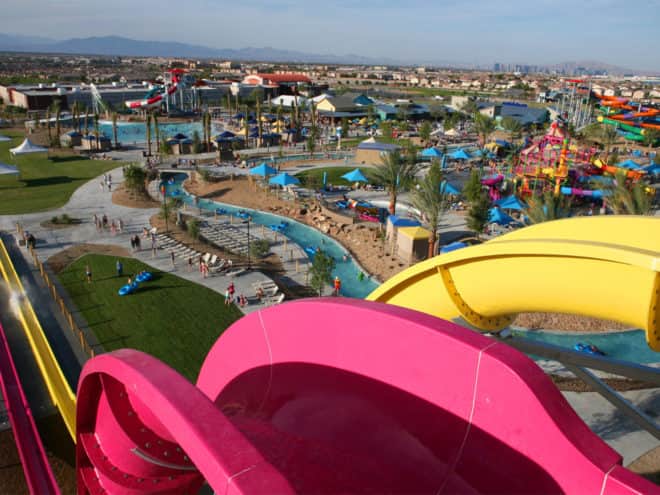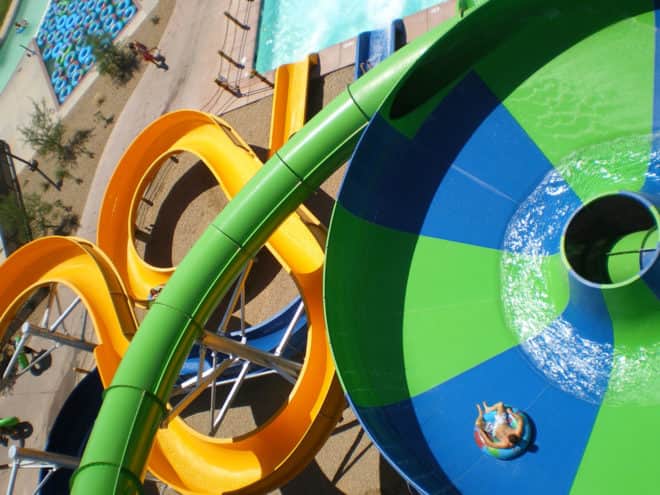 About 15 minutes from the south of the Las Vegas Strip is Wet 'n' Wild Water Park which boasts more than 25 slides and attractions. This water park has many exciting slides for the older kids and adults looking for a thrilling ride, like the six story vertical drop slides of Canyon Cliffs. For a slower pace there is Colorado Cooler, a 1,000-foot lazy river and the Red Rock Bay wave pool. For the younger kids there is Splash Island which has kid friendly slides, fountain streams and a giant dumping bucket. For more information visit the Wet 'n' Wild Las Vegas website.
---
Shops of Pawn Stars & Tanked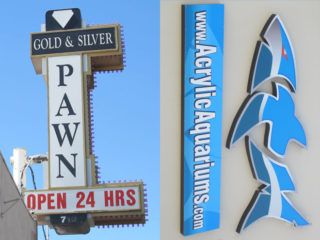 If you are a fan of the reality shows Tanked or Pawn Stars, then visiting the Las Vegas shops where the shows take place might make for a fun day with the kids. The Gold and Silver Pawn Shop from Pawn Stars in just north of the Stratosphere Hotel. After a wait to get in to the pawn shop, you will step foot into familiar TV land. You will see a lot of other visitors, more folks buying souvenirs than pawned goods and, most likely, the non-TV staff of the shop. Even without the stars of the show there, it is fun just being in the shop and seeing items that you watched them buy in an episode.
Acrylic Tank Manufacturing from the show Tanked is just a few minutes off the strip and is a less glitzy and touristy. Although we can't guarantee you will see anyone from the show, we were fortunate enough to meet with Brett who was super nice and gave our daughter a picture signed by the staff. See our article on our visit to Pawn Stars and Tanked shops for more information and pictures.
---
Silverton Aquarium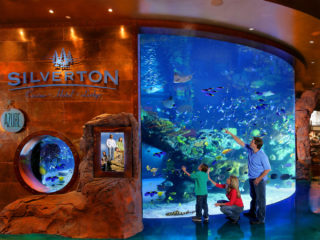 A short drive south of the Las Vegas Strip is the Silverton Hotel and Casino, which has a great free aquarium for the kids to enjoy. The 117,000-gallon reef aquarium has over 4,000 tropical fish along with stingrays and sharks. The aquarium also features stingray feedings and live mermaid shows. A few steps away from the tropical aquarium is a fresh water aquarium that is filled with koi fish. See our article on the Silverton Aquarium for more pictures and details from our visit.
---
Las Vegas with Kids – A Vacation Guide with Travel Tips

See our complete Las Vegas with Kids Guide, with our categorized lists of Las Vegas' top family friendly activities, attractions, restaurants, hotels, kid friendly pools, and family shows. Our all-in-one family guide will help you plan that perfect Las Vegas vacation with your kids.
Also, our Ultimate Las Vegas Bucket List article expands beyond this Things to Do with Kids in Las Vegas list with additional activities, experiences and sights that range from crazy extreme to mild and everything in between.
---
If you know of any family friendly things to do with kids in Las Vegas that we didn't list, feel free to leave a comment with your suggestion or email us.
---
Photo Credits:
Las Vegas Panorama photo courtesy of Mike Fard | Adventuredome, Shark Reef Tunnel, Big Apple Coaster, Mirage lobby, Dolphins, Trapeze and Bellagio photos are courtesy of MGM Resorts International | Venetian Hotel Gondola photo courtesy of Las Vegas Sands Corporation | Eiffel Tower Experience photo courtesy of Paul Mirfin | Indoor Skydiving photo courtesy of Fred Morledge | Wet 'n' Wild photos courtesy of Wet 'n' Wild Las Vegas | Silverton Aquarium photo courtesy of Silverton Casino Hotel