Family Friendly Restaurants Serving Great Food
The amount of places to eat in Las Vegas is pretty overwhelming and finding a restaurant with great food that is also family friendly can be a bit of a challenge. Below is a list of some of our favorite family restaurants on and off the Las Vegas Strip and our favorite dish from each place. We hope you enjoy our list of the best family restaurants in Las Vegas and we will be adding additional restaurants to the list from time to time. If we missed one of your family favorites, leave us a comment or email us with your restaurant choice.
Family Restaurants in Las Vegas – On The Strip
Shake Shack
The Shake Shack, which originated in Manhattan, has finally opened its first West Coast location in Las Vegas at, where else, the edge of Brooklyn Bridge right outside of the New York-New York Hotel. The restaurant itself has a very fun vibe, offers a nice variety of seating options for everyone and has an electric atmosphere. The menu at the Shake Shack is perfectly simple with burgers, dogs, fries, shakes, frozen custards as well as a nice assortment of drinks with even a few beer and wine choices. All of their made-to-order burgers are a truly amazing with a freshly ground, all-natural Angus beef patty, grilled potato bun, American cheese and their delicious ShackSauce which is a bit of everything – spicy, tangy, sweet and sour. While all of the burgers we had at the Shake Shack were heavenly, our favorite was the applewood smoked bacon topped SmokeShack burger. But, don't overlook their specials as their ShackMeister Burger, topped with crispy marinated shallots and ShackSauce, was a close second as our favorite. Add in a side of crinkle cut fries and a shake and you have one delicious meal that the whole family will love. The Shake Shack's burgers are definitely on our "Best Burgers" list and we will be stopping by every time we visit Las Vegas. Shake Shack Website
Favorite Dish: SmokeShack Burger
Hash House A Go Go
As far as locations go, Hash House A Go Go has got you covered with one restaurant on the strip, one off the strip and one in Downtown Las Vegas. Hash House A Go Go serves up farm fresh comfort food but with a fun twist on traditional recipes. Our family favorite is the Sage Fried Chicken & Waffles which has sage fried chicken atop a hardwood smoked bacon waffle tower with hot maple reduction. With hearty dishes like the corned beef hash skillet, bacon waffles and sausage gravy pot pie, you are sure to find something on the menu that you have been craving and will "hit the spot." Hash House A Go Go Website
Favorite Dish: Sage Fried Chicken & Waffles
Giordano's
For over 40 years, Giordano's has been serving up their famous stuffed deep dish pizzas in Chicago. Along with many other famous restaurants from other states, Giordano's opened a restaurant on the Las Vegas Strip. Located at the Grand Bazaar Shops at Bally's, Giordano's is on the second floor overlooking the shops and the strip. The restaurant has a great atmosphere, fun decor and most importantly, amazing food.
The menu has a nice variety of Italian classics along with some American dishes here and there. To start off our meal we tried a few of Giordano's starter dishes and were simply in love right away. A unanimous family favorite was "The Best" Tomato Bruschetta, which is what they aptly named it and the Cheesy Garlic Bread and Calamari were close behind. Our main dish was, of course, Giordano's famous Stuffed Deep Dish Pizza. The pizza pie had a thick flaky crust that was filled with layers of mozzarella cheese, sausage and pizza sauce with chunks of tomatoes. This is quite possibly the best pizza on the Las Vegas Strip. Topping off our meal were some delicious Cannolis and Tiramisu. We loved everything about Giordano's and highly recommend it for families looking for some great Italian food. Visit Giordano's Website for their menu, location and more information.
Favorite Dish: Stuffed Deep Dish Pizza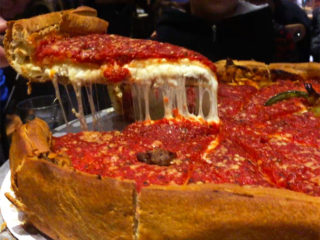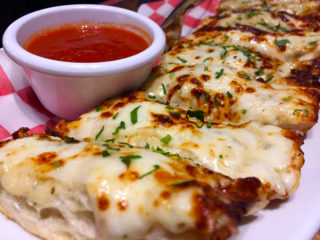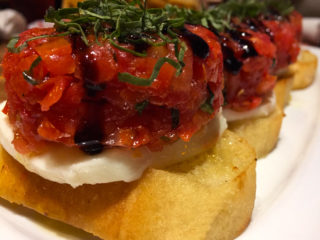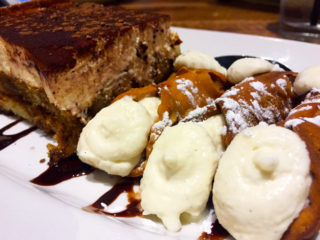 Gordon Ramsay BurGR
Mix the glitz of Las Vegas with celebrity chef Gordon Ramsay and you get BurGR, a casual burger restaurant with a gourmet twist. This brightly colored modern restaurant with Ramsay's mug on the walls and the menu has got a fun and electric atmosphere to it. The only downside is that your family will most likely have a wait for a table, but trust us; it will be worth your time. The burger patties are grilled over an open flame of apple & alder wood which give the burgers a unique and delicious flavor. The Farm Burger, Hell's Kitchen Burger and Blue Burger are our recommendations for the gourmet burgers and the Maui Onion Rings or the hand cut fries on the side will complete your mouth watering meal. If you or the kids are not in the mood for a burger, the restaurant has salads, devil dawgs, chicken wings or sliders and a Fish & Crisp Sandwich. If all that does not fill your family's tummy, they have a delicious Sticky Toffee Pudding and multiple pudding shakes. BurGR Website
Favorite Dish: Farm Burger and Maui Onion Rings
Bruxie
If you are a fan of chicken and waffles, then Bruxie is the place you need to go to feed your craving. If you never had chicken and waffles, then you are missing out on a great combination of sweet and salty goodness. Bruxie is a bit different than the traditional dish as they took their love for the dish and transformed it into one amazing sandwich. Yes, this casual eatery has a variety of chicken and waffles that start with crispy buttermilk battered fried chicken and a fresh baked waffle. Each creative sandwich adds in its own distinct ingredients to give you multiple tastes to try out. Our favorite sandwich was the Holy Chicken, which has a buttermilk fried chicken breast dipped in syrup, Sriracha mayo, apple smoked bacon, an egg over easy and cheddar cheese – WOW! Along with the sandwiches, Bruxie has breakfast sandwiches that are served all day, salads (we loved the buttermilk fried chicken cob), a variety of fried chicken dishes, dessert waffles, frozen custard and more. Since they have killer fried chicken and waffles, the kid's meals are not your ordinary blah blah kid's meal. Oh yeah, their chicken is all-natural and hormone-free chicken, but whatever! Visit Bruxie's website for menu and other information.
Favorite Dish: Holy Chicken and Waffle Sandwich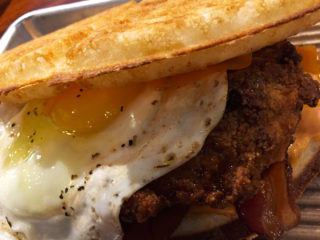 Le Village Buffet
Whenever we visit Las Vegas, we make time to have the breakfast buffet at Le Village Buffet at the Paris Hotel and Casino. The first thing you and the kids will love is the charming French village atmosphere of the dining room and the food stations. Among the food stations that are divided into the five provinces of France, you will find eggs with lox and asparagus, turkey sausage, waffles, croissants and pastries, sautéed potatoes and more. The Piece de resistance of the buffet is either the made–to–order omelet station or crepe station which allows you to choose from the dozens of choices of ingredients to add to your omelet or crepe. Delicious! See our Le Village Buffet review for more details.
Favorite Dish: Made-to-Order Crepes
Grimaldi's Pizzeria
Grimaldi's Pizzeria is a New York legend having served their famous pizza pies for decades at their original location under the Brooklyn Bridge. For those families heading to Las Vegas instead of New York for vacation, you are still in luck as Grimaldi's has opened up another pizzeria at The Palazzo Resort. Grimaldi's Pizzeria uses a coal brick oven pizza to give their pizzas a unique smoky flavor with a crispy crust that you just don't get at most pizzerias. The pizzas have fresh toppings and dough, handmade mozzarella and a great pizza sauce that all go along with their brick oven cooking to make one of the best pizza pies. We recommend the traditional (they also have white and pesto) pizza pie with the Italian sausage, but the cheese pizza on its own is amazing as well. For dessert we recommend either the Grimaldi's Famous Cannoli or the Tiramisu for a nice end to your family meal. See our Grimaldi's Pizzeria review for more details and pictures.
Favorite Dish: Traditional Pizza Pie
800° Degrees Pizza
Located at the Monte Carlo Resort, 800 Degrees Pizza strives to make you a thin crust pizza pie like they did in Naples over a 100 years ago. They start with dough that is made by hand, topped with fresh mozzarella, extra-virgin olive oil and your choice of toppings. Next your pizza is cooked in a stone hearth oven that burns almond wood at a minimum of 800 degrees and cooks your pizza in less than a minute and a half. The fresh ingredients mixed with the wood burning oven gives you a fresh and tasty pizza pie that is thin, slightly crispy yet chewy with a little smoky burn on the dough. We have enjoyed our pies with different toppings, but the simple and classic pizzas are our favorites. 800° Pizza Website
Favorite Dish: Margherita or Marinara Pizzas
Chin Chin Cafe & Sushi Bar
We have been dining at Chin Chin for over 15 years at their Los Angeles locations and for the past few years at its Las Vegas location located in the New York, New York Hotel. Chin Chin offers a variety of freshly prepared Dim Sum and other Chinese dishes as well as, sushi at its Las Vegas location. Our family loves the variety of dishes available and we have many favorites to choose from. A great starter is either some Dim Sum dishes or their awesome Chinese Chicken Salad. Our go to dish at Chin Chin is the Orange Chicken which is crispy and sweet and has not been outdone by any other Chinese restaurant. The other main dishes we love almost as much as the Orange Chicken, are the Tangerine Beef and General Tso's minus the chili peppers to make them kid friendly. Chin Chin also has a nice Kids Menu if your children are not fond of the dishes you order, but our daughter usually shares our meal with us. Chin Chin Website
Favorite Dish: Orange Chicken
Sprinkles Cupcakes
Sprinkles Cupcakes opened in Beverly Hills in 2005 and is now at over 20 locations across the US. We were very excited when they opened a shop in Las Vegas at The LINQ's outdoor avenue. Sprinkles freshly bakes and handcrafts the tastiest and coolest looking cupcakes we have ever had the pleasure of eating. The Las Vegas Sprinkles shop offers delicious cookies and ice cream in addition to their signature cupcakes. The store also has a Cupcake ATM on the outside that dispenses freshly baked cupcakes and cookies 24 hours a day. Sprinkles has a great variety of cupcake flavors with some, like Red Velvet, always being available and some being a seasonal flavor that can last one day to a month or longer. In a city where you are usually on the losing side of a bet, we think Sprinkles is a safe bet for you and the kids. Visit the Sprinkles website for menu and location information.
Favorite Cupcake: Vanilla or Birthday Cake Sprinkle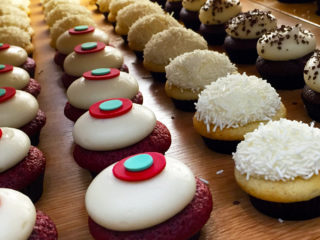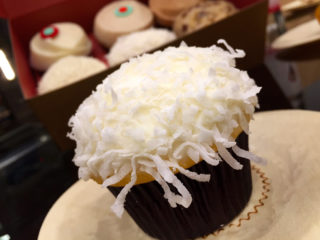 Earl of Sandwich
A great place for a quick and tasty meal is Earl of Sandwich which serves up hot sandwiches, wraps, salads, soups and desserts. We love both their breakfast and lunch/dinner sandwiches, so anytime is a good time to stop by for a meal. For breakfast they offer up delicious breakfast sandwiches like the Bacon, Egg 'N' Cheddar with a fresh cracked egg that is served on a mini artisan loaf along with other goodies like the fresh fruit yogurt parfait, muffins and oatmeal. For lunch and dinner Earl's hot signature sandwiches are a must. The sandwiches are served on a toasted artisan baked loaf with quality ingredients and are made to order. With so many great sandwiches to choose from each of us has our own favorite which includes the Chipotle Chicken Avocado, the Italian and The Earl's Club. Don't forget to try their delicious desserts which include fresh baked cookies, chocolate brownies (our favorite), cookie bites and many other sweets. For more details, see our Earl of Sandwich review.
Favorite Dish: Chipotle Chicken Avocado Sandwich
Family Restaurants in Las Vegas – Off The Strip
Texas de Brazil
This Brazilian steakhouse combines the delicious cuisines of Southern Brazil with the all-you-can-eat meals that Las Vegas is well known for. A rodizio-style restaurant has their guests relax at their table while a parade of carvers bring an assortment of slow-roasted and perfectly seasoned cuts of beef, lamb, pork, chicken, and Brazilian sausage by the table. Diners get to choose any or all of the variety of meats they wish to try and the Gauchos will carve slices off of their sword-like skewers right onto the guest's plate.
We love being able to experience their wide variety of dishes, which include such items as Filet Mignon, Brazilian Picanha, Braised Beef Ribs, Lamb Chops, Garlic Picanha, Brazilian Sausage, Chicken Breast Wrapped in Bacon, Brazilian Alcatra and many more. To accompany these wonderful meats are their delicious side dishes, which include Garlic Mashed Potatoes, Brazilian Cheese Bread, Sweet Fried Bananas (used to cleanse the palate in between dishes) and the 50 plus item salad bar area with meats, cheeses, veggies, soups and more. If you have any room left over for some dessert, Texas de Brazil has some decadent desserts like Brazilian Cheesecake, Brazilian Flan, Crème brûlée and Bananas Foster Pie. Parents will also appreciate that children 2 and under are complimentary, children 3-5 years old are $5 and children 6-12 years old are 50% off regular dinner price. We highly recommend Texas de Brazil for their great food, fun atmosphere and a great family dining experience. It is truly one of our favorite family restaurants in Las Vegas. Visit Texas de Brazil's website for additional menu and restaurant information.
Favorite Dish: Brazilian Picanha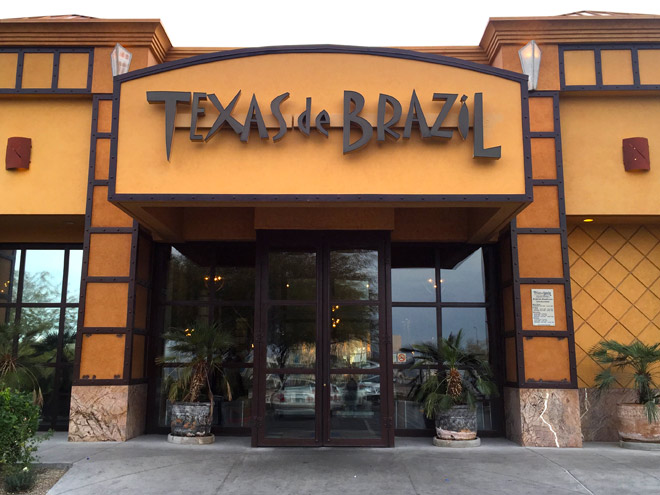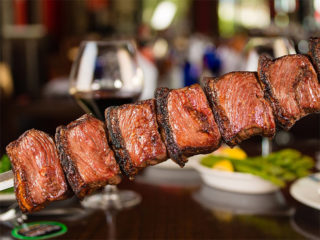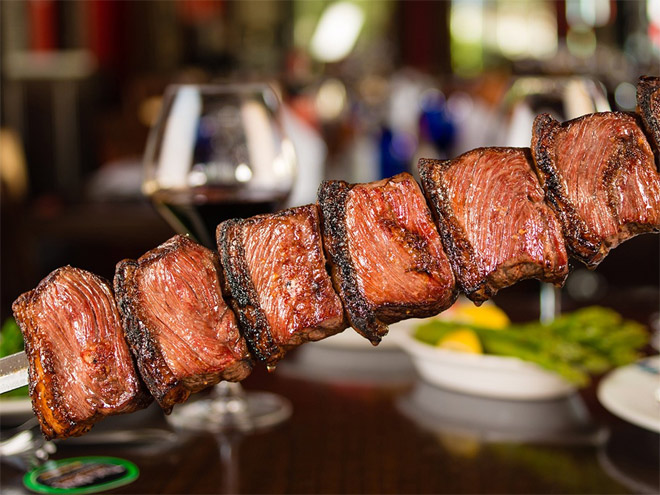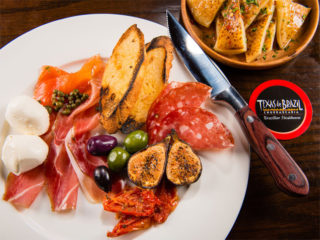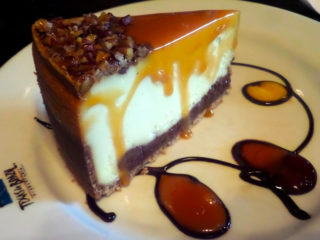 Rollin Smoke Barbeque
Rollin Smoke Barbeque is a casual down-home southern BBQ restaurant that hickory smokes their meats slow and low. The restaurant is a short hop away from the Las Vegas Strip in a ho-hum area, but quickly makes up for that with great food, a friendly staff and a nice atmosphere. Rollin Smoke's menu has a good variety of barbecued meats, seafood plates and sandwiches; all at a very reasonable price. Choose from tasty entrees such as ribs (beef, spare and baby back), barbecued chicken, sliced brisket and pulled pork. Throw in a side of bacon potato salad or corn nuggets and top it all off with their yummy desserts like Mama's Banana Pudding. If you and the family are looking for fall-off-the-bone smoked barbeque, then this is the place you have to eat at. See our Rollin Smoke Barbeque review for more details, pictures and our menu favorites.
Favorite Dish: Baby Back Ribs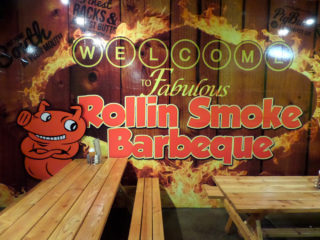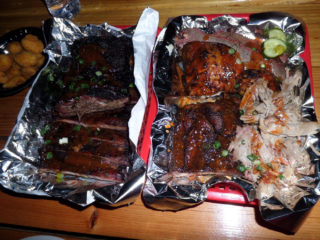 Du-Par's Restaurant and Bakery
Located in West Las Vegas at the Suncoast Hotel & Casino, Du-Par's Restaurant and Bakery serves up their food 24 hours a day. While we can't vouch for their lunch and dinner dishes, we can tell you that their breakfast and desserts are one of our family's favorites. Our favorite is without a doubt the amazing buttermilk pancakes that are the best we have had anywhere. Another family favorite, but not after eating the pancakes, is their "fresh baked daily" pies which are really delicious. The restaurant is tucked away in the corner of the casino which keeps the diner to itself and allows for a nice family meal. Du-Par's is also listed on our Best Family Restaurants in Los Angeles article for the same great food and being located at the landmark Farmers Market. Du-Par's Website
Favorite Dish: Stack of Buttermilk Pancakes
Egg Works
Egg Works has multiple locations in Las Vegas but none of them are on the Strip. The good news is they are not far away and when you do dine there, you get a more relaxed local vibe. This breakfast and lunch restaurant strays from the Strip restaurants glitz and glamour in favor of a casual down-home country feel. So why are we jumping in our car to leave the Las Vegas Strip for breakfast? Egg Works has an amazing variety of breakfast dishes that are freshly prepared and come in very generous portions at a bargain price. Our favorite dish is the Works Skillet Breakfast which comes with ranch potatoes, toast or homemade banana nut muffin and eggs with ham, bacon, sausage, mushrooms, onions, peppers and tomatoes. We also love their pancakes, country fried steak and biscuits and gravy. Egg Works Website
Favorite Dish: The Works Skillet Breakfast
Carnival World Buffet
The Carnival World Buffet is located at the Rio Hotel and Casino which is not far off of the Las Vegas Strip. This is one of our family's favorite buffets in Las Vegas because of its amazing variety of quality food dishes they offer. With over 300 dishes to choose from in a variety of food categories, there will be something for everyone in the family to enjoy here. Whether you are in the mood for seafood with shrimp and crab legs, Italian, Japanese food including sushi, fresh carved meats or Chinese dishes, the Carnival World Buffet has got what you are looking for. Don't forget one of the top dessert stations in the desert with freshly made gelato, cakes (might be the only buffet that has my favorite: German chocolate cake), pies and pastries. This buffet will truly cater to all the different tastes of any family member. Carnival World Buffet Website
Favorite Dish: Crab Legs and Shrimp
Fogo de Chão
If you and the family love dining at a great steakhouse, Fogo de Chão should be toward the top of your list when visiting Las Vegas. This authentic Brazilian steakhouse has their gaucho (Brazilian cowboys) chefs grilling many different cuts of meat and bringing them tableside to offer you a fresh cut portion. With options of their signature picanha steak, filet mignon, cordeiro (lamb), chicken, sausage, pork ribs, pork loin and others, you will enjoy sampling each to find your favorite. To complete your meal, Fogo also has one of the best salad bars anywhere (omg for their asparagus) and great side dishes like garlic mashed potatoes, pão de queijo or warm cheese bread, hot polenta and caramelized bananas. While Fogo de Chão is in the higher price range for a meal, families will love that children 6 and under are free while children 7 to 12 are half price. Fogo de Chão Website
Favorite Dish: Garlic Seasoned Picanha
Honey Salt
Honey Salt is a restaurant that combines a comfortable homelike dining room with a farm-to-table inspired menu. The restaurant is perfect for a family lunch but has a cool enough vibe for an adults-only meal, as well. The menus (brunch, lunch, dinner and kids) have something for all family members with items ranging from light and healthy to the more filling comfort food. With so many deliciously tempting dishes on the menus, you come to the realization that you will have to get other dishes on a subsequent visit. Our recommendations so far, would be the Biloxi Buttermilk Fried Chicken Sandwich, Ahi Tuna Tatar and the Grilled Scottish Salmon. The kids menu is a delight with kid dishes you'd expect to see on a regular menu like a cheeseburger, pasta with meatballs, pizza and such. However, Honey Salt has done a great job in creating a great mix of unique sides like grilled asparagus, fun drinks like the watermelon crush and creative kid desserts like the grow-your-own-sundae. The desserts at Honey Salt are not to be missed with the brown bag baked apple pie served with vanilla bean ice cream being a must order. Honey Salt Website
Favorite Dish: Biloxi Buttermilk Fried Chicken
Capriotti's Sandwich Shop
Although we have Capriotti's Sandwich Shop at home in Los Angeles, it doesn't stop up from stopping by when we are in Las Vegas to get one of our favorite sandwiches. Capriotti's was built for the turkey sandwich lover serving up real fresh roasted pulled turkey in their delicious signature sub sandwiches. First up is our favorite, the Cole Turkey sandwich that has slow-roasted turkey, provolone cheese, tasty cole slaw and Russian dressing. Our next favorite will bring the holidays to mind as The Bobbie sandwich comes with homemade turkey, cranberry sauce, stuffing and mayonnaise. No more waiting for thanksgiving to have those leftover turkey sandwiches. See our entire article on Capriotti's Sandwich Shop for more details.
Favorite Dish: Cole Turkey Sub
Which of the family restaurants in Las Vegas is your favorite? Do you know of a great kid friendly restaurant in Las Vegas that we didn't list? If so, leave us a comment with your suggestion or just email us.
---
Things to do with Kids in Las Vegas

In addition to enjoying a meal at these wonderful family restaurants, there are plenty of fun things to do with kids in Las Vegas. See our list of family friendly activities that you and the kids will enjoy together.
---
Las Vegas panorama photo courtesy of Mike Fard | Carnival World Buffet, Le Village Buffet and Gordon Ramsay BurGR photos are courtesy of Caesars Entertainment | Grimaldi's photo courtesy of Grimaldi's | 800° Degrees Pizza photo courtesy of MGM Resorts International | Fogo de Chao photo courtesy of Fogo de Chao | Honey Salt photos courtesy of Honey Salt | Capriotti's Sandwich Shop photo courtesy of Capriotti's | Garlic Picanha and salad bar pictures courtesy of Texas de Brazil