A List of Recommended Las Vegas Shows for Kids
Las Vegas is the premier destination for all types of top-notch shows. Whether you are looking for magicians, comedians, concerts, acrobats, celebrity headliners or elaborate stage productions, the Entertainment Capital of the World has got you covered. While many of the shows might not be suitable for your kids, Las Vegas does offer up quite a few family friendly shows that the whole family will love. We have put together a list of the best shows for you and your family to take in, on your next Vegas vacation.
Mystère by Cirque du Soleil
For over 20 years, Mystère has entertained audiences with its mix of visual beauty, acrobats, dance, suspense, comedy, music and its unique take on various circus acts. There are very few shows like this that emit so many different emotions in one show and that do it with such grace. With acrobatic performers amazing the crowd with acts on the trapeze, Chinese poles, aerial cube, bungee, trampoline and many others, there is plenty for everyone to enjoy. This was the first Cirque du Soleil show we ever saw and it is still one of our favorites after all these years. See more about the show on our Mystère Family Review.
The Beatles LOVE by Cirque du Soleil
Wow, let's take the music of one of the most iconic music bands in history and have Cirque du Soleil bring that music to life in their unique and magical way. That is what you get when you experience The Beatles LOVE by Cirque du Soleil show at the LOVE Theater in the Mirage hotel. With characters brought to life from The Beatles own songs, audiences will encounter Sgt. Pepper, Lady Madonna, The Walrus, Eleanor Rigby and many others along the way. The show is a non-stop celebration full of fun and energy that combines great music, jaw dropping visuals and the amazing artistic and acrobatic performers of Cirque du Soleil. This show has it all!
Michael Jackson ONE by Cirque du Soleil
Following the huge success of the "Michael Jackson: The Immortal World Tour" show, Cirque du Soleil opened the resident Las Vegas "Michael Jackson: One" show at the Mandalay Bay Resort. The show takes you on a 90 minute journey with over 25 songs that span decades of Michael's greatest hits. Just as Cirque has done with The Beatles, they have taken the legendary music, style and choreography of Michael and added in their amazing visual and acrobatic magic that immerses you in the wonderful world of the King of Pop.
O by Cirque du Soleil
This imaginative show brings you into the aquatic world of Cirque du Soleil and centers around a massive 1.5-million gallon pool. Along with the unique cast of characters that bring you through the story, you will see trapeze, high dive, aerial hoops, synchronized swimming and many other acts that are performed in, on, and above the water stage. To compliment the visuals which are like a work of art, O will amaze you as no other show can with performers rocketing through the sky, doing flips and spins before splashing down.
Jabbawockeez
We have been huge fans of the Jabbawockeez since rooting for them through the first season of America's Best Dance Crew. After a couple of stints headlining on the Las Vegas Strip, the hip-hop dance crew has moved into their new theater at the MGM Grand to perform their new show, JREAMZ, Journey Within. The Jabbawockeez, with their iconic white masks, have an incredibly energetic show with mind blowing synchronized dance routines, fun music and great visual effects. To go along with their dance routines is a fun and humorous interaction with their crowd. JREAMZ is a fantastic show that is sure to please both kids and adults alike.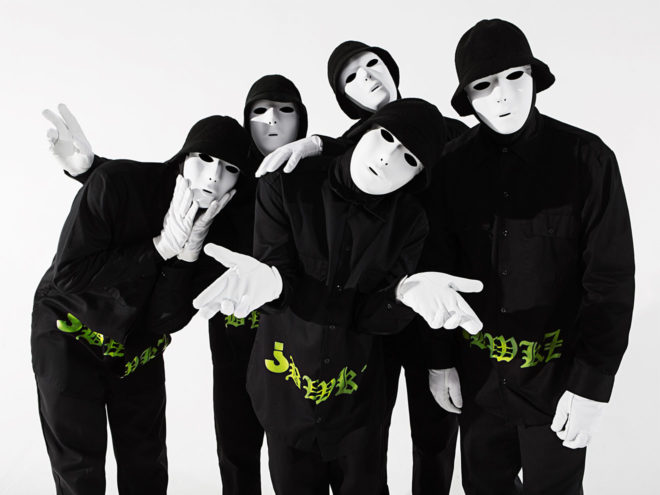 Mac King Comedy Magic Show
Mac King is a wonderful magician, with many awards, that is very quick witted and combines a laugh along with his amazing sleights-of-hand. The plaid suited magician is known for such illusions as casting out a fishing line over the heads of the audience and catching live goldfish out of mid-air. Mac engages the audience by taking volunteers which makes each show fun and unique. The afternoon shows of 1:00 PM and 3:00 PM and family friendly ticket prices only add to the reason to recommend it on this list of Las Vegas shows for kids and family.
Blue Man Group
The bald and blue painted trio of mimes have been performing in Las Vegas since 2000 and perform nightly in the Blue Man Theatre at the Luxor Hotel and Casino. The Blue Man Group has a variety of acts ranging from playing their uniquely invented percussion instruments to interacting with their otherworldly objects and the audience. This imaginative and kid-friendly show blends music, comedy, art and science into an auditory and visual treasure for the whole family.
Tournament of Kings
This dinner and show inside King Arthur's Arena at the Excalibur Hotel will transport you and the family back into the Middle Ages. A three-course Medieval feast of Dragon's Blood (tomato) Soup, Cornish Game Hen, Roasted Potatoes and more is served to you while you enjoy the show and cheer on your king. As you are seated, you are designated a country and a knight that represents you and your country in the tournament of kings. From jousting, sword fights, javelin throwing and hand-to-hand combat to dancing, singing, lovely maidens and eating with your hands, the Tournament of Kings will give you and your family plenty to huzzah about.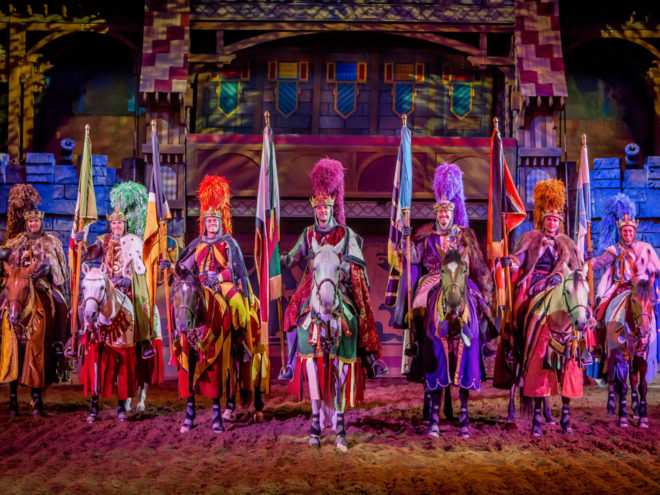 Gregory Popovich's Comedy Pet Theater
This fun and family oriented show features dogs, cats, birds and other everyday pets doing some exceptional things you don't see outside of an animated film. Gregory's furry cast of over 30 has been rescued from shelters and trained to perform the coolest animal tricks on the Strip. Not to be totally outdone by his animal friends, this fifth-generation circus performer (Great Moscow Circus and the Ringling Bros.) wows the audience with his European style juggling and balancing acts. The Comedy Pet Theater is fun for all ages and the afternoon show time is a great bonus for parents whose kids can't make it to a night time show.
Recycled Percussion
This show has played its final performance at the Saxe Theater in Planet Hollywood and is possibly eyeing a return to Las Vegas in the near future with a revamped show. – This fun and unique show combines junk rock music, comedy and an interactive experience where you can literally beat to the beat of your own drum along with the performers. Prior to entering the venue, you can choose a pot, pan, pie container or anything that makes noise along with a drum stick, where you'll be able to jump in on the performer's cue and become part of the performance. Kids and adults alike enjoy the show and its energy, but our suggestion would be for kids over 7 years old as it does get a bit loud.
Zarkana by Cirque du Soleil
Zarkana has been closed due to the convention center expansion at the Aria. We are hoping to see it find another Las Vegas home as it was a Cirque du Soleil family favorite. – With an international cast of 70 extraordinary performers, Zarkana captivates you with its kaleidoscopic visuals, beautiful music and its awe-inspiring circus acts. This Cirque du Soleil show is nonstop roller coaster of emotions that will have you and the kids laughing, gasping, cheering and everything in between. Some of the amazing circus acts that will have the family oohing and aahing throughout the show include the high wire with a ball of fire, the flying trapeze, russian bar acrobats, the cyr wheel, banquine (acrobats that perform aerial tricks) and our family favorite – the wheel of death. Zarkana is wildly entertaining and is easily one of our top show choices for a family to see in Las Vegas.
Circus 1903
Circus 1903 had a fun and successful limited time run, but is no longer performing in Las Vegas. – This very family friendly show transports you back to the golden age of the circus and reminds you why the big top ruled the entertainment world during that time period. The ringmaster takes the audience through a turn of the century circus journey that is filled with thrills and chills and breaks that up with hilarious interactions with the audience and his performers. The performers are truly magnificent as they pull off amazing feats that will have you on edge most of the time, especially when that long drum roll has you wondering how is it possible to do more than they already just did. Circus 1903 is one of the most entertaining family shows on the Las Vegas Strip.
---

In addition to catching a great Las Vegas show, there are plenty of other fun things to do with kids in Las Vegas. See our list of family friendly activities that you and the kids will enjoy together.
---
We hope our list of Las Vegas shows for kids and families helped you find that perfect show for your vacation. As we find more Vegas shows that we think families will enjoy, we will be updating the list. Please check with the show web sites for information on the show content as we use the term kid loosely and not all content is appropriate for all ages.