Mystère – One of the Most Entertaining Las Vegas Shows
Cirque De Soleil outdoes itself with this amazingly fun and kid-friendly presentation of Mystère. This featured presentation has been running strong for years at its permanent home in the Treasure Island resort. This phenomenal fantasy presentation is still as popular as it was when it first debuted in 1993.
Full of color, laughter and over the top acrobatic sequences, Mystère does not disappoint! From the moment you enter the grand performing auditorium, to the very last minute of this 80 minute show, all you can do is either laugh, be entertained or be totally amazed by such talented dancers and performers.
The choreography was amazing and the costumes stunning! From the very first performer that takes the stage, to the enormous snail float that ends the show, Mystère offers you a great performance hands down and it is a sure win for you and your family!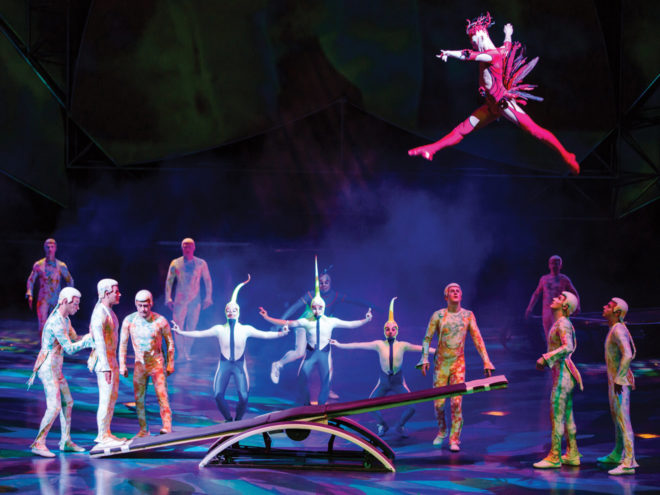 Lets talk about the acrobats. They earn an OMG! from me. Yup. They all shine on their own without the need for a premise to a story or any additional choreography. At Mystère, you'll see them jump from one pole to the next, and then climb down the poll upside down, sideways and every which way! It's quite fascinating. Now, don't mistake this show for a circus performance – it's not. I'm not a huge circus fan. Actually, I skip it when it comes into town, so the fact that this is a Cirque show, does not mean its a circus show.
Nope. This is so much more. Its an eloquently choreographed work of art.
Listen, I don't have to say more than the following to convince you that this performance is stellar. "This show has been around for 18 year, with close to or fully sold out performances almost all the time." That says a lot about the caliber of this show. Absolutely fabulous! It's certainly a must see performance.
Mystère by Cirque du Soleil – Official Trailer
Our Experience from the Mystère Show
I found the performance to be ideal for the entire family. However, I would say the ideal age of kids attending this show is about age 5 on up and they should be able to sit in one place for at least 80 minutes. Like any other professional performance, Mystère is a performance that should be appreciated from an artistic point of view. Much goes into such a performance and if you are going to invest money into a show like this for your kids, my suggestion would be to make sure they are able to appreciate it's artistic delivery.
My 8 year old absolutely loves these types of performances and it's great that she can remember that she attended. She was completely blown away by this performance and of course, the fact that she herself is a gymnast, well, it put things into perspective for her. Don't be surprised to see her on stage one day!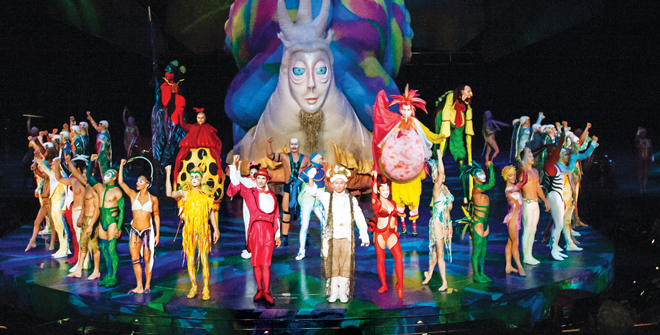 Mystère is one of those live fantasy shows that leaves kids and parents speechless as they watch acrobats fly by and dancers shimmy across the stage. They fly high in the sky and perform stunts that makes you appreciate how flexible the human body can actually be. Surreal. It's these type of shows that fill the hearts of little dancers and gymnasts and create dreams and reality for all of them – all throughout the world. Don't miss this show the next time you are in Las Vegas. Well done. And Bravo!
Also, have a look at our article on the best Las Vegas shows for kids to see our list of recommended family friendly shows.
Mystère Links & Information
---
We were provided media passes to Mystère for the purpose of reviewing it on our blog. Regardless, we would only recommend places, activities or services that we would use/visit personally and that we believe would be good for our readers.