Delicious Food from Family Friendly Restaurants
Los Angeles is a huge city and the amount of places to dine at is quite overwhelming. For this reason, we started our list of the best family restaurants in Los Angeles to help those visiting, find great food in a family friendly environment. We have a variety of restaurants from around the city and we broke them into breakfast, lunch/dinner and dessert segments. We will be adding more family restaurants to the list as we come across them, so check back once in a while for an updated list.
Best Family Restaurants in Los Angeles for Breakfast
Uncle Bill's Pancake House
Situated among other eateries and shops galore, Uncle Bills Pancake House combines a great breakfast with a wonderful location. This great breakfast spot is in the heart of downtown Manhattan Beach and is just a short walk down to the beautiful beach. The restaurant has a house-down-by-the beach look and atmosphere to it and offers both indoor and outside patio dining. Breakfast, which is served all day long, range from traditional breakfast dishes to the unique with our favorite being the bacon and eggs dish served with their hash browns and 2 fluffy buttermilk pancakes. After enjoying a nice family breakfast at Uncle Bills, we like to take a walk down to the beach and spend a few hours playing on the beach, walking around the shops or both. Visit Uncle Bill's Pancake House website for menu and location information.
---
Du-par's Restaurant and Bakery
This old school traditional coffee shop has one of the best breakfasts in Los Angeles and is surrounded by one of the liveliest areas which will provide some entertainment after you are well fed. Du-par's serves up the most amazingly delicious buttermilk pancakes we have ever eaten without having to top it with anything other than butter and syrup. Their other breakfast items are along the traditional diner route and are very tasty, but we recommend you not dine here without ordering a stack of hotcakes. After breakfast, you and the family can peruse the other tasty treats at the farmers market or walk over to The Grove and do some shopping. Du-Par's is also listed on our "Best Family Restaurants in Las Vegas" article. View the Du-par's Restaurant website for locations and more information.
---
Rae's Restaurant a.k.a. Rae's Diner
Rae's Restaurant is a 50's diner in Santa Monica that may look familiar to you. This quaint corner diner has seen its share of screen time (True Romance, The Wonder Years, Starsky & Hutch, Lords of Dogtown…), but this restaurant has more than its retro good looks going for it. Rae's Diner has been dishing out some of the best breakfast dishes at incredibly affordable prices, but make sure you bring cash as they don't take credit cards. The diner's breakfast items are no culinary masterpieces, but they are regular all-you-need breakfast menu items that are freshly prepared and very tasty. Our family favorite is their 2 Plus 2 Plus 2 breakfast special, which consists of 2 eggs, 2 pieces of crispy bacon and 2 pancakes. Throw in a side of Rae's breakfast potatoes and a glass of fresh squeezed orange juice to complete your breakfast order.
---
John O'Groats
For over 30 years, John O'Groats has been serving up the best breakfast in West Los Angeles and has been a family favorite for almost as long. This family owned and run restaurant has prided itself on purchasing quality ingredients and serving their freshly prepared breakfast and lunches in its lively and homey restaurant. Along with their must-order John O'Groats biscuits, there are so many great breakfast choices to choose from, like their variety of delicious pancakes, Crispy Bacon & Sharp Cheddar Waffle, Huevos O'Groats or even something from their Get Fit menu. Their breakfast and lunch menus will have something for everyone in the family and dining here feels like having a home cooked meal. I was also quite delighted seeing my two favorite celebs, Jerry Seinfeld and Larry David, having a meal together at one of my favorite restaurants. Visit the John O'Groats website for more information.
---
Original Pantry Cafe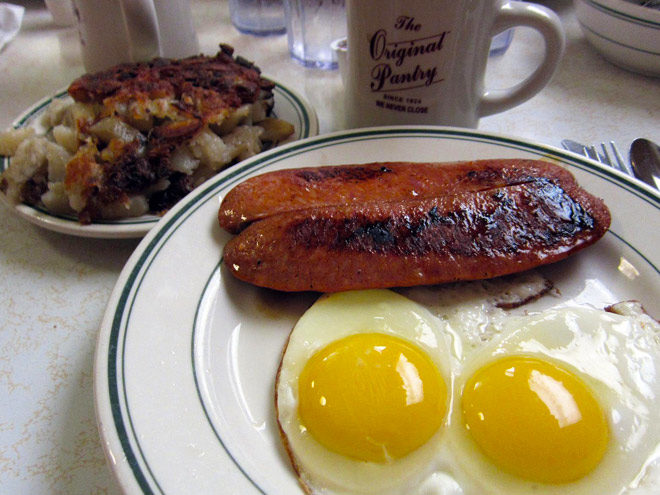 The Original Pantry Cafe is an iconic Los Angeles restaurant that opened in 1924. Although the surrounding Downtown area has changed dramatically with skyscrapers dwarfing the restaurant, The Pantry has kept its old diner charms. The restaurant is always open and their motto is "never closed, never without a customer," which is pretty impressive for a restaurant passing its 90 year anniversary. You can expect a line when you get to the restaurant, but don't worry too much as they are known for their fast and friendly service. The portions at the Pantry Cafe are pretty generous, so you might want to share with the little ones that can't normally polish off their own meal. With a nice selection of hearty breakfast items to choose from on their menu (which is on the wall), we recommend their sourdough french toast, the pancakes, chicken fried steak and the ham steak & eggs special. If you didn't make it to The Pantry on time for breakfast, you are still in luck as they have a half dozen breakfast specials that are served 24 hours a day. Visit the The Original Pantry Cafe website for their full menu and more information.
Best Family Restaurants in Los Angeles for Lunch and Dinner
Truxton's American Bistro
Truxton's American Bistro has a great variety of menu items that allows each family member to get something that suits their palate. Whether you are looking for something light and healthy, sinfully delicious or something in between, Truxton's will have something on their menu that hits the spot. Their menu is filled with delicious and unique dishes such as the Ancho Honey Glazed Shrimp, Wagyu Beef Sliders, Miso Salmon and The Gilly Burger as well as more traditional items like the Grilled Fish Tacos, Chinese Chicken Salad and Fish & Chips. This cozy and casual restaurant has an upscale vibe and is sure to please you with their lively atmosphere and great service. See our full review of Truxton's or view our Truxton's photo gallery to see what looks good.
---
C & O Cucina
C & O Cucina is our family's go-to restaurant and is our daughter's favorite place to dine. Since I am Italian and grew up with the best homemade from scratch pasta dishes, I am not easily impressed with most Italian restaurants. C & O Cucina has easily won me over and I am happy to have an Italian family restaurant worth recommending. The restaurant is very family oriented, with kids given crayons as they are seated to draw on the white butcher paper that covers the tables. While they have a very nice kids menu, we always order as a family. C & O's starts you off with a plate of their complimentary garlic rolls which are fantastic. The restaurant has a nice variety of appetizers, soups, salads, seafood, chicken and steak specialties, but we dine here mostly for the pasta dishes. We get a couple pastas to split amongst the entire family as C & O gives you the option to make the size a gargantuan for only $6 more. This massive bowl of pasta will feed the whole family and we often head home with leftovers. Our top three pasta recommendations, in order, are the Linguini with Clams, Rigatoni Tomato Cream and the Penne Spinachi. Delicious food, family style dining and fun for the kids puts this high on our best family restaurants in Los Angeles list. Visit C & O Cucina's website for menu and other information.
---
Langer's Delicatessen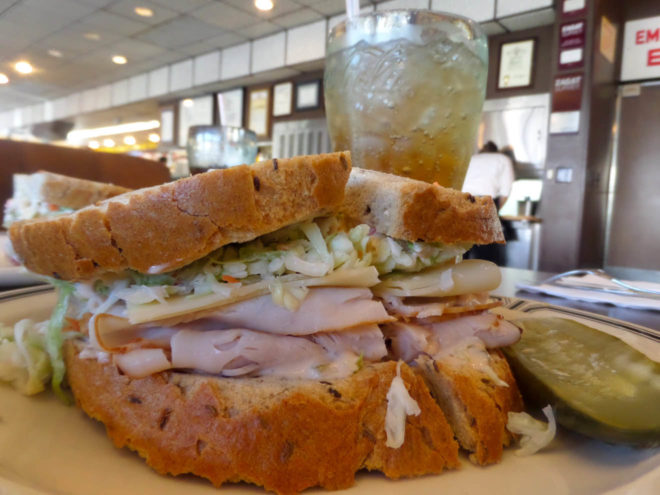 There are a few good delicatessens in Los Angeles, but Langer's Deli is only one of two that our family will frequent. The deli is located in the mediocre MacArthur Park area which is a short drive from Downtown Los Angeles, Hollywood and Griffith Park. Whenever we will be around the area, we try to make it over to grab some lunch. Langer's opened in the late 40's and has thrived by serving some of the best deli food in Los Angeles. Although all of their food is top-notch, they are famous for their #19 Pastrami Sandwich which comes on double-baked rye bread with hand-cut hot pastrami, swiss cheese, Russian dressing and cole slaw. It is one amazing sandwich! We also love that same sandwich with turkey in place of the pastrami and you can see how delicious it looks in the picture above. There is so much to love at this delicatessen and we are sure you and the kids will enjoy all that they have to offer. Langer's is also one of the entries in our 10 Classic Los Angeles Restaurants article.
---
North Italia
Located at The Point, El Segundo's trendy open air shopping center, North Italia is a modern take on the traditional Italian restaurant. The restaurant is fun and lively with a nicely decorated main dining room or a patio dining area that is open to the rest of the restaurant, which gives you the best of both worlds. The menu at North Italia is a nicely curated selection of appetizers, salads, pizzas, pastas and Italian house specialties as well as a kids menu that will appeal to all tastes. With daily, handmade from scratch pastas and pizzas, those are the must-have dishes to go along with your small plate starter and the yummy desserts. Starting off with the small plates, the Italian meatballs, charcuterie plate and crispy calamari are our top starters. Picking a main dish is a much harder choice, but we seem to gravitate more to the pasta dishes while our kids go the pizza route (and we usually swipe a slice). Our favorite dishes for the main course is the Bolognese, Chicken Parmesan and Margherita pizza. For dessert we highly recommend the Bombolini; a soft Italian donut served with lemon curd and vanilla mascarpone. With a great atmosphere, freshly prepared Italian fare and a location that you can enjoy with your kids before and after your meal, North Italia is a nice place to have a family meal. Visit the North Italia website for more information on the restaurant.
---
Veggie Grill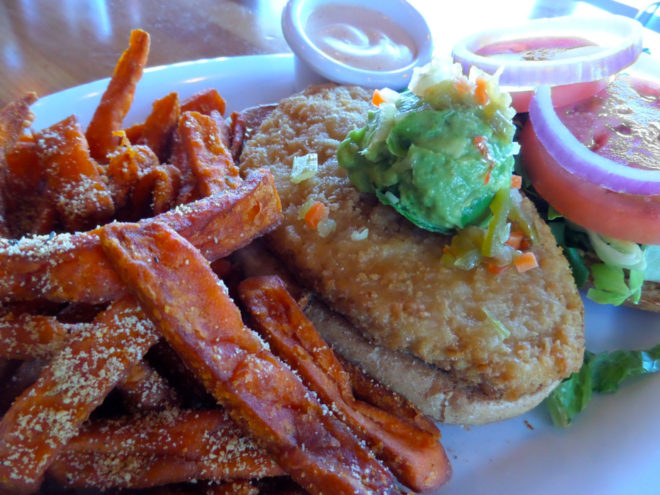 Looking for a healthy restaurant that will have the family craving their veggies? The Veggie Grill is a meat, dairy and animal product free restaurant that uses fresh vegetables, fruits, whole grains and nuts to create vibrant, healthy and delicious meals. The menu has a nice variety of hot and cold sandwiches, entree salads, veggie bowls and plenty of snack & share items. This restaurant will show you that veggies can be the center of attention instead of a small side on your plate and it will appeal to all members of your family; even most veggie haters. We highly recommend the Santa Fe Crispy Chickin' sandwich (pictured above), the Quinoa Power Salad, the kids meal with Chickin' Nuggets, the Pomegranate Green Tea and the Carrot Cake for dessert. Visit the Veggie Grill website for menu and location information.
---
Komodo Venice
What started out as a gourmet food truck has blossomed into two restaurants serving up an expanded menu of California Asian Fusion dishes. This fast-casual hip restaurant describes their food as "Dangerously Good Food," and we totally agree. Their menu has a variety of gourmet Asian fusion dishes that you can choose to have served in a taco, burrito or rice bowl. Along with these entrées, they have plenty of sides, salads, plates (a protein with a side salad and white or brown rice) and their munchies (an oversized gourmet appetizer). The restaurant has combos as well that will allow you to try four of the twelve taco choices to get a variety in your meal.
Our family favorite is the Brutus Salad Munchie, which is the opposite of a salad, and consists of crispy tater-tots topped with steak, bacon, cheddar cheese, sour cream, Pico de Gallo, jalapeno aioli and chopped cilantro. Along with the Brutus Salad, kids will love the Burgerrito taco, which is a deconstructed cheeseburger and Komodo's version of a Cheese Quesadilla. The MP3 burrito (top sirloin steak with sunny-side-up eggs, tater tots, garlic aioli and cilantro) and Mochiko Fried Chicken will be popular with mom and dad. Visit Komodo's website for menu and location information.
---
Tito's Tacos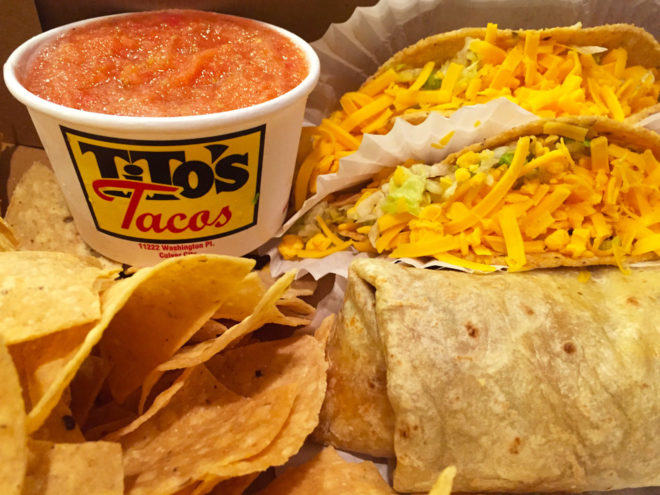 Tito's Tacos has been a favorite of local Angeleno's since they opened in 1959. The taco-stand-style restaurant serves up their tasty Mexican food to the hungry hordes who brave the half dozen long lines surrounding the building. As the restaurant name implies, their specialty is their amazing tacos, which are crispy hard shelled tacos and not the traditional Mexican tacos. The tacos are topped with crispy lettuce, generous portions of freshly grated cheddar cheese and a fantastic salsa. Tito's is not a one hit wonder as they have big and delicious burritos made with slow-cooked Chili con Carne and each menu item comes with handmade tortilla chips. An insider's tip is that if you order four items or more, Tito's upgrades you to the large salsa container, which you will be more than happy about. Visit the Tito's Tacos website for their menu, store hours and location information.
---
Union Pizza Company
If you happened to be visiting from Chicago this might not excite you as much, but it just might make you feel at home. Union Pizza Company, located in beautiful and family friendly Manhattan Beach, is home to the best Chicago Deep Dish pizza we have ever had in Los Angeles. The restaurant also serves New York thin crust pizzas, pasta, sandwiches and salads, but the reason to dine here is their deep dish pies. These massive deep dish pizza pies have a flaky golden brown crust that is layered with cheese, tomato chunks, sauce and whatever toppings you add to your order. Another hard to resist menu item at Union Pizza Company is their amazing garlic knots appetizer which is served with their zesty tomato sauce. For more about their food, see our Chicago Deep Dish Done Right at Union Pizza Company article. After enjoying one of the best deep dish pizza's in the city, walk a couple of stores over to Nothing Bundt Cake (also listed in this article), for one of their tasty cakes.
---
California Fish Grill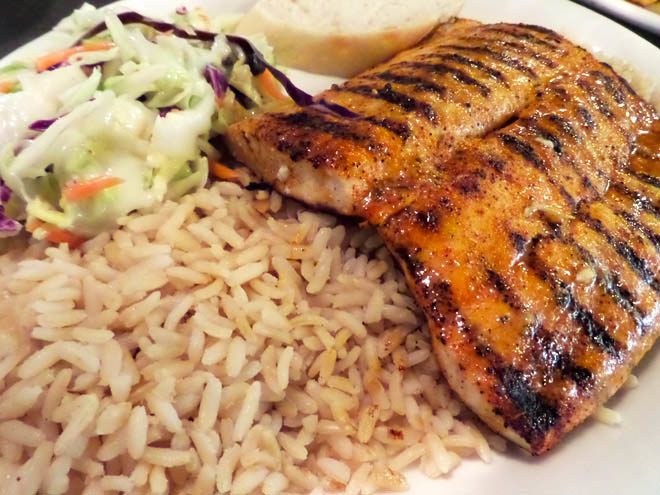 We love a good seafood restaurant that serves fresh seafood at an affordable price. California Fish Grill does just that and we have been frequent customers for years. The menu consists of grilled or fried fish, seafood tacos, salads and soups. The grilled seafood is a generous portion of charbroiled fish of your choice that is topped with either garlic butter sauce or Cajun spices and is served over a bed of rice. If you are looking for a little comfort food, look no further than their selections from the fryer for some freshly battered and fried seafood. We are a fan of both the fried and grilled seafood dishes and often get both and share among our family. Our recommendations are the Salmon, Mahi and Ahi Tuna from the grill, the Fish and Shrimp plate from the fryer and a bowl of their delicious New England Clam Chowder to start it all off. This fast casual seafood restaurant combines great food, affordable prices and a nice family friendly environment. Visit California Fish Grill's website for menu and other information.
---
Lamonica's NY Pizza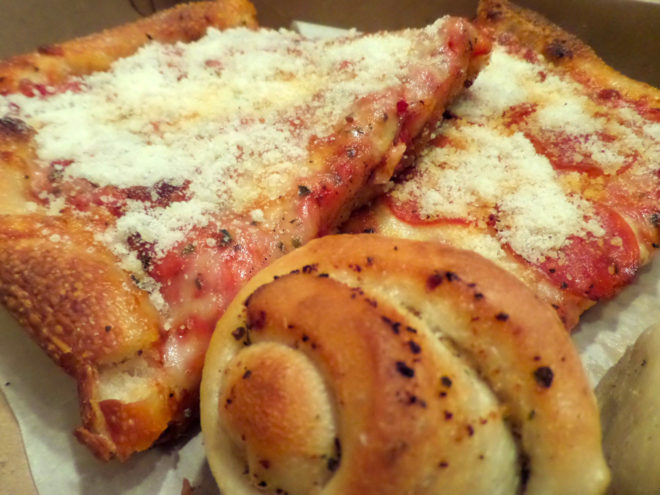 In Los Angeles it is easier to find a goat cheese and portobello mushroom pizza than it is to find a good and authentic New York pizza slice. Lamonica's NY Pizza rights this wrong by making their pizza dough in Brooklyn using the famous NYC tap water. Since 1980, Lamonica's has been dishing out one of the best NY pizza's in the city from their Westwood location. This casual pizza joint has 6+ varieties at any one time and sells pizza by the slice. If you are a thick crust pizza fan, don't miss grabbing a square slice of the Sicilian pizza which is better than most pizza in New York itself. Top off your order with a couple of garlic knots and a soda and you and the kids will be in NY pizza heaven. After you get your pizza fill, walk a couple of blocks over to Diddy Riese to grab the best cookies in Los Angeles – one of my family's favorite one-two punches. Visit Lamonica's NY Pizza website for more information.
---
Bay Cities Italian Deli & Bakery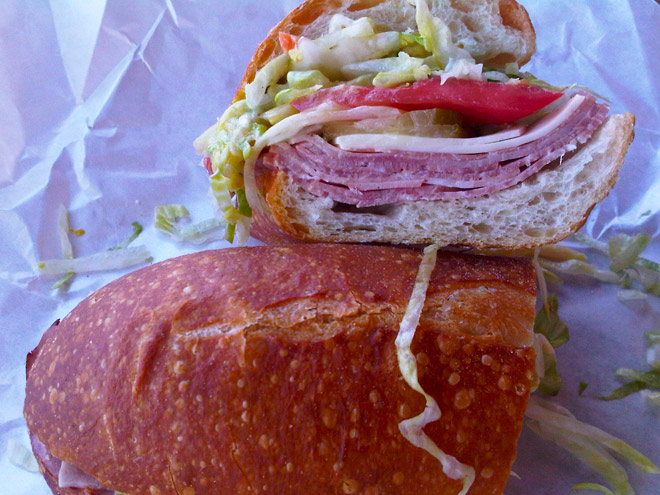 Bay Cities have been serving up delicious Italian food for decades from their lively Santa Monica location. Differing from a traditional restaurant, this place is a combination of a deli, bakery and market with self-serve seating aligning the outside. The first thing to do here is grab a ticket at the deli counter, wait your turn and place your order. Bay Cities serve freshly made on-site pastas, hot and cold sandwiches, baked dinners, salads, and desserts. The main star at the deli is their delicious sandwiches with their freshly baked (from scratch every 20 minutes) bread and high quality meats and cheeses. We highly recommend the Godmother, Pastrami and homemade meatball sandwiches. Once you get your meal from the deli, grab a drink from the coolers, browse the market for some extra treats and groceries and find a table outside the deli. The family will love the assortment of food and drinks as well as the crazy and fun atmosphere. Visit Bay Cities Italian Deli website for menu and location information.
---
La Grande Orange Cafe
For a bit more upscale brunch, we love to dine at La Grande Orange Cafe which is housed in a beautifully restored train station in Pasadena. This lively restaurant has an inspiring menu that takes American food classics and adds a modern twist. Although this might sound a bit much for those dining with their kids, not to worry as La Grande Orange Cafe caters to your kids as much as they do to the parents. Along with a great kids menu, LGO gives the kids a bag of Wikki Stix, which are twistable and stickable sticks that will have the kids' creative juices flowing and keeping them entertained until the food hits the table. As for the food, La Grande Orange Cafe has some really delicious and freshly prepared menu items. We highly recommend the Tuna Burger (pan-seared sushi-grade tuna, avocado and spicy aioli), the Wood Fired Rotisserie Chicken and their Short Rib Tacos. A cozy yet lively atmosphere, great food and entertained children makes for a nice family brunch.
---
Souplantation
This all-you-can-eat buffet restaurant differs from most in that it offers delicious health-conscious and made-from-scratch menu items. The restaurants have an extensive salad bar for you to create your own or you can try some of their hand tossed prepared salads. Next up is their variety of made-from-scratch soups, a few choices of different pastas, focaccia, pizza, corn bread and a baked potato bar. Last but not least, they have a great variety of muffins, sundaes, jell-o and fresh fruit to satisfy your sweet tooth. Some of our favorite menu items are their Caesar Salad, Big Chunk Chicken Noodle soup, Cheesy Garlic Focaccia, Macaroni & Cheese and the Blueberry Muffins. We love Souplantation because of the variety of food, the healthy menu items and the fresh ingredients they use. All family members get to choose what they want and no one leaves hungry. View the Souplantation website for locations and more information.
---
Dog Haus
Dog Haus has taken the comfort foods of burgers, sausages, dogs and sliders and given them a creative gourmet twist. This fun and casual restaurant serves their 100% all-beef skinless Haus Dogs, gourmet sausages and 100% natural Black Angus beef burgers on grilled King's Hawaiian Rolls for that extra flavor kick. With burgers like The Ringer (smoked bacon, cheddar cheese, onion rings and bbq sauce) or hot dogs like the Little Leaguer (haus chili, fritos, shredded cheddar and diced onions), the menu is filled with plenty of tasty items that should appeal to both kids and adults alike. Good quality and delicious comfort food. See our Dog Haus review or view the Dog Haus website for the menu, locations and other information.
Best Family Restaurants in Los Angeles for Desserts
Porto's Bakery & Cafe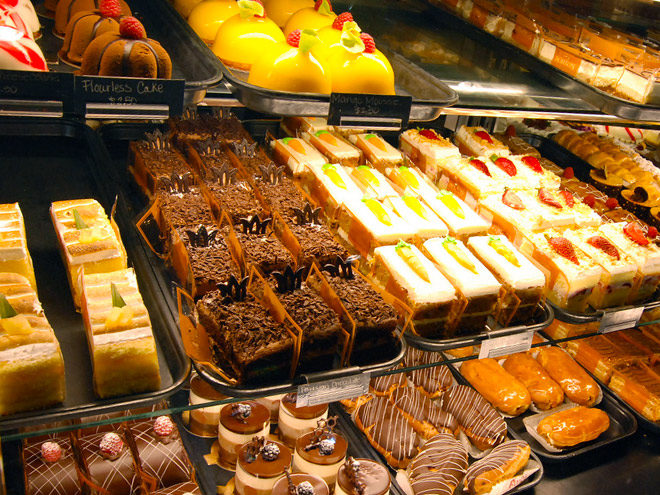 Porto's is a family owned and run bakery and cafe that has three locations in Southern California. The locations are huge, the crowds are large and the food is wonderful. While their cafe that serves freshly prepared sandwiches, empanadas, tamales and their famous potato ball among many other things should have landed Porto's in any of the categories on this list, we think their bakery items are some of the best we have tasted. Their bakery churns out so many delicious sweets that you are overwhelmed by the choices. Luckily the prices are pretty reasonable, so you can get a few different sweets and don't have to settle on trying just one dessert. Our family favorite sweets from Porto's Bakery are their sweet cheese rolls, refugiados (puff pastry filled with guava and cream cheese), apple strudel and their caramel or chocolate éclairs. With their freshly baked and prepared foods to their amazing bakery items, Porto's is easily one of the best family restaurants in Los Angeles. Visit the Porto's Bakery & Cafe website for more information.
---
Sprinkles Cupcakes
Known as the world's first cupcake bakery, Sprinkles Cupcakes opened in Beverly Hills in 2005 and is now at over 20 locations in addition to their Cupcake ATM's. Sprinkles freshly bakes and handcrafts the tastiest and coolest looking cupcakes we have ever had the pleasure of eating. The store has a great variety of cupcake flavors with some, like Red Velvet, always being available and some being a seasonal flavor that can last one day to a month. The two locations we love are the Grove and the Beverly Hills locations as they both have a fun atmosphere and offer plenty to do after you are done enjoying your cupcakes. With heavenly cupcakes being baked throughout the day, the amazing variety of cupcakes flavors offered and their fun locations, we are sure your family will truly be delighted with Sprinkles. Visit Sprinkles Cupcakes website for menu and location information.
---
Diddy Riese Cookies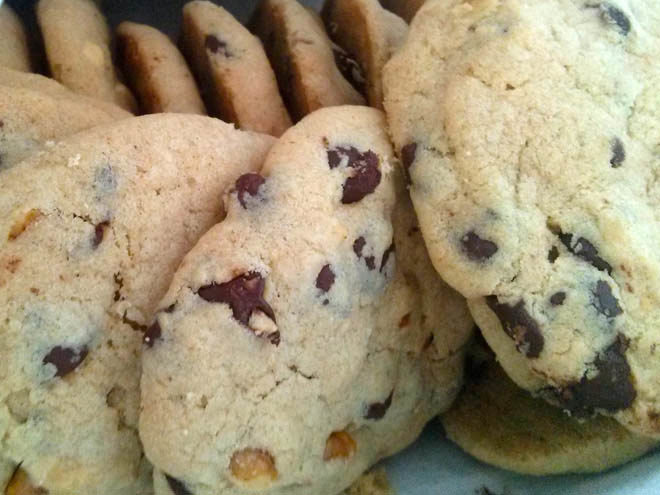 In the heart of Westwood Village, Diddy Riese Cookies has been serving the best cookies since 1983. Just south of UCLA and surrounded by movie theaters, restaurants and shops, this cookie shop has been a staple of all who visit the area. Diddy Riese serves up a variety of 10 freshly baked cookies, brownies, Dreyer's premium grand ice cream and Hawaiian Shave Ice. They are well known for their custom ice cream sandwiches, where you get to choose a scoop of their premium ice cream and two of their delicious cookies all for two bucks. The store only takes cash and you will likely have to wait for 10+ minutes, but it is well worth it. Visit the Diddy Riese website for more information.
---
Nothing Bundt Cake

This quaint little bakery does one thing, bundt cakes and it does them to perfection. Nothing Bundt Cakes offers up a variety of cake sizes, from the small bite-sized bundtinis to large tiered cakes. Unless we are ordering a cake for a party, we usually stop by and grab a couple bundtlets, which are a sizeable single serving sized bundt cake. The bakery offers 9+ different flavors of their cakes with our favorites being the Cinnamon Swirl, Red Velvet and Pecan Praline cakes. What makes these cakes stand out is the delicious cream cheese frosting that adorns each of their cakes. Visit the Nothing Bundt Cakes website for locations and more information.
---
If you are flying into LAX for your vacation, see our 10 Family Friendly Places To Eat Near LAX Airport article and skip that inflight meal. We hope that our Best Family Restaurants in Los Angeles list will help you find that perfect place to eat for you and your family. If you know of a great kid friendly restaurant in Los Angeles that we didn't list here, leave us a comment or email us with your suggestion.
---
Photo Credits: The Original Pantry Cafe by Rachel W. | Bay Cities Deli from dabruins07 via license