Flying, Floating and Falling Fun at Vegas Indoor Skydiving
I have always wanted to go skydiving, but the thought of plummeting towards earth from two miles up in the sky used to be a bit too much for me. I think I have the nerve to do it now, but since I am a dad I try and limit my risks a bit more. So when I saw Vegas Indoor Skydiving last year while driving back from a conference, I thought that would be a great alternative to actually jumping out of a plane.
Vegas Indoor Skydiving (formerly known as Flyaway), is America's first indoor skydiving facility and is located at the north end of the Las Vegas Strip. Visitors can experience the thrilling freefall aspect of skydiving in their indoor vertical wind tunnel and the whole experience will take about an hour. They take reservations as well as walk ins and free parking is always available.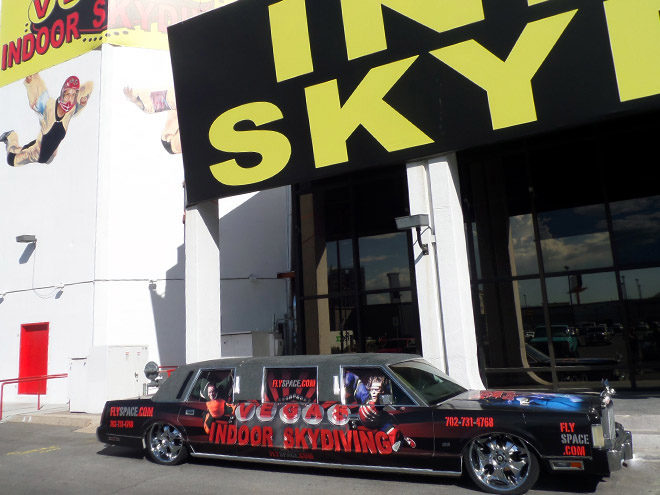 Why We Recommend Vegas Indoor Skydiving for Families
Kids and Adults can Skydive Together
Challenging Activity
Great Instructors
Solid Pre-Flight Instructions
Very Exciting
Different Experience Every Time
More Flight Time than Actual Skydiving
Unique and Memorable Activity
Indoor Skydiving for All
One of the great things I loved about Vegas Indoor Skydiving was that adults and kids can both enjoy a skydiving session together. During my session there was a mom and her two preteen kids (dad was just watching) that were part of our flight group. I have to be honest and say that the mom was easily the best in our whole group and her daughter was a close second. It was a bit humbling to get smoked by a small eight year old girl and her hundred pound mom. The two were so good that our skydiving instructor hitched a ride with them in the air during their flight time. More about them later.
There are weight and height guidelines for adults, but for kids the only limits are that they weigh over 40 pounds and have a parent or guardian present during their flight training. Watching the kids in the group before ours and the ones in our group put me at ease for recommending this activity for children.
Our Experience at Vegas Indoor Skydiving
As we entered the Vegas Indoor Skydiving lobby we checked in for our flight session at the front desk. We were first weighed to make sure we were within their weight limits, put into a group of five and then assigned an instructor. The height and weight limits are not as much for safety but to make sure you can have a nice flight experience. During our wait for the class to start, they give us a free locker to put all of our loose items into and allowed us to view other flight sessions on the outside of the wind tunnel.
Once our class was ready to start, we walked upstairs to the training room where we watched a training video and signed our waivers. Our instructor then trained us on the hand signals they would use to communicate with us during our flights as the wind tunnel noise and our earplugs make it impossible to talk. We also went over and practiced our body positions for us to achieve a nice body flight.
After we were done with our training, we headed into the next room where we got into our flight gear. We suited up in baggy jump suits and put in our earplugs. Be sure to wear comfortable clothes with sock and sneakers as you will want to be as comfortable and free as possible. Then it was on to our last stop to get fitted for our helmets, goggles and get some last minute training.
Up, Up and Float Away
Finally, we were ready for our turn and our group entered the calm and quiet wind tunnel. We all got into place across from each other with the instructor in the middle. The massive propeller was started up but only part way so that we could get in some preliminary jumps and rolls in before we went full throttle. Each of us took our turn practicing jumping in and practicing our tuck and roll safety dive into the padded floors that framed the propeller. Once we got a few practices each the instructor signaled to the wind tunnel operator to turn it up to full speed.
Now we were ready to put our training to the test. Our instructor signaled to each of us to jump on the outside portion of the propeller floor and into the middle of the 120 mph of wind gusting up from below. If you hit it right and get into position properly you are instantly flying. The mother and daughter from group went first and second and had no issues sticking their flight pose and were easily floating on their first try. My friend Jeff was next and he hit it almost as well as the first two. Now, the instructor signals for me to jump in. I got a good jump and got to the middle ready to float when I decided to put my feet down like I was gymnast landing a vault. Well, that just plummeted me down onto the floor.
I jumped up and back onto the padded floor. I was then signaled to jump in again. I got another good jump, made it to the middle and was floating in the wind. As I tilted left or right, I made corrections to get me back in the middle and when I didn't correct enough the instructor was there to nudge me one way or the other. I had a tough time trying to correct with my feet which made it look like I was running in the air. LOL! Either way, I was floating in the air and having a blast while doing it. We all took a few more turns and the mom and daughter looked like pros catching good air and getting to the top reach of our instructor. The rest of us got good air as well, just not as graceful and easy as the mom and daughter pair.
All in all we had a great time and not being the best at it didn't affect our fun in any way. It actually makes you want to go back again to get better at it. You could be a natural and have the instructor hitch a ride with you or you can be average and enjoy the falling tuck and roll move more often than the others. In the end all that matters are that you had a great time and felt the adrenalin rush of floating in the air. I can safely say I was not a natural at indoor skydiving and yet, I still caught good air and had a blast while doing it. I highly recommend that you and kids give Vegas Indoor Skydiving a try on your next family trip. For more fun and exciting activities you and the kids can enjoy while in Las Vegas, see our Things to Do with Kids in Las Vegas article.
Vegas Indoor Skydiving Links & Information
---
We were provided media passes to Vegas Indoor Skydiving for the purpose of reviewing it on our blog. Regardless, we would only recommend places, activities or services that we would use/visit personally and that we believe will be good for our readers.