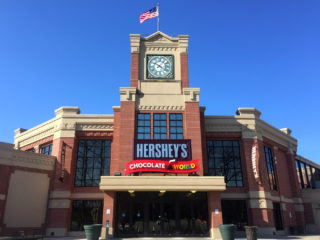 Things To Do at Hershey's Chocolate World
Hershey's Chocolate World in Hershey, PA is one of the two major family attractions, with Hersheypark amusement park being the other. They are both in the same area of Hershey and are a short walking distance from each other. What had originally started out as a chocolate plant tour, Hershey's Chocolate World has grown into a major tourist attraction. Below is a list of the fun things that you can do and experience during your visit.
Create Your Own Candy Bar
The Create Your Own Candy Bar attraction has you crafting your own chocolate candy bar. Guests will choose what kind of chocolate bar to start off with and pick what other goodies to stuff their candy bar with. After your chocolate candy bar makes its way through the factory assembly line, the candy bars are packaged in their personalized candy wrappers that guests create at kiosks. See our in depth article, with photos and video about the Create Your Own Candy Bar activity.
Chocolate Tasting Experience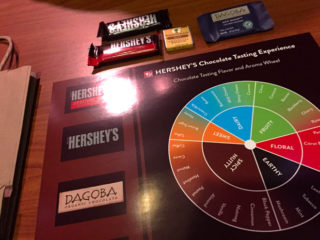 Hershey's tasting experts teach you how to use all of your senses to truly taste chocolate. Learning to look, listen, smell and taste are the keys to becoming an expert chocolate taster. The course has you trying out a variety of chocolates, which include Hershey's Milk and Dark chocolates, Dagoba Organic Chocolate and Scharffen Berger Chocolate. Once you have gone through the course to hone your chocolate tasting skills, you are presented with a certificate honoring you as a Hershey's Palateer.
Hershey's Chocolate Tour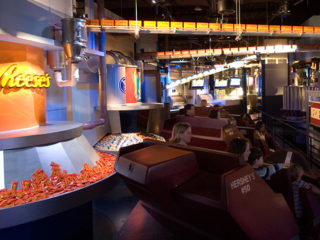 The Hershey's Chocolate Tour is a mix of fun animated figures and a simulated chocolate factory. Guests are seated in amusement cars that ride along a track that brings them through the chocolate making tour. You will see singing cows belting out the Hershey's Milk Chocolate theme song before entering the chocolate factory. The factory tour has a narrator speaking about each step of the chocolate making process you are rolling through. The tour takes you from the sorting and breaking of the cocoa beans to make the chocolate liquor, the blending of milk and sugar, all the way though to the molding and packaging of the chocolate bar. As you leave this kid friendly tour, each guest is given a Hershey's candy sample. The Hershey's Chocolate Tour is free and doesn't require tickets or reservations.
4D Chocolate Mystery
This 30 minute, 4D family friendly movie has guests interacting with the Hershey's characters to help solve a mystery at the factory. The outcome of the movie mystery has over 100 different possible variations, so you can experience it multiple times without knowing how to solve the mystery.
Hershey's Chocolate World Store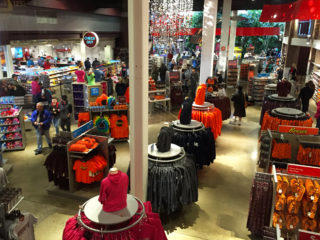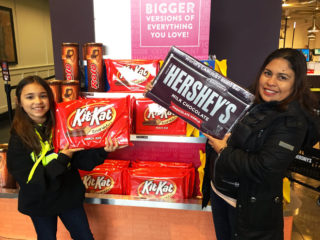 Spread throughout the heart of Hershey's Chocolate World is the massive store that is filled with Hershey brand related items. This is Hershey's largest candy store that has it all, from miniature candies to 5lb chocolate bars and everything in between. If you love a variety of candies, their Amazing Candy Machine lets you put as much or as little of every Hershey brand candy into one bag. Want some souvenirs to take with you? The store has got you covered with Reese's flip flops, Bubble Yum pillows, Twizzlers plush bears, vintage Hershey Chocolate mugs and so much more. Finding something for every family member won't be a problem at this store.
Visit the Hershey's Chocolate World website for more information and to plan your visit.
---
Photo Credits: Hershey's Chocolate Tour courtesy of The Hershey Company
We were provided with media passes to Hershey's Chocolate World in Hershey, PA for the purpose of reviewing it on our blog. Regardless, we would only recommend places, activities or services that we would use/visit personally and that we believe will be good for our readers.