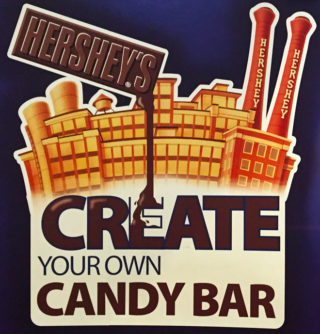 Create Your Own Candy Bar Review, Photos and Video
How cool would it be to be able to pick out your favorite candy bar ingredients and combine them into one awesome chocolate bar? Hershey's Chocolate World gives you that opportunity with its Create Your Own Candy Bar attraction. This was the activity the whole family was looking forward to the most.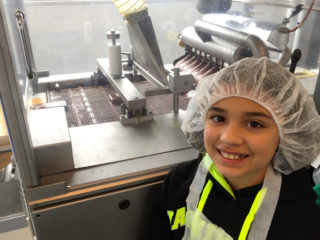 The Create Your Own Candy Bar attraction is one of the four major activities offered at Hershey's Chocolate World. Since space is limited, we reserved our 45 minute time slot ahead of our visit. This also helped us plan out our day as we knew what we were doing and for how long each activity would take.
Creating Your Own Candy Bar
Our family showed up a few minutes ahead of time to the designated area for the Create Your Own Candy Bar attraction. We were taken in to the welcome area and dressed in our factory outfits, which consisted of an apron and hair nets. Once we watched a short introduction movie, we moved onto the kiosks where we would start our creations.
The first choice you make is which type of chocolate bar you want as a base. Your choices for the base chocolate bare include milk chocolate, dark chocolate and white chocolate. After choosing your base chocolate bar, you are presented with six candy bar inclusion options to choose from. Our choices for our visit included crisp rice, chocolate cookie bits, butter toffee crunch, pretzels, butterscotch chips and semi-sweet chocolate chips. The last choice you make is whether you want sprinkles or not on top of your candy bar.
Designing Your Candy Bar Wrapper
Once we were done with creating our candy bars, the kiosk changed over to creating our candy bar wrapping. Guests have a choice of choosing from a few already completed, but personalized, wrappers or creating their own. We all decided to create our own candy bar wrappers, just to add our own touches.
Designing your own wrapper was fairly simple as you drag and drop up to four design elements onto your package design. Each design element can be sized, rotated and flipped to fit them all onto your design. I went with a pretty simple design, while the girls added a bit more flair to their candy bar wrappers. After your design is ready, just click the "Send to Printer" button and you are ready to watch your candy bar being made.
Video: Watch Your Candy Bar Being Made
Once you're done at the kiosks, you move into the factory where you follow your candy bar down the assembly line. In front of each station along the line, you will see a display showing the name of the candy bar's owner. The create your own candy bar video below, gives you a glimpse of what you will see along the assembly line.
The base candy bar that you chose will start heading down the line. The first stops along the way are to have your candy bar inclusions added to your chocolate bar. After the inclusions are on board, the bar is brought under a waterfall of milk chocolate and then may or may not be topped off with sprinkles. After a run through the cooling tunnel, the bars are put in their package and head towards the final packaging that you designed at the kiosks.
Create Your Own Candy Bar Photos
Although the building of the candy bars are automated, the family had a great time following their candy bars down the factory line. It gave the kids a glimpse as to how some foods are prepared and how a factory assembly line works.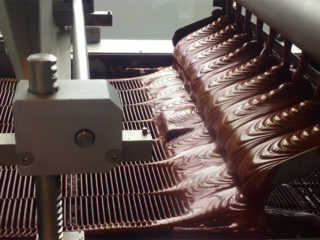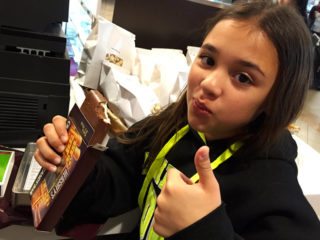 Your completed candy bars are no ordinary size bar as we though they would be when booking this activity. The chocolate bars are pretty darn big and will take a few rounds to get through them. You almost feel bad about eating your creation, but it has to be done. Our family really enjoyed our experience with creating, customizing and watching our candy bars being made. See our article on all of the activities at Hershey's Chocolate World as well as our article detailing all of the fun things to do in Hershey, PA.
Visit the Hershey's Create Your Own Candy Bar website for more information.
---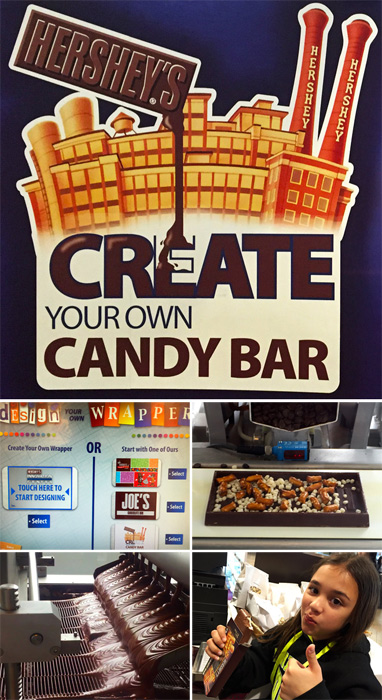 ---
We were provided media passes to Create Your Own Candy Bar at Hershey's Chocolate World for the purpose of reviewing it on our blog. Regardless, we would only recommend places, activities or services that we would use/visit personally and that we believe will be good for our readers.