Hersheypark is a Perfect Blend of Family Fun
Hersheypark is what drew us into taking a family vacation in Hershey, PA. We are a family that loves spending a day at an amusement park, so pairing Hersheypark with all of the other fun things to do in Hershey, made this an easy choice for the family. This family friendly theme park strikes a great balance of fun for the whole family with rides ranging from mild to extreme and everything in between. We hope our Hersheypark review and tips will help you plan your family's trip to one of our favorite amusement parks.
Theme park admission not only allows guests with access to all the rides, attractions and entertainment of Hersheypark, but it also allows visitors admission to The Boardwalk water park and ZooAmerica, which are both located inside of Hersheypark. We have seen many theme parks with an adjacent amusement or water park that charge for the additional access, so it was surprising and refreshing to see all of the things you could do at Hersheypark for one admission price. The park is well managed, clean as can be and knows how to cater to their guests.
Hersheypark Review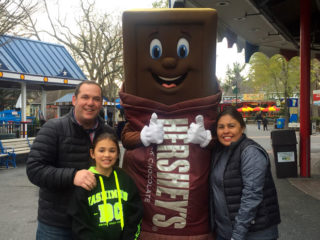 Hersheypark Rides for Adults and Older Kids
Hersheypark has done a fantastic job at packing the park with some of the best roller coasters, which will please the hoards of coaster enthusiasts looking for a thrilling ride. The extreme rides at the park run the gamut of new coaster technologies to classics that have been at the park for decades. If you and your kids are up for some crazy fun roller coasters, Hersheypark has got what you are looking for.
Fahrenheit (54″ and Over) – This roller coaster will get your attention as the vertical lift pulls you up straight up and then drops down a 97-degree face down drop before it swiftly inverts, corkscrews and curves its way around the track.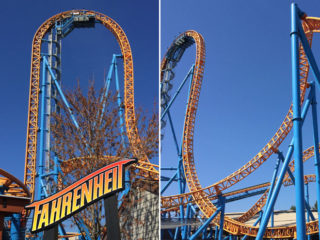 Storm Runner (54″ and Over) – This hair-raising roller coaster will hydraulically launch riders from 0-72 mph before ascending 18 stories up one side and dropping straight down on the other. After that, the riders go through barrel rolls and a massive cobra loop while snaking through the track at high-speed.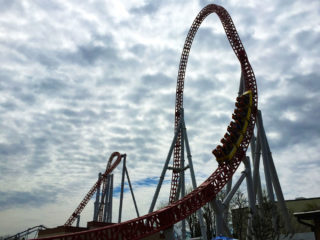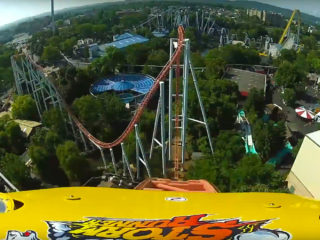 Skyrush (54″ and Over) – This roller coaster is all about height, speed and g–force. Skyrush quickly gets riders up to the top in 15 seconds before plummeting down Hersheypark's highest drop of 200 feet and its top speed of 75mph. With up to 5 g's of force hitting you, the coaster flies through high speed turns, banks and some zero-G airtime hills.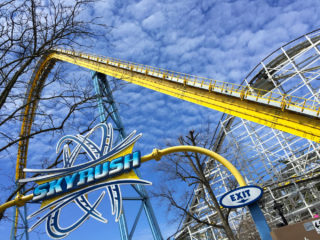 Great Bear (54″ and Over) – Great Bear is an inverted roller coaster that has riders hanging below the track as it roars through at speeds of up to 61 miles per hour. As you dangle below, the coaster speeds through and surprises riders with loops, barrel rolls and an Immelmann loop (pictured below) that rolls you over at the top of the loop. Although the other coasters were as thrilling as this one, Great Bear got the most rides from the family.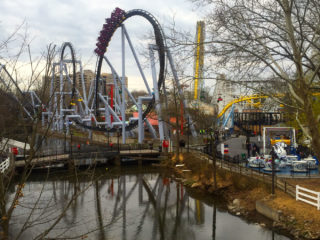 Sidewinder (48″ and Over) – Sidewinder might be familiar to some as other amusement parks have a similar coaster. This boomerang style roller coaster pulls riders up to the top of the track and releases them down the hill, through the loading station into a cobra roll and then a vertical loop. After that the coaster train is pulled up the other side and released to run the same track, but backwards this time. Being on similar coaster rides doesn't make it any less fun.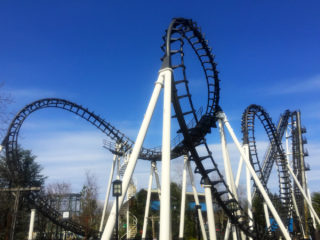 Lightning Racer (48″ and Over) – The Lightning Racer is double-track dueling wooden roller coaster that reaches speeds of up to 50 miles per hour. Racing up and down the tracks and taking tight turns, this coaster seems like it's out of control as it shakes and rattles you while thundering around the "race" track.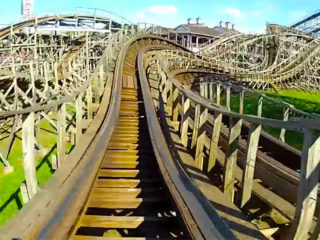 Wildcat (48″ and Over) – This wooden roller coaster takes riders over 100 feet high before barreling down a large curved drop and heading over hills and bumps while reaching speeds of up to 45 miles an hour.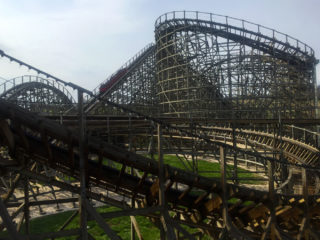 The Claw (48″ and Over) – This thrill ride has riders strapping into a their seats at the end of a giant swinging pendulum, which rotates as it swings back and forth. Riders will have the feeling of weightlessness as The Claw transitions from its upswing to its downswing. If you are lucky enough (at least we think it's lucky), your set of four seats will be at the tip top as the ride hits its top height. This is a family favorite thrill ride that we have been on in a couple of amusement parks.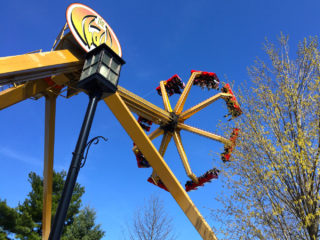 Hersheypark Roller Coaster Videos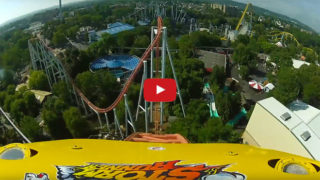 Storm Runner Roller Coaster Video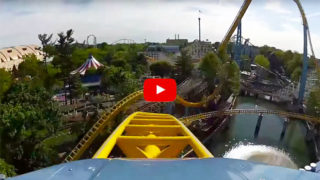 Skyrush Roller Coaster Video
Hersheypark Rides for the Family
Throughout Hersheypark there are fun and thrilling rides, that don't take it to the extreme. These rides are great for those families with kids that are beyond the kiddie rides, but not ready (or tall enough) to take on the intense mega rides. Even when you have kids that are all about the extreme coasters, these rides are still amazing and give you a nice variety to your day at the park. Below is a highlight list of some of the thrilling, but not too extreme rides for the family that we enjoyed.
Laff Trakk (42″ and Over) – This crazy, fun house type of ride is an indoor, spinning glow-coaster. Laff Trakk is a family friendly coaster that spins and turns its riders through a darkened indoor track revealing glowing color objects and shapes along the way. We knew we were going to like the ride, but didn't expect to like it as much as we did. Also, while waiting in line, you can have some fun looking at yourselves in the fun house mirrors – one of the rare times that the line wait was fun.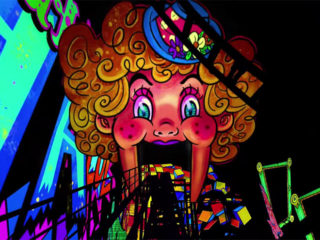 Comet (42″ and Over) – This classic wooden roller coaster speeds along its out and back track with big turns and drops on the way out and smaller turns and bunny hills on the way back in. Of the three wooden roller coasters at Hersheypark, the Comet is the only one with a ride height minimum of 42 inches, which makes it a fun introduction coaster for some kids.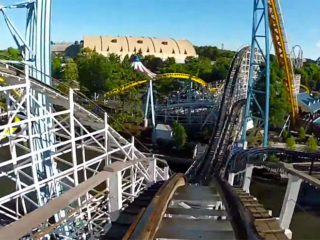 SooperDooperLooper (42″ and Over) – Opened in 1977, SooperDooperLooper was the first looping roller coaster on the East Coast. While a looping coaster is no big deal today, it is still a fun roller coaster that is pretty fast, has an exciting helix turn and, of course, a loop. This is the perfect ride for those with kids who have never been on a looping coaster.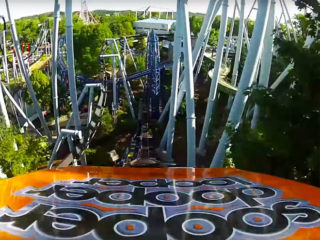 Trailblazer (36″ and Over) – This family friendly roller coaster is another great introductory coaster for your little ones with a height minimum of 36 inches. Trailblazer is a mine train coaster that curves and dips its way through the woodsy Pioneer Frontier area while reaching speeds of 35mph. Exciting for the little ones and still fun for adults and older kids.
Wave Swinger (48″) – This swing ride is the extreme alternative to the merry-go-round where riders fly through the air on their own swing chair.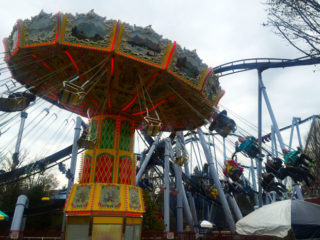 Flying Falcon (36″) – This ride has up to two riders sitting in a falcon car that rises up to 100 feet while the four arms spin the cars. A tad bit scary for those that are afraid of heights.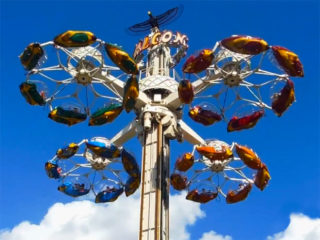 Frontier Flyers (36″ and Over) – This swing ride allows its riders to move the front fin of the flyer, which dictates the direction and height while it spins around.
Classic Theme Park Rides – Among the other rides at Hersheypark are the classic amusement park rides the have delighted theme park guests at most parks across the country, like Scrambler, Tilt-A-Whirl, swinging Pirate ship, a Ferris Wheel, Fender Bender bumper cars and others.
Hersheypark Rides for the Little Kids
If you have younger kids, the park will not disappoint with its selection of fun rides for the toddlers that are 3 feet tall and under. The Founder's Way area of the park houses a lot of the smaller rides and a few other rides are scattered throughout the park. There are a fair amount of rides that allow the parents to ride with their kids and a few that are just for the kids.
Cocoa Cruiser (36″ and Over) – A small family roller coaster that gives parents a chance to take their younger kids on a fun, yet mild steel roller coaster. Cocoa Cruiser was made for the kids and is a great first time roller coaster.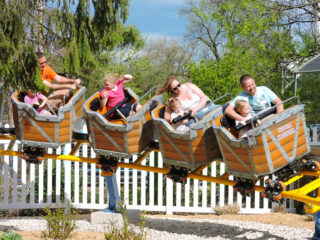 Coal Cracker (36″ and Over) – This log flume boat ride speeds and splashes riders along its way through the water canals. After two lifts and two small drops the Coal Cracker is ready for its final 49 foot drop and big splash down.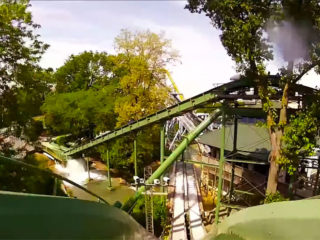 Reese's Xtreme Cup Challenge (36″ and Over) – This ride has is an interactive dark ride with rotating cars that are equipped with laser blasters to shoot targets and compete for as many points as possible among the riders.
Starship America – This is a spinning rocket ride in which riders control the up/down movement of the ship.
Twin Turnpike – The classic kid friendly driving ride where families will cruise along the roadway in a "Model T" car.
Dry Gulch Railroad – A miniature steam-powered train that takes guests on a ride through the Pioneer Frontier area of Hersheypark.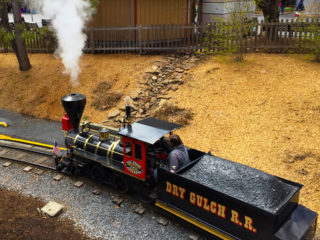 Mini Version Rides – Hersheypark has smaller versions of popular family rides, so the little ones can can have as much fun, but on a milder ride. Mini Pirate ship, Mini Scrambler and Mini-Himalaya are among the smaller version rides.
Dizzy Drums – Kids sit in drums that rotate in a circle with the option to spin the drums even more with the steering wheel in the middle.
Other notable rides at the park for parents and their little kids include the Ferris Wheel, Merry Derry Dip Fun Slides, Carousel, Frog Hopper, Red Baron, Tea Cups and many other kid friendly rides.
The Boardwalk at Hersheypark
The Boardwalk water park is included in your one-price admission and includes unique water rides and slides, a 378,000 gallon wave pool with shallow to six foot depths, a lazy river and a water playground with slides, bridges, ropes and much more. The Boardwalk At Hersheypark is open Memorial Day weekend through Labor Day weekend.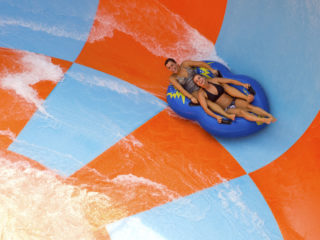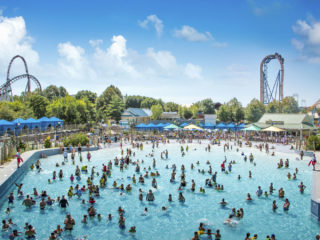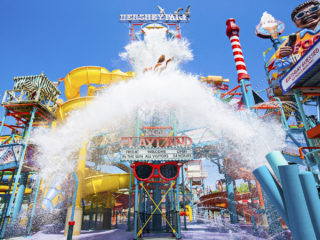 Why We Recommend Hersheypark for Families
One-price Admission
Amazing Roller Coasters
Nice Balance of Thrill Rides
Plenty of Family Rides
Variety of Rides for All Ages
Family Friendly Atmosphere
Very Clean Theme Park
Helpful Mobile App
Hersheypark Tips for the Family
Ride Height Category – Hersheypark made it so much easier for parents and kids to know what rides their children were tall enough to ride on. Parents can measure their kids at the park and their height is assigned a Hershey brand of candy: Jolly Rancher, Twizzler, etc. Once you know which ride height category your kid is assigned to, just look at the front entrance of each ride and see which candy brand category can go on that ride. The ride attendants also have a measuring stick for that particular ride, so they can measure riders before they climb aboard.
Download the Hersheypark Mobile App – Prior to our park visit, we downloaded the Hersheypark Mobile App onto our phones. The mobile app provided us with ride wait times, an interactive map, food and beverage listings, show times, bathroom and service information and other valuable park information. The map and ride wait times were the most useful portions of the app as we visited the day after a snow storm and half the rides were closed. As the rides opened up, the app updated the rides that were opened and had the wait times for each ride. This made it extremely easy to plan our day and hit up all the rides that were on our must ride list. No more having to carry a map with you to find out where you are or where you are going. No more wondering what the wait times for a ride are. Easily find the closest bathrooms or restaurants. Trust us, the app is a must!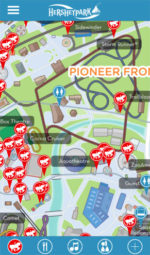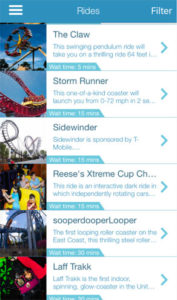 Hersheypark's Preview Plan – This is such an amazing perk from Hersheypark. If you are as eager as we were to go to the park, you can get a couple of hours in the park, the night before your scheduled visit. Just present your ticket at the main entrance 2.5 hours before closing the night before your visit and enjoy a free and fun-filled evening at the park.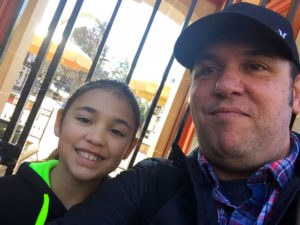 Get There Early – Hersheypark has a lot of things to do and trying to fit it all in a day would be difficult to impossible. If your family is the type that wants to do it all, we suggest you get to the park before it opens. Once you get in the park, head over to the popular rides that get busier in the later part of the day. With an amusement park, water park and zoo all in one spot, you got your work cut out for you if you want to do it all. Our family was first in line (see picture) during our visit and that allowed us to experience most of the park.
Visit the Hersheypark website for more park information.
---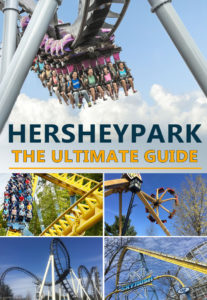 ---
Photo Credits: Hersheypark Panorama by Todd Van Hoosear via license | Boardwalk photos courtesy of Hersheypark | Cocoa Cruiser by Hmich176 via license
We were provided media passes to Hersheypark for the purpose of reviewing it on our blog. Regardless, we would only recommend places, activities or services that we would use/visit personally and that we believe will be good for our readers.