Cracker Barrel Restaurant and Store Review
With over 600 stores in 42 states, a lot of you already know how good Cracker Barrel restaurants are. Since my family is from Los Angeles and the nearest restaurant is almost 300 miles away, Orlando was the first city that we had the opportunity to dine there.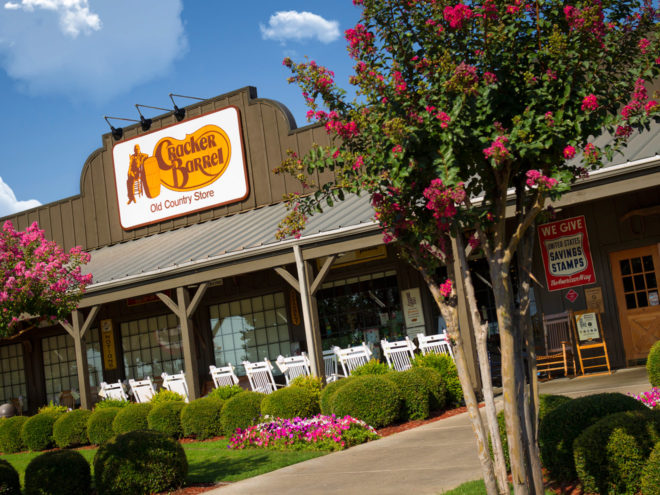 After a day at Epcot, one of our friends mentioned that there was a Cracker Barrel on the way back to our house rental and we should stop there for dinner. I was a bit hesitant at first since I didn't know much about the restaurant and we only chose it because it was on the way home. We had done this the night before and were very disappointed in a BBQ restaurant we chose on the way back from the parks. Wow, was I glad we took the gamble and dined there as it was one of our favorite restaurants on our Orlando trip.
Cracker Barrel Breakfast
It's no secret that I am a huge breakfast fan, so I was quite pleased when I sat down for dinner and was given both a breakfast and dinner menu. They serve breakfast ALL DAY LONG! Now, I just had to figure out what I wanted to order for my breakfast dinner. Normally breakfast places give you a choice of a couple of things you might want and then you have to order stuff on the side to complete your meal. That was not the situation here.
Cracker Barrel's breakfast menu had so many breakfast plates that were complete meals, that I didn't even have a problem finding a few combos that would hit the spot. I decided on the Momma's Pancake Breakfast which comes with pancakes, eggs and choice of smoked sausage, thick cut bacon or a turkey sausage patty.
After I had ordered the Momma's Pancake Breakfast, I mentioned out loud to my wife that I wish it came with the hashbrown casserole as that sounded delicious. The waitress overheard me and mentioned that the Grandma's Pancake Breakfast, which is not on the menu, came with everything I got with the Momma's Pancake Breakfast plus a side of hashbrown casserole. Leave it to grandma to outdo mom by throwing in that little extra something. To top it off got a small side of Sawmill Gravy to throw on the biscuits. Yum!
Cracker Barrel Lunch and Dinner
Although I ordered breakfast for my dinner, the other eight adults went with dinner menu items. The lunch and dinner menu offered the same type of freshly prepared, complete classic country meals as their breakfast menu. I was able to have a sampling of a few different dinner items and the ones that I didn't taste; I was given the thumb up for the entree.
Our table had quite the variety of dinner plates ranging from meatloaf and country fried steak to catfish and roast beef. Each of the dinner plates comes with your choice of two or three Vegetables n' Sides which include mashed potatoes, mac and cheese, breaded fried okra, cheese grits, coleslaw and fried apples among many other side dishes. The two dinner items that stood out of the bunch were the Country Fried Shrimp Platter and the Chicken n' Dumplins Platter.
The Country Fried Shrimp Platter is a half pound of buttermilk-breaded shrimp fried to a golden brown and the Chicken n' Dumplins are tender chicken tenderloins wrapped with their made from scratch dumplins. If you feel like a little variety, try their Cracker Barrel Sampler which has the Chicken n' Dumplins, Meatloaf and their Country or Sugar Cured Ham.
Cracker Barrel Kids Menu
We all know the kids menu is usually the same old thing with items like a hamburger, hot dog, chicken strips and grilled cheese. While Cracker Barrel's kids menu does have a hamburger and grilled cheese, it also offers the kids with smaller portions of their adult menu favorites. The kids at our table enjoyed the Macaroni n' Cheese, Chicken n' Dumplins and the Country Fried Shrimp Plate which all come with a drink and a side. To top it all off, they all got a small one scoop kids sundae.
In addition to the nice kids menu, Cracker Barrel gives the kids crayons and table games to keep them busy until their food hits the table. Our kids were so engaged with playing the table games that we had to ask them to stop and make a choice for the meals.
Cracker Barrel Dessert Menu
Although the Cracker Barrel dessert menu is not as endless as their dinner menu, one of their old-fashioned desserts will have you satisfying your sweet tooth. Our favorite, which we shared, was the Baked Apple Dumplin which is like an apple pie covered with pecan streusel and topped with vanilla bean ice cream. Very Delicious!
Cracker Barrel's Old Country Store
As if the great food was not enough for these restaurants, Cracker Barrel has a unique and fun country store at the restaurant entrance. The store offers up a variety of items that will entice both adults and kids alike.
The stores have food and drinks galore with many of them being a blast from the past, like Necco Wafers, Dubble Bubble gum and Double Cola. The stores also have sections of toys and games (which is where the kids camped out), clothes, furniture and other unique gift items. Cracker Barrel's Old Country Store definitely kept us entertained while we waited for our table and had us grabbing gifts and goodies on the way out. They even offer complimentary gift-wrapping for anything purchased in their stores.
Ordering online or having their store ship their goodies is also very easy as well. We got a package of Cracker Barrel Peanut Brittle, Moon Pies, Goo Goo Clusters and mini Coconut and Pecan pies. They were all delicious and the Moon Pie and Goo Goo Clusters brought back childhood memories as well as giving our daughter her first taste of the old school treats. The whole thing came nicely packed in a Cracker Barrel package.
Why We Recommend Cracker Barrel For Families
Hearty Portions
Reasonable Prices
Freshly Prepared Food
Great Old Country Store
Wonderful Menu Variety
Good Kids Menu
Friendly & Fast Service
Fun Atmosphere
Eating at Cracker Barrel is like having a delicious home cooked meal by your mom; if your mom woke up at the crack of dawn and started preparing your meal from scratch. We have become big fans of Cracker Barrel Restaurants and will look for one on our future travels. Now we just need a way to get them to open a restaurant in Los Angeles or San Diego.
Visit the Cracker Barrel Restaurant website for their menu, locations and more information. See our interactive Orlando Tourist Map for more family friendly points of interest.