Los Angeles Family Friendly Attractions and Activities
Los Angeles is very large city that has plenty of family friendly activities to choose from. Whether you and the kids are looking for outdoor adventures, amusement parks, sunny beaches, museums, shopping or sightseeing, Los Angeles has it all for you to choose from. Below is a list of our top recommended things to do with kids in Los Angeles.
Disneyland and Disney California Adventure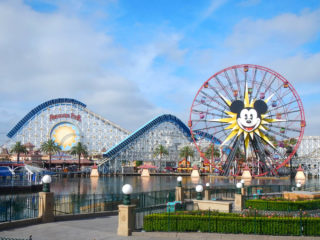 Disneyland and Disney California Adventure are the world-famous amusement parks that combine to make up the perfect family friendly destination. Disneyland, which opened in 1955 is divided into eight magically themed lands and is full of rides and entertainment for all ages of kids. Roller coasters, water rides, thrill rides, kiddie rides, parades, character experiences, fireworks and themed dining can all be a part of your day at Disneyland.
Disney California Adventure Park, which is walking adjacent to Disneyland, has seven Disney and Pixar lands for the family to explore. Just like Disneyland, this park brings the magic of Disney to life with rides and entertainment that the whole family can enjoy together. Top attractions not to be missed at Disney California Adventure are Radiator Springs Racers, Soarin' Over California, Twilight Zone Tower of Terror, California Screamin' and the nighttime water spectacular of World of Color – Celebrate!
These Disney theme parks should be at the top of your "things to do with kids in Los Angeles" list, if they aren't already. For more information on these amazing family theme parks, visit the Disneyland website.
Knott's Berry Farm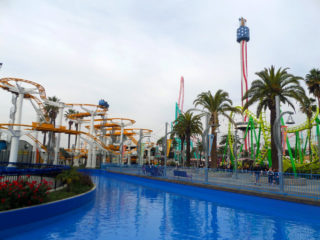 Knott's Berry Farm is a very well rounded and family friendly theme park that is located in Buena Park. While some theme parks cater to the thrill seekers and others catering to families, Knott's has found a happy medium that has something fun for everyone. From the zero to 82 MPH launch of Xcelerator to the loop, corkscrews, spirals and cobra rolls of Silver Bullet, there is plenty to keep coaster fanatics satisfied. Less chills, but still with big thrills are the many less intense rides, like Sierra Sidewinder that has round coaster cars that spin as you bank and dip your way through the track. There are plenty of exciting family rides throughout the park and for the tiny ones there is Camp Snoopy that is filled with fun children's rides. See our Knott's Berry Farm Review and Tips article for more details of the amusement park.
Six Flags Magic Mountain and Hurricane Harbor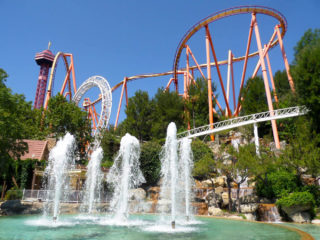 If your family is looking for some thrills, then look no further than Six Flags Magic Mountain. While Magic Mountain does have rides for the smaller kids in your family, this theme park boasts 18 roller coasters and thrill rides that are meant for pure thrill seeking families.
With high thrill extreme roller coasters like X2 that loops and rolls while the seats rotate 360-degrees, Goliath which has an amazing 255 foot drop that pushes you to 85 mph, Tatsu that has you in a flying position (face down) going through zero G rolls, corkscrews, loops and twists or Viper with its 14 story vertical loop, boomerang loop and corkscrews that will keep you upside down a good portion of the ride. If Magic Mountain seems like a bit too much for the family, then head over next door to Hurricane Harbor water park, which offers plenty of fun and exciting water slides, family rides, kid zone water play areas and plenty of sunbathing.
Aquarium of the Pacific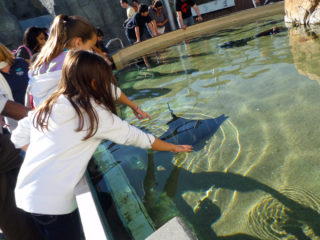 Explore the largest ocean in the world at the Aquarium of the Pacific in Downtown Long Beach. The popular aquarium has over 11,000 animals in 50 exhibits that highlight each of the different regions of the Pacific Ocean. Among the popular exhibits that kids and adults will enjoy are the Shark Lagoon, Sea Jellies, Sea Otter Habitat, Penguin Habitat, the Tropical Pacific Gallery and the Lorikeet Forest. Another benefit of the aquarium is its location at the heart of Rainbow Harbor, which is a very family friendly area. The aquarium is within walking distance of restaurants, shops, Shoreline Aquatic Park with the beautiful Lions Lighthouse, boat tours and the Queen Mary across the bay. See our Aquarium of the Pacific Family Review article or our Aquarium of the Pacific Photo Gallery for more details and photos of the aquarium.
California Science Center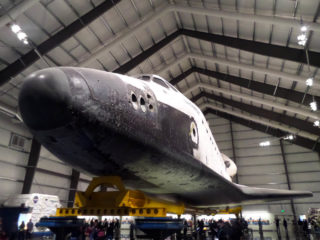 The science center is located in Exposition Park (which also houses the Natural History Museum and the Rose Garden) and is a great way to spend the day with your kids. The major attraction at the California Science Center is the Space Shuttle Endeavour, which flew 25 missions from 1992 to 2011 and is now on display at the Samuel Oschin Pavilion. Along with many displays, artifacts and photos, visitors can view the SPACEHAB which was kind of an astronauts' workshop that flew many times on the shuttle missions, the Space Shuttle Main Engine (SSMEs) and touch the tires from Endeavour's last flight.
Besides the Endeavour exhibit there is still plenty to see and do at the science center. There is an IMAX theater, rotating special exhibits along with permanent ones that will have families having fun while learning at the same time. The permanent exhibits include Air & Space, Ecosystems, Creative World and Discovery Rooms for the little ones. Admission to the Science Center's permanent exhibition galleries is free, but there are charges for parking, IMAX movies and scheduled shuttle viewing times. For more information, visit the California Science Center Website.
Griffith Observatory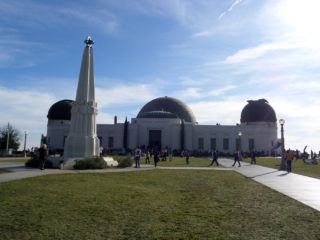 Located in beautiful Griffith Park, the Griffith Observatory sits atop Mount Hollywood and offers amazing views of Los Angeles and the Hollywood Sign. This Los Angeles landmark offers astronomy and science exhibits that connect and educate visitors on the earth and the universe. With wonderful exhibits like the Foucault Pendulum, a Tesla Coil, images from space, meteorites, telescopes and so much more, the observatory will have your family entertained for hours. To top off the wonderful exhibits, beautiful L.A. views and the surrounding park, the Griffith Observatory offers FREE admission and parking. Visit the Griffith Observatory website for more information.
Getty Center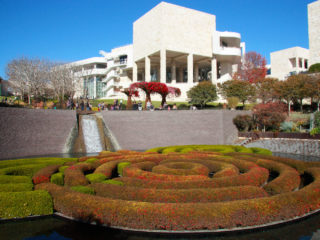 The Getty Center is a massive museum featuring works of art dating from the 8th to 21st century and is one of two J. Paul Getty museums. Although it might not sound like a perfect place to bring your kids, the Getty center has plenty of things for the whole family to enjoy. The museum sits atop the Santa Monica Mountains and gives a magnificent view of the Los Angeles skyline. You start off your visit with a tram ride from the parking structure up the mountain side to the base of the museum. Before you even enter the museum the surrounding museum grounds have plenty to offer families with the beautiful Central Garden, a stream flowing into the reflecting pool, sculpture trees, Arrival Plaza with statues, fountains and the views of Los Angeles.
The Getty Center also has The Family Room, which features five hands-on activity rooms that will entertain the kids. Once inside the exhibits there is plenty of fascinating art to enjoy, including paintings, sculptures, furniture, tapestries, pottery and glassware. To top off all the Getty Center has to offer, there is no charge for admission although you do pay for parking. For a fun an educational family day, the Getty Center is a great choice. See our full Getty Center family review for more information or view our Getty Center photo gallery to see the wonderful things you can experience at the museum.
Queen Mary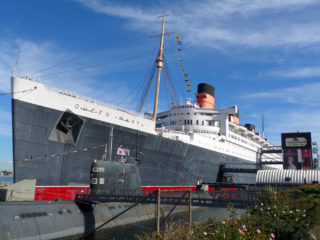 The Queen Mary is a retired luxury ocean liner that sailed from 1936 to 1967 and has made its home in Long Beach ever since. The ship now serves as a major tourist attraction that offers up close and personal tours, Sunday Brunches, special exhibits (Princess Diana exhibit and a 26 foot Queen Mary LEGO brick replica) and a hotel. Moored next to the Queen Mary is the Scorpion submarine, a Russian Cold War era submarine, which allows visitors to experience what life was like living aboard this deep sea hunter.
The Queen Mary also has some amazing special events throughout the year and we highly recommend the Queen Mary's holiday Chill event which has ice skating, tubing, jumpers, food stalls and a winter wonderland filled with beautiful ice sculptures. See our article on all the family friendly tours, events, dining and hotel accommodations aboard the Queen Mary.
Battleship USS Iowa BB-61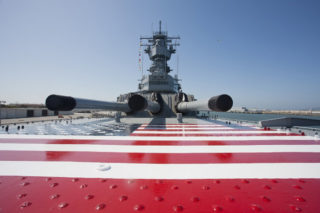 The Battleship USS Iowa has a long and prestigious history that is on display in this floating museum, which is located on the LA Waterfront in the city of San Pedro. Visitors take a self guided tour through multiple levels of the ship and learn about the ship's past 70 years, which includes transporting and hosting U.S. Presidents (Battleship of President's), having served in World War II, the Korean Conflict and exercises during the Cold War era. The tour has a lot to view, read, touch, climb and navigate through and is very educational and inspiring, while still being fun.
Kids will especially love the "Where's Vicky?" activity card that has them finding pictures of the ship's dog mascot and matching the number to the place on the ship and then turning in the card for a prize souvenir. Visit the Battleship USS Iowa website for visitor information. Another close-by attraction is the S.S. Lane Victory museum, which is a restored cargo ship that served in World War II, the Korean War and the Vietnam War.
Santa Monica Pier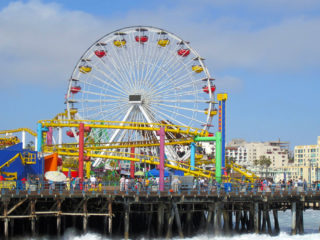 The Santa Monica Pier is over 100 years old and is a well known Los Angeles landmark. The location of the pier is perfect as it surrounded by one of the nicest beaches in SoCal and is walking distance away from the Third Street Promenade. The top draw on the pier is Pacific Park, which is an amusement park that has fun rides for the family highlighted by a solar-powered Ferris wheel and a roller coaster that give you a great view of the coastline. Santa Monica Pier also has an aquarium, an arcade, a trapeze school (ages 6 and up) and a historic carousel.
The pier also has some good family friendly places to eat like Bubba Gump Shrimp Co. and the original Hot Dog on a Stick location which is just a short walk from the base of the pier. Once you have seen everything on the pier, walk down the pier stairs and enjoy a great time at the beautiful Santa Monica Beach. Visit the Santa Monica Pier website for more information on what is going on at the pier.
Adventure City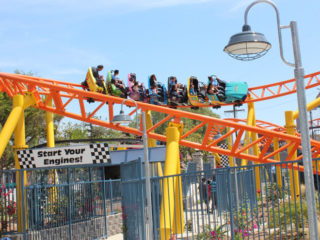 This amusement park is for those with younger kids and is great for families looking for an affordable alternative to the bigger Southern California theme parks. Adventure City bills itself as "the little theme park that's big on family fun," and it delivers. The park has a nice assortment of rides (roller coasters, trains, carousel, etc.), a petting farm, rock climbing and a kid's theater that are all geared towards your younger ones. The amusement park has low minimum height and age restrictions, kids 12 months and younger are admitted free, offers a AAA discount and has free parking. For more information about the park, visit the Adventure City website.
Boomers!
Boomers! is a family entertainment center that has plenty of activities for both kids and adults alike. This family fun park offers a large track with hairpin turns, curves and fast straightaways to zip around in on high performance Go Karts. If your kids are not tall enough to drive, but are 40″ tall, they can be a passenger in your Go Kart and if they are 42″ tall, they can drive their own Kiddie Go Kart.
Boomers! also has two miniature golf courses, bumper boats, rock wall climbing, laser tag, batting cages, thrill rides, kiddie rides and a large arcade. From Memorial Day weekend through Labor Day, Boomers! also has a small water park called Buccaneer Cove that has multiple water slides, a kiddie slide, tunnels and a huge splash bucket. If that is not enough for the family, there is a bowling alley right next door. Visit Boomers! website for more information.
Third Street Promenade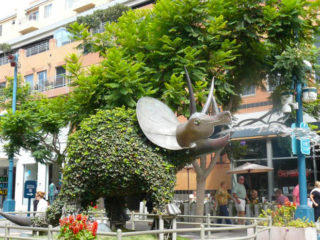 The Third Street Promenade in Santa Monica is a pedestrian only portion of 3rd street that stretches three long blocks and ends at the Santa Monica Place open-air mall. This area of Downtown Santa Monica is a combination of casual to upscale shops, restaurants, coffee/juice shops, movie theaters, eateries, street performers, farmers market (twice a week) and much more. If you and the kids enjoy a leisurely day of shopping, dining and entertainment in a beautiful atmosphere, the Third Street Promenade is the perfect place to spend the day. In addition to all the Promenade has to offer, the Santa Monica Pier and beach is just three blocks away.
Santa Monica to Venice Beach Bike Path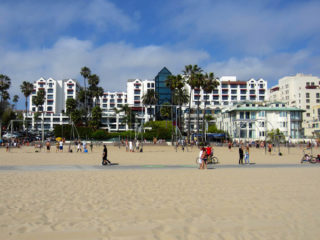 Santa Monica and Venice beaches are next to one another and there is a bike path that winds through both of them. The bike path sits above the beautiful sandy beaches and offers amazing views throughout your ride. The 2.5 mile long bike path can be biked across in around 15 minutes each way, but most of the fun are the stops along the way.
Taking your time and enjoying the sights, activities, shops and restaurants can make this an all day family activity. Have a picnic on the beach, watch some street performances, jump on a few rides on the Santa Monica Pier, shop along Ocean Front Boardwalk, eat at the many restaurants along the way, check out the skateboarders at the Venice Skate Park and enjoy your bike ride through these beautiful beaches. Both beaches have bike rental stands and shops close to or on the path.
Leo Carrillo State Park & Beach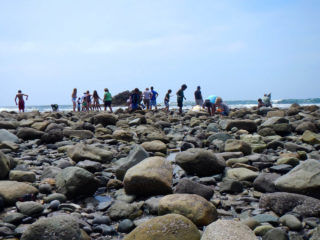 The beach of Leo Carrillo has a lot more to offer than the traditional Southern California beach. Along with the sandy beach and nice surf (it can get choppy at times), Leo Carrillo also has some amazing tide pools, rocky "cliffs" and sea caves. The kids will love exploring the tide pools and seeing all of the sea animals like crabs, sea stars and much more. If you have fairly young children, we recommend staying with them in the sea caves and on the tide pool rocks for their safety. Just north of the beach is the park, which has hiking trails, campgrounds and you can even arrange to have an RV delivered to your reserved campsite. Visit the Leo Carrillo State Park website for more information.
Griffith Park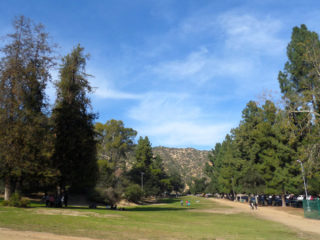 Griffith Park is a massive municipal park that covers over 4,000 acres of land overlooking Los Angeles and offers a plethora of activities for families. The park has a lot of hiking, biking and horseback riding trails, picnic areas, wilderness, playgrounds, points of interest and many other family friendly activities.
The park has many large tourist attractions such as the Los Angeles Zoo & Botanical Gardens, the Autry National Center (an American West museum) and the Griffith Observatory, which is a free public museum that has fun and educational astronomy and science exhibits as well as the magnificent views of city from its location high above Los Angeles. Another notable activity for families is the Los Angeles Live Steamers Railroad Museum, which is open to the public every Sunday for rides on small scale model trains through the park and the Travel Town Museum that has full scale train engines and car exhibits to explore.
Other points of interest for those with kids include miniature train rides, pony rides, the Hollywood Sign and Park Center which houses a classic 1920's merry-go-round, picnic spots and a nice playground. There are so many activities in Griffith Park, that it could fill up half of your things to do with kids in Los Angeles must-do list. To see everything that the park has to offer, visit the Griffith Park website.
Whale Watching Boat Tour
Leaving out of the beautiful Rainbow Harbor in Long Beach, Harbor Breeze Cruises offers 2 and 3 hour whale watching boat tours on their top of the line catamarans. As you leave the harbor, you will sail by the Shoreline Aquatic Park with its iconic lighthouse, the Queen Mary and possibly a cruise ship. After that, sit back, relax and enjoy the ocean breeze as you cruise out into the open ocean in search of the whales. At different times of the year you could see Blue or Gray whales, California Sea Lions and possibly Humpback Whales, Orcas and a variety of dolphins. It is quite amazing once you get your first glimpse of these beautiful sea animals in their natural habitat. For more information on the whale watching tours visit Harbor Breeze Cruises website.
The Original Farmers Market and The Grove
The Grove and the Farmers Market are adjacent to one another and transitioning from one to the other is as easy as crossing over a small street. The Original Farmers Market has been around since 1934 and consists of an open-air maze of produce stalls, shops, cafes and restaurants. It is a fun place for families to enjoy a great meal, browse for gifts and get some treats for the road. We recommend having the pancakes at Du-par's, which is on our list of the Best Family Restaurants in Los Angeles.
The Grove is an upscale shopping and entertainment complex that complements the Farmers Market by giving families some additional fun and shopping that is just steps away. Families will love taking a free ride on The Grove Trolley, strolling around the beautiful fountain, hitting up a movie at the Grove Theatres and for the little girls in your family there is a massive American Girl store.
Sunny SoCal Beaches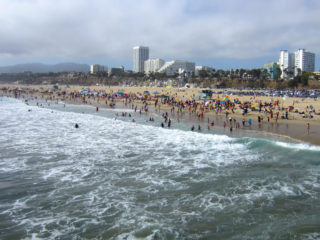 Southern California is known for its beautiful beaches and the sunny weather accommodates visitors almost year round. With miles upon miles of white sandy beaches, Los Angeles offers plenty of activities for families to enjoy along its coastline. Swimming, body surfing, body boarding, sailing, roller skating, roller blading, skateboarding, sand castle building, biking, fishing and volleyball are among the many activities for the family to enjoy during a day at the beach. Our top picks for the best family friendly Los Angeles beaches are Santa Monica Beach and Manhattan Beach. Other notable family beaches are Venice Beach, Hermosa Beach and Leo Carrillo State Park. If you are looking for a beach for the babies, Mother's Beach is a man-made beach with no surf.
Kidspace Children's Museum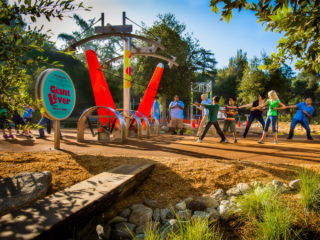 Kidspace is a unique children's museum with over 40 hands-on exhibits, activities and programs that engages young minds through its kid-driven experiences. Located in Pasadena, just south of the Rose Bowl, the museum has over 3 acres of indoor and outdoor space for the family to explore. The museum has a wide variety of things to do for kids that are 10 years old and younger. Kids can dig for dinosaur fossils, explore the outdoor landscapes, climb 40-foot towers to get a bird's-eye view, build forts and dams, crawl through underground tunnels, create art and so much more. Visit Kidspace Children's Museum website for more information on this kid friendly museum.
LEGOLAND California
In between Los Angeles and San Diego in Carlsbad is one of our favorite theme parks for families with younger children. LEGOLAND California is geared towards a family whose kids are between the ages of 2 to 12 years old. The park features a variety of fun rides from very mild to semi-wild and with smaller height requirements, kids will be able to enjoy more rides during their visit. Another major draw for LEGO fans big and small is Miniland USA, which features expertly built LEGO sculptures of famous cities and their landmarks, movies, historical figures and pop culture icons. Throughout the park there are family friendly play areas, shows, creative areas, LEGO characters, shopping and dining. The LEGOLAND resort features the main theme park, a water park, an aquarium and a LEGO themed hotel. For more theme park and resort information, visit the LEGOLAND California website.
Discovery Cube Orange County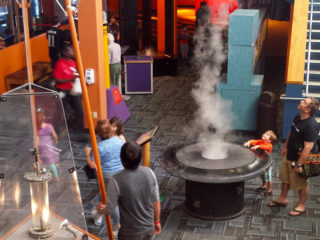 The Discovery Cube Orange County is a hands-on science museum geared towards kids that has over 100 interactive exhibits to explore. The museum has permanent exhibits as well as rotating temporary exhibits (we attended during the MythBusters Explosive Exhibition) for the kids to enjoy. Some of the fun and educational exhibits you will find at the Discovery Cube include: The Boeing Rocket Lab, which has the Blast Off Zone, where you will experience a rocket launch, The Water Lab which teaches children about the science of different kinds of water, The Eco Challenge which teaches about making earth friendly choices and many more interactive exhibits. The Discovery Cube is a great place to have your kids lead the way and have fun while they are learning. For more exhibit and museum information, visit the Discovery Cube website.
---
Things To Do with Kids in Los Angeles Future Additions
We will be adding new Things To Do with Kids in Los Angeles recommendations on a regular basis, so please check back for updates to this article. We also have 20+ recommendations for family friendly activities that are in the works for this page. If you know of activities in Los Angeles that we didn't list, feel free to contact us with your suggestions. Enjoy!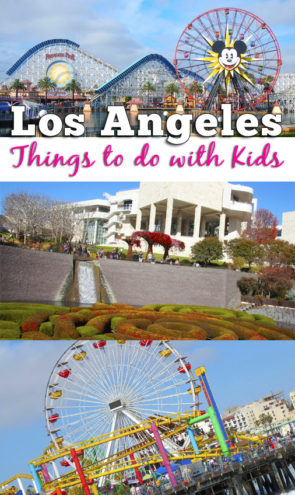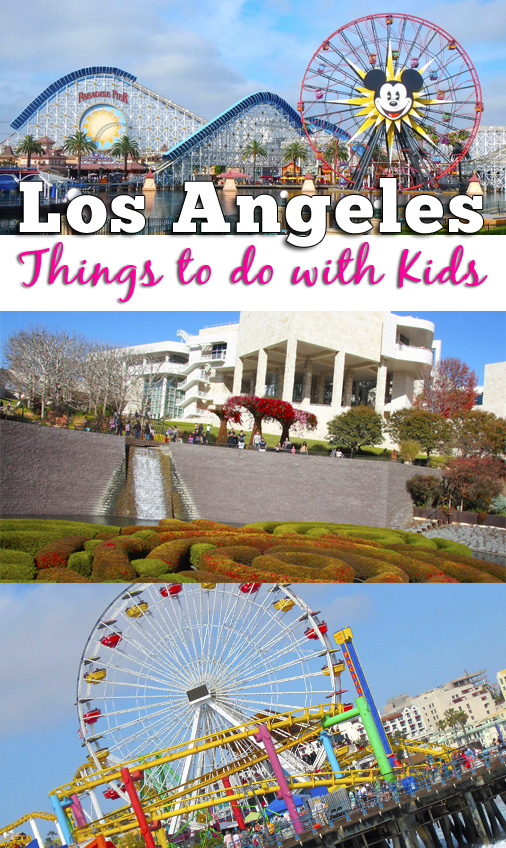 ---
Photo Credits: Rewind Racers Roller Coaster courtesy of Adventure City | Battleship USS Iowa photo courtesy of Pacific Battleship Center/Jeremy Bonelle | Third Street Promenade from Vix_B via license