Orlando Theme Parks, Water Parks and Fun Parks
Chances are, if you are vacationing in Orlando, you are going to be visiting some of the theme parks with the kids. Known as "The Theme Park Capital of the World", Orlando is full of theme parks, water parks and other amusement spots, so we put this guide together to help you plan out your next family vacation. We have split our guide listings into three sections of park types and there is an interactive theme park map at the bottom for you to see where all the parks are in the city. See our Orlando Theme Parks Infographic to compare the parks and see which ones have the most rides for the kids, admission prices as well as which parks have the tallest and fastest roller coasters.
---
---
Orlando Theme Parks
Disney's Magic Kingdom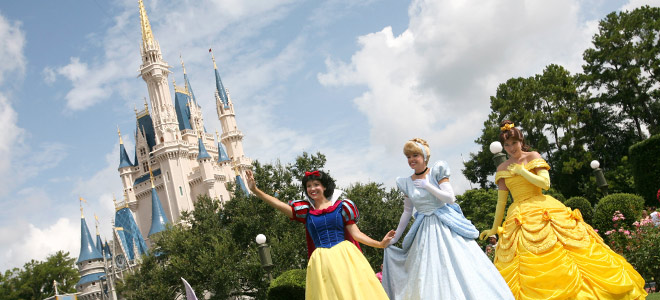 The Magic Kingdom was the first of four theme parks built at Walt Disney World Resort starting it all in . The Magic Kingdom park is one of the best choices for families as it has attractions for kids of all ages. There are rides, Disney characters, shows and shops spread out across 6 themed lands. The Magic Kingdom also has the nightly Wishes spectacular fireworks show and the Main Street Electrical Parade which should be a must-see for all. Top rides at the park include the Pirates of the Caribbean, Space Mountain, Haunted Mansion, Big Thunder Mountain Railroad, Jungle Cruise, it's a small world and many more. Visit Disney's Magic Kingdom for more theme park information.
Disney's Animal Kingdom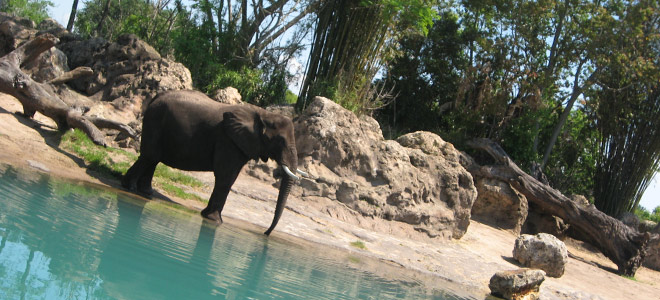 Disney's Animal Kingdom is the largest of the Disney theme parks as well as the largest Orlando theme park and is part animal park and part theme park. Centered around the symbolic Tree of Life, a massive 145 foot sculpted tree, is a beautiful and lushly landscaped park with 1,700 animals from 250 species. You can see the animals in a variety of ways with the main way being the Kilimanjaro Safaris in which you ride in open-air jeeps through the African savanna. In addition to the animals, there are rides, Broadway-stye shows and colorful parades. The top attractions at Disney's Animal Kingdom are the Kilimanjaro Safaris, Expedition Everest, DINOSAUR, Kali River Rapids, Primeval Whirl and the Festival of the Lion King show. Visit Disney's Animal Kingdom for more park information.
Disney's Epcot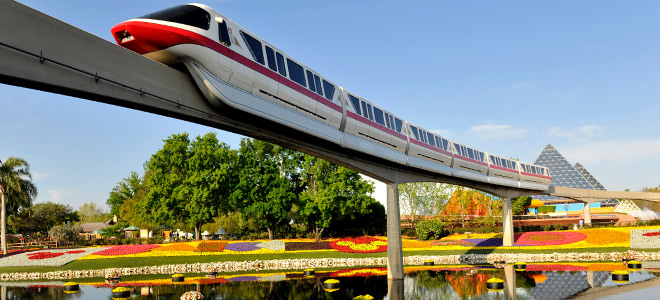 Epcot, the second Disney park in Orlando, has a lot to see and do for families. This huge Orlando theme park is split into 2 distinct areas, World Showcase and Future World. Centered around a large lagoon, the World Showcase features 11 nations with buildings and cast members representing each of their countries. This section of the park is great for learning about other cultures through movies, shows, compatriots and food. Future World is the area of technology and the exploration of Earth. This area features the major rides and shows of the theme park as well as hands-on activities. Some of the major attractions at Epcot include Mission SPACE, Test Track , Spaceship Earth, Soarin' and Captain EO. Visit Disney's Epcot for more information on this Orlando theme park.
Disney's Hollywood Studios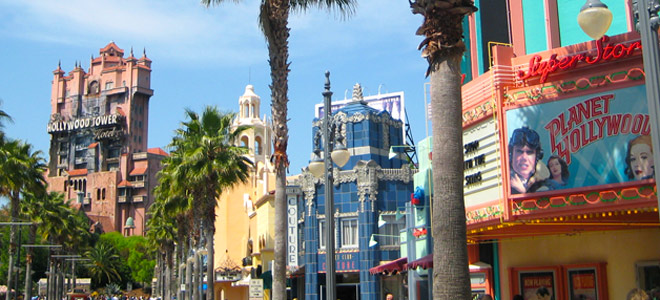 Hollywood Studios, as the name implies, is a show biz themed park that takes after the Hollywood's golden years of the 30's and 40's. With a combo of rides, backlot tours and live shows, this park has a lot to offer. Younger kids (under 6) might not be able to appreciate all this park offers up as they don't have the background knowledge of the movies and might be too small for the bigger rides. Having said that, it is still Disney and it is still a magical place with a lot to offer families like the live Broadway-style musical of Beauty and the Beast that should not be missed. Top attractions at the Hollywood Studios park are Studio Backlot Tour, Rock 'n' Roller Coaster, Star Tours, The Twilight Zone Tower of Terror, Toy Story Midway Mania! and the Fantasmic! fireworks and water show extravaganza. Visit Disney's Hollywood Studios for more park information.
Universal Studios Florida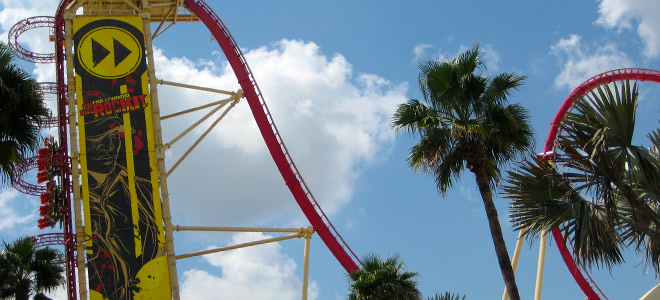 One of the two theme parks that make up Universal Orlando, Universal Studios Florida is a theme park that is modeled after your favorite movies and TV shows. The park has rides from roller coasters to 3-D simulator rides, live shows and play areas. Whether you like, Despicable Me, Men in Black, Harry Potter or Shrek, Universal Studios Florida has something for everyone. The newest addition in 2014 is Diagon Alley from Harry Potter which has famous shops and a new thrill ride from the movies. Top attractions at the park are Hollywood Rip Ride Rockit, Despicable Me Minion Mayhem, TRANSFORMERS: The Ride-3D and Revenge of the Mummy. Visit Universal Studios Florida Website for more information on this Orlando theme park.
Universal's Islands of Adventure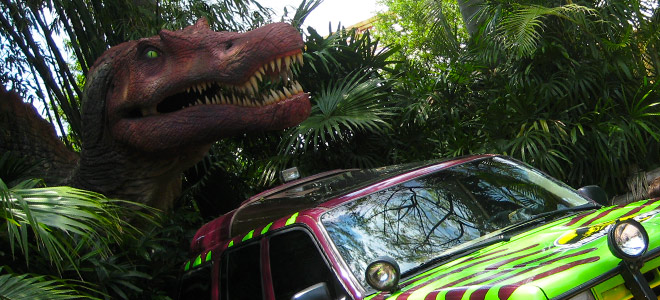 Staying with the blockbuster movies and TV shows theme, Universal's Islands of Adventure kicks it up a notch in the rides arena. This theme park offers cutting-edge rides from high-speed roller coasters and thrilling simulator rides to kid friendly coasters and flying swing rides. Wizard loving adults and kids alike will love the rides, food and shopping of the World of Harry Potter as well as the Hogwarts Express train between both theme parks. Top attractions at the park include Dragon Challenge, The Incredible Hulk Coaster, Jurassic Park River Adventure, Doctor Doom's Fearfall and Harry Potter and the Forbidden Journey. Top kid attractions are Flight of the Hippogriff, The Cat In The Hat and Pteranodon Flyers. Visit Islands of Adventure Website for more information on this Orlando theme park.
---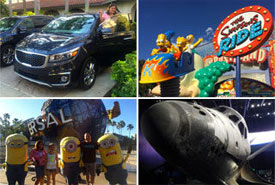 Orlando Family Road Trip
We drove the Kia Sedona through Central Florida on a four day family road trip with stops at Kennedy Space Center and Universal Orlando Resort. Check out our Orlando Family Road Trip article to see all we did in Florida.
SeaWorld Orlando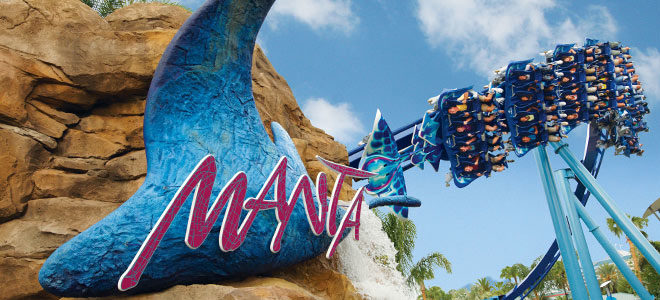 SeaWorld Orlando is a marine-life based theme park that has a wide array of sea life on display. The park also has thrill rides, kids rides, sea life shows and play areas. Families will not only enjoy viewing the marine life, but the park does a good job of educating them about the species they are watching. Some of the main sea life attractions include One Ocean (killer whale show), Empire of the Penguin, Shark Encounter, Manta Aquarium and Dolphin Cove. Not to be outdone by the other parks for some thrills, SeaWorld Orlando has two great roller coasters. Manta is a flying roller coaster that is fast and furious and Kraken is a floorless roller coaster with loops, rolls and corscrews. For the kids there are plenty of fun rides and play areas for them to enjoy throughout the park. SeaWorld Orlando has something for everyone and is a solid theme park choice for families. Visit SeaWorld for more information on this Orlando theme park.
Advertisement
Orlando Water Parks
Disney's Blizzard Beach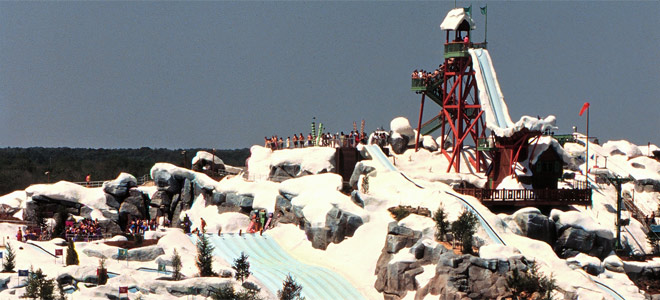 Disney's Blizzard Beach Water Park's theme is a Florida ski resort that melts the snow and creates slushing downhill runs. To hit the green slopes, you can take the chairlift to the top of Mt. Gushmore to ride the water runs of Summit Plummet a 120 ft. vertical slide, Slush Gusher a 90 ft. plummet with a bump for some air time or Teamboat Springs where up to 6 can ride a inner-tube raft down 1,200 ft. of twisty turns. The purple and red slopes have 8 lane Toboggan Racers, Downhill Double Dipper which is side by side racing, a one acre bobbing pool, Cross Country Creek which is a lazy river that flows around the entire park and many other water rides. Three of the rides require a hieght of 48″ or taller, but most of the park is good for kids of all heights so families with kids should have plenty to do at this water park. Children under 10 years old must be accompanied by an adult. Visit Disney's Blizzard Beach Website for more information on this Orlando water park.
Disney's Typhoon Lagoon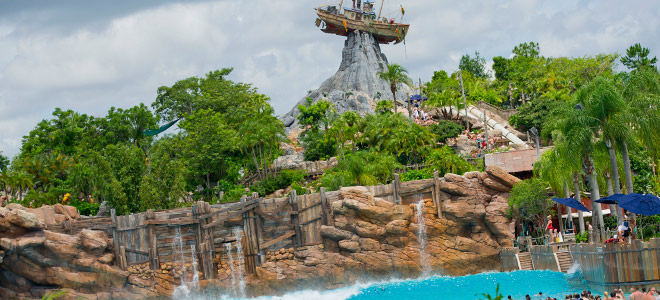 Disney's Typhoon Lagoon's theme is the tropical paradise that was left over after a typhoon hit Mount Mayday and tossed boats, tankers and trees. At the center of this water park is a massive surf pool which provides 6 ft. waves at the top and calmer waters towards the beach. A unique experience at Typhoon Lagoon is the Shark Reef which lets guests snorkel with tropical fish, sharks and stingrays. Like Blizzard Beach, Typhoon Lagoon also has lazy river named Castaway Creek that will float you around the entire park in for 20 relaxing minutes. Most of the rides are good for any height but there are two rides with a height limit are Crush 'n' Gusher (48″) which is like a roller coaster in water and Humunga Kowabunga (60″) which drops you down a 5-story water tube in seconds. Not to leave the kids out, Typhoon Lagoon has something special just for the kids. The first is Ketchakiddee Creek which has slides and rafts for kids under 48″ and Bay Slides which is body slides for those under 60″. Rounding out the water rides is three water rapid rides from Keelhaul Falls the least intense to Mayday Falls, the most intense as well as the longest water slide in the park. Visit Disney's Typhoon Lagoon Website for more information on this Orlando water park.
Aquatica Orlando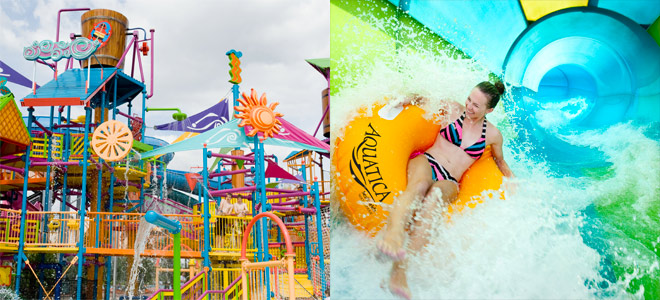 Aquatica Orlando is the water park of SeaWorld and has a South-Seas inspired look and feel. Being a SeaWorld park, Aquatica offers riders a unique experience with water rides that pass by or through animal habitats. This water park has attractions for all different swimming abilities, so families should find it easy to please kids of all ages. Aquatica Orlando has a side-by-side wave pools, with Cutback Cove having bigger and stronger waves and Big Surf Shores having smaller and gentler waves. Kata's Kookaburra Cove with beginners body slides and Walkabout Waters a colorful 60-foot-tall fortress are two play areas for the smaller kids to enjoy. Keeping with the something for everyone theme, Aquatica has two lazy rivers with Roa's Rapids being a faster rapids type and Loggerhead Lane being a more traditional relaxing lazy river with the added fun of going through marine life exhibits. For the thrill minded visitor, the water park offers Dolphin Plunge where you slide through a tube that goes through the Commerson dolphins habitat, Whanau Way which has single or double riders twisting and dropping down tubes and Taumata Racer which is an 8 lane high-speed mat ride. The park also has private cabanas for rent if you want a designated place for the family to set up. Aquatica Orlando has something for everyone and is a good choice for families. Visit Aquatica Orlando's Website for more information on this Orlando water park.
Discovery Cove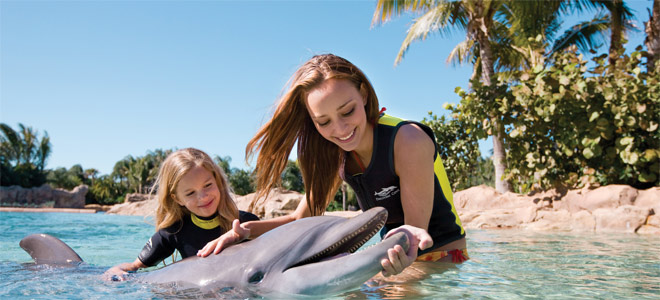 A totally different kind of water park than the rest on this list is Discovery Cove. This is a limited-admission theme park that will have you not worrying about crowds or line waiting. This park is all-inclusive which includes the activities, gear, lockers, sunscreen and also includes breakfast, lunch, unlimited snacks and drinks. Discovery Cove's activities include a 30 minute interaction and swimming with dolphins, snorkel with tons of tropical fish in The Grand Reef, float with the current of Wind-away River, swim in Serenity Bay, relax on the beaches and feed exotic birds in the aviary. This park offers such a unique experience for kids and adults that not many other places can offer. Visit Discovery Cove's Website for more information on this Orlando water park.
Wet 'n Wild Orlando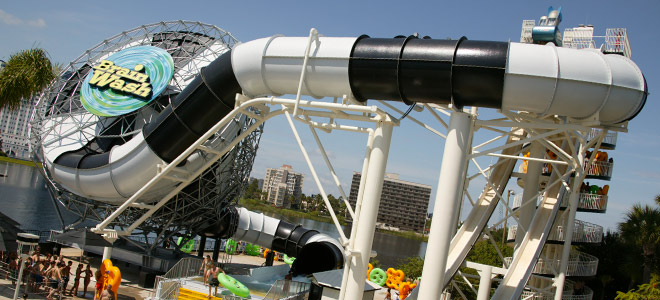 The Wet 'n Wild water park is a more traditional water park without a theme, but that doesn't take away from the fun the park offers up. Part of the Universal family of theme parks, Wet 'n Wild is a very short drive from the other parks and you can buy a multi park ticket to visit them all. If you are looking for a water park that you can ride with your friends or family members, Wet 'n Wild delivers with 7 multi-person rides. Of these rides, 5 of the 7 allow kids 36″ or taller to ride with an adult and the other 2 have a height requirement of 48″. From the dark tunnels with colorful lighting of Brain Wash and The Black Hole to the sunny open slides of The Blast, The Surge and the Bubba Tub, the multi-person rides offer a good variety. If you are looking to go solo and get some speed, the park offers 4 rides for the thrill seeker. A couple good examples of these thrilling rides are The Bomb Bay which opens a trap door to drop you almost vertical and Der Stuka which has you blazing down 6 stories of slide. If you are looking to take it easy the water park offers a lazy river, a wave pool and Blastaway Beach which is a family oriented six story castle filled with slides, water cannons, jets and two pools. We recommend this park for families with a little bit older kids. For more information on this Orlando water park, visit Wet 'n Wild Orlando's website.
Orlando Fun Parks
DisneyQuest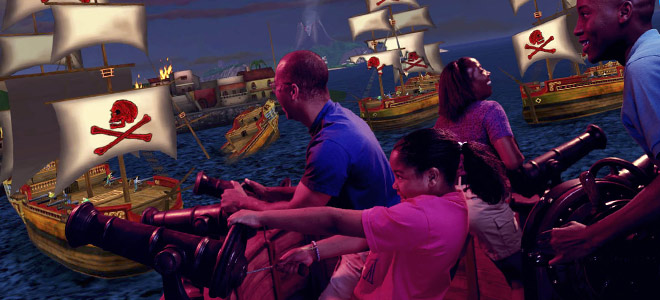 DisneyQuest is an indoor interactive theme park located in Downtown Disney. Housed in a 5 story building, this virtual theme park offers a mix of adventures through interactive 3D and 4D virtual worlds as well as a Replay Zone where you can play classic video games like Pac-Man, Donkey Kong and Spy Hunter. Some of the high-tech interactive adventures that DisneyQuest offers include Buzz Lightyear's Astroblasters which is a futuristic bumper car battle, Virtual Jungle Cruise has you shooting the rapids of a prehistoric river, Pirates of the Caribbean: Battle for Buccaneer Gold which up to 5 players take on a position (steering or shooting) on the ship in a pirate adventure and many more interactive virtual attractions. Visit DisneyQuest Website for more information on this indoor theme park.
WonderWorks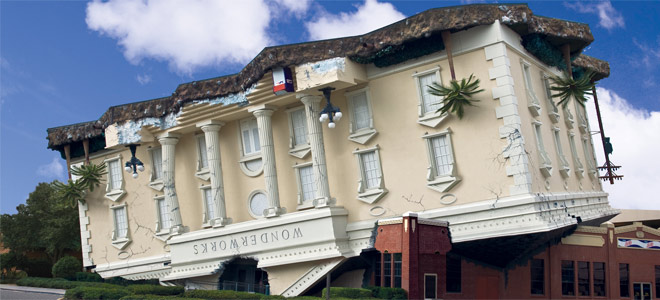 WonderWorks is an indoor collection of over a 100 hands on exhibits and activities. You start off entering the upside down building and then enter an inversion tunnel to get everything right-side up. Once you are inside there are activities galore like the Ropes Challenge Course which is a harnessed three-story obstacle climb, the XD Theater 4D which is a motion thrill ride simulator and WonderCoasters where you can design and then ride a simulated version of your roller coaster. Some of the cool hands on exhibits at WonderWorks include an oversized version of lite brite, a simulation of the 1989 San Francisco earthquake, landing a space shuttle, lying on a bed of nails, a bubble lab and much more. Visit the WonderWorks Website for more information on this indoor theme park.
Fun Spot America Orlando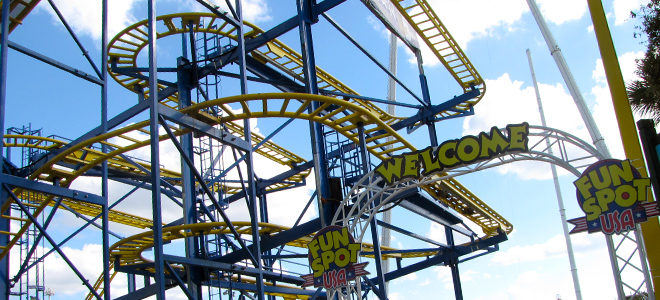 Fun Spot America Orlando is located on International Drive in the heart of Orlando and offers free admission, parking and WiFi. This amusement park features thrill rides like the 2,000 foot long wooden roller coaster called White Lightning and the family friendly steel Freedom Flyer roller coaster. The park also has an amazing selection of go-kart tracks with 3 of them being huge multi-level (4 stories high) tracks, 1 speed track and a Cadet course geared for smaller kids age 4 – 6 years old. Fun Spot America has a variety of classic thrill rides like Rip Curl, Tilt-a-whirl, Scrambler, Enterprise and a Ferris Wheel. Along with the Cadet track, the park has an area for the smaller kids called KidSpot where the slower speed rides are for those under 42″ tall. The park also has a 2-story arcade with current and classic arcade games as well as redemption games like skee-ball and pop-a-shot. Visit Fun Spot America's Website for more information on this Orlando theme park.
Hollywood Drive-In Golf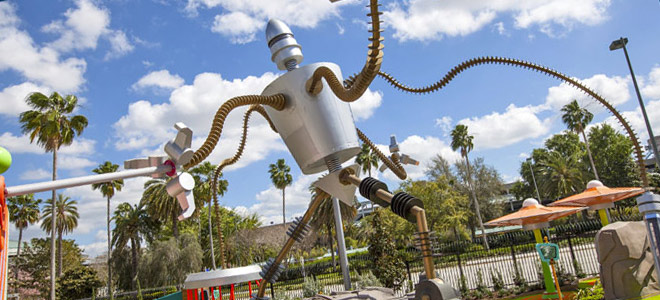 Hollywood Drive-In Golf is conveniently located at the Universal CityWalk and features 2 cutting-edge miniature golf courses that was designed with all ages in mind. Both 18 hole mini golf courses are modeled after vintage 1950's style horror and sci-fi movies in a fun way. The Haunting of Ghostly Greens is the horror course and is decorated with fun and spooky houses, cemeteries, spiders, ghosts, snakes and statues. The Invaders from Planet Putt mini golf course is the sci-fi that is decorated with aliens, flying saucers, cows, Area 51 and a huge alien robot. The courses have colorful LED lighting, so playing at night is extra fun and adds to the ambiance of both courses. Visit Hollywood Drive-In Golf's Website for more information on this Orlando miniature golf park.
Pirate's Cove Adventure Golf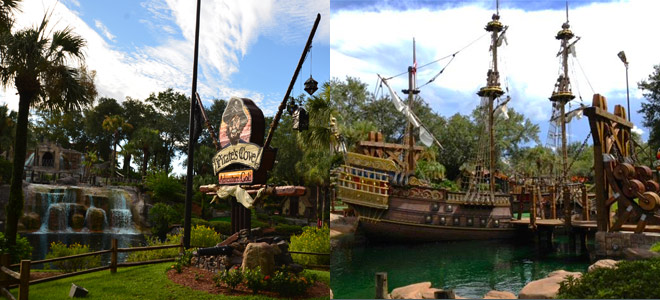 Pirate's Cove Adventure Golf is located on International Drive and features 2 mini golf courses. Captain's Course and Blackbeard's Challenge are the two 18-hole pirate themed courses that they offer. The Captain's Course is the easier of the two courses and would be a good pick for those families with smaller children. The courses feature entertaining hole design, tropical landscaping and a great pirate atmosphere. Among the surroundings on the courses, you will see sunken ships, waterfalls, streams, pirates in hammocks and pirate caves. You can walk over footbridges and under waterfalls, fire a water pirate cannon and take pictures of your family in the pirate stocks. Visit Pirate's Cove Adventure Golf Website for more information on this Orlando miniature golf park.
Gatorland
Gatorland is a 110-acre theme park and wildlife preserve that features thousands of alligators and crocodiles. The park has a observation tower, a breeding marsh, a petting zoo and a free-flight aviary. Gatorland also has four rare leucistic or white alligators. There are daily reptile shows of gator wrestling, gators jumping out of the water for food in the Gator Jumparoo show and an Upclose Encounters show. If getting close to gators and crocs doesn't get your adrenaline pumping then try the Gator Zip Line. Soar over alligators and crocodiles on five zip lines that are up to 65 feet high and 500 feet long. If want to get closer to the gators or interact with them, Gatorland offers the Adventure Hour and Trainer for a Day programs. Visit Gatorland's Website for more information on this Orlando wildlife preserve park.
Advertisement
Theme Parks Close to Orlando
Busch Gardens Tampa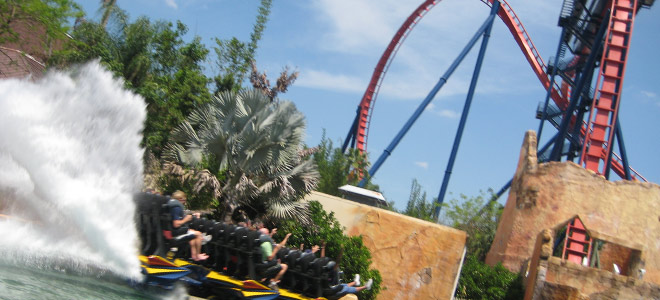 Busch Gardens is in Tampa and is little over an hour drive from Orlando. This theme park has an African theme and combines an animal park with a thrill ride park. The Serengeti Plain is the main animal area which is a 65-acre natural habitat where the animals roam free. You can explore the Serengeti Plain on your own by foot or take a tour via an open air touring vehicle, through the Skyride which gives you a great aerial view or ride the Rhino Rally jeeps for an up-close look at the animals and their habitat.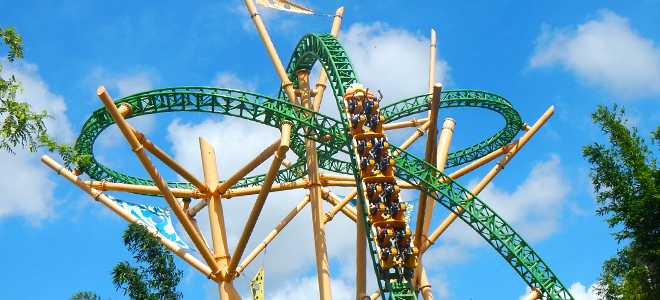 Busch Gardens Tampa also has a great variety of rides for all ages and thrill levels. For those looking for big thrills the park has five fantastic roller coasters from the wooden giant Gwazi, the triple-launch Cheetah Hunt roller coaster (pictured above), the floorless dive coaster SheiKra and the crazy inversions of steel giants Kumba and Montu. On the tamer side, Busch Gardens has plenty of smaller thrill rides for the kids, a couple of water rides, play areas like the 3-story Treetop Trails and fun shows like Madagascar Live! Operation: Vacation. We have to say that this park really does have something for everyone and highly recommend it for families. Visit Busch Gardens Tampa Website for more information on this Tampa theme park.
Adventure Island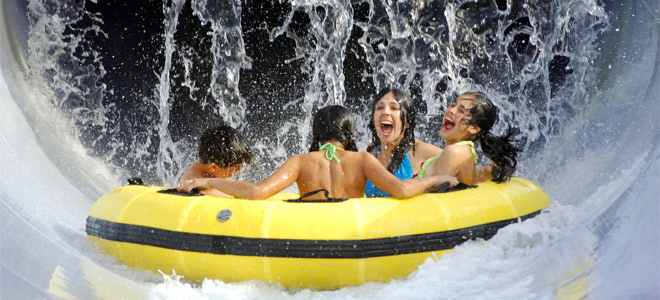 A sister park to Busch Gardens and just across the street is the Adventure Island water park. Attractions at this park include a large wave pool, a half-mile tube ride in the lazy river called Rambling Bayou and 10 different water slides. Slide variety here ranges from the Gulf Scream, a 210-foot body slide and Caribbean Corkscrew a high speed water slide to the Wahoo Run, a family raft ride and Key West Rapids, a 700 foot twisting and turning raft ride. Adventure Island also has three play areas specifically designed for the kids. Splash Attack which is a large tree house type water funhouse with slides, cargo nets, jets and rope pulls as well as a massive wooden bucket that dumps 1,000 gallons of water every few minutes. Paradise Lagoon features, slides, waterfalls and the popular 20 foot plunge into the pool. For the smaller kids to splash and play there is the Fabian's Fun Port which is like a park jungle gym but with water everywhere. We recommend spending a day (maybe two) at Bush Gardens and a separate day at Adventure Island as they each offer enough for an entire day of fun. Visit the Adventure Island Website for more information on this Tampa water park.
LEGOLAND Florida and LEGOLAND Water Park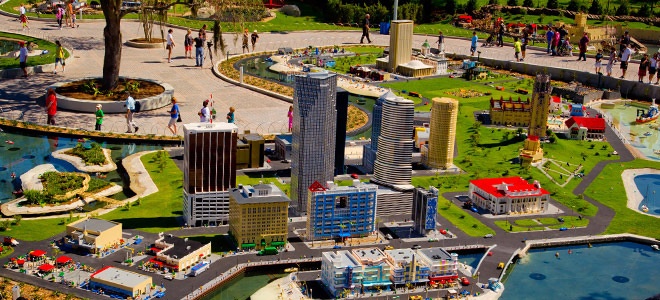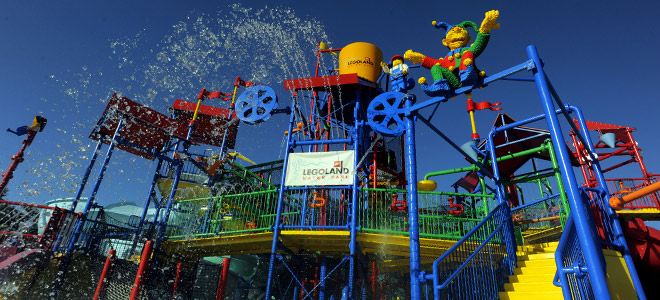 LEGOLAND Florida and water park is located in the city of Winter Haven, Florida which is under an hour drive from Orlando. This theme park is great for those families with younger children as the park caters to kids between 2 and 12 years old. The theme of the park is obviously LEGO themed and is divided into 11 sections as well as the water park and Cypress Gardens, a botanical garden.
At the heart of the park is Miniland USA which is a large area of LEGO displays. Divided into seven themes, Miniland USA has local favorites such as Kennedy Space Center and Daytona International Speedway, major cities such as Vegas, New York and California complete with landmarks, and a LEGO STAR WARS section. LEGOLAND Florida has over 50 rides and attractions and does a great job building rides for kids (with minimal height requirements) that their parents can ride along with them. As a parent it is quite refreshing to be in a theme park where your young kids can go on almost any ride. Among the rides that LEGOLAND has, there are 4 big kid roller coasters, driving and boating rides, a lego safari, wave racers and many more. The park offers up plenty of shows and play areas as well as great shops with LEGO goodies.
The LEGOLAND Water Park is an additional fee to the regular park admission and cannot be purchased separately. The water park has a wave pool, a large water playground, a dedicated splash playground for kids 5 and under, a lazy river and multiple water slides. Visit LEGOLAND Florida's Website for more information on this theme park.
Daytona Lagoon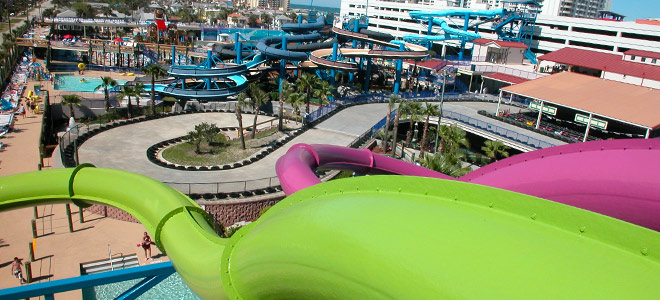 A little over an hour away from Orlando in Daytona Beach is Daytona Logoon which is a family fun center and water park. This fun park is free to enter, but you pay to participate in the fun activities. For the dry activities, the park has a quarter mile go-kart speedway, 18 Holes of miniature golf, a laser tag arena, a rock climbing wall and an arcade. Daytona Lagoon's water park has a large wave pool, a lazy river, 12 water slides including a four lane racing slide and a few twisting and turning open and enclosed slides. For the kids, there is a large water play structure with slides, cargo nets to climb on and a water bucket that dumps 1000 gallons of water every 2 minutes. Visit Daytona Lagoon's Website for more information on this family fun center and water park.
Orlando Theme Parks Map
Adventure Island Water Park




10001 North McKinley Drive, Tampa, FL 33612, United States

Aquatica Orlando




5800 Water Play Way, Orlando, Florida 32821, United States

Busch Gardens Tampa




10001 N McKinley Dr, Tampa, FL 33612, United States

Daytona Lagoon




601 Earl Street, Daytona Beach, FL 32118, United States

Discovery Cove




6000 Discovery Cove Way, Orlando, FL 32821, United States

DisneyQuest




1486 East Buena Vista Drive, Orlando, FL 32830, United States

Disney's Animal Kingdom




2901 Osceola Pkwy, Lake Buena Vista, Florida 32830

Disney's Blizzard Beach




1534 Blizzard Beach Drive Lake Buena Vista, FL 32830

Disney's Hollywood Studios




351 S Studio Dr, Lake Buena Vista, FL 32830

Disney's Typhoon Lagoon




1145 Buena Vista Drive, Kissimmee, FL 32830, United States

Epcot




Epcot, Lake Buena Vista, FL, United States

Fun Spot America Orlando




5700 Fun Spot Way, Orlando, FL 32819, United States

Gatorland




14501 South Orange Blossom Trail, Orlando, FL 32837, United States

Hollywood Drive-In Golf




6000 Universal Boulevard, Orlando, FL 32819, United States

LEGOLAND Florida




1 Legoland Way, Winter Haven, FL 33884, United States

Magic Kingdom Park




1180 Seven Seas Dr, Lake Buena Vista, FL 32830

Sea World Orlando




7007 Sea World Drive, Orlando, FL 32821, United States

Universal Orlando




6000 Universal Boulevard, Orlando, FL 32819, United States

Wet 'n Wild




6200 International Drive, Orlando, FL 32819, United States
Visit our Orlando Tourist Map to see all of the Orlando theme parks along with family hotels and restaurants. To view the above theme park map in full page width, view our Orlando Theme Park Map. If you have a suggestion for an addition to our theme park list, feel free to send us your park suggestion.
Photo Credits: Power Trip Coaster by DebMomOf3 via license