Seeing the Oahu Island
On our first trip to Hawaii our first island stop was Oahu. On our first non-travel day, we decided to take the Oahu Circle Island Tour as it would give us a good look at most of the island and help us out with a lay of the land. We usually like to explore on our own when we get to a new travel destination, but with so many points of interest on Oahu, we thought a full day tour of the island would be the best start for our family vacation.
After looking at a few tour companies and the tours they offered, our family decided on taking the Majestic Oahu Circle Island Tour from E Noa Tours. Our choice to take this tour was based on the tour itinerary and the stops it made along the way. Most of the tours have similar stops along the way, but ours had stops at Waimea Valley, Byodo-In Temple, Nu'uanu Pali Lookout and other Oahu island must-sees. Another reason we chose this Oahu circle island tour was that we wanted to be on a smaller bus with a small tour group size.
Oahu Circle Island Tour
The tour company will give you an early morning pick up time for you at a hotel that is closest to you. Once the tour bus makes all its pickups at the hotels, all of the buses meet near Waikiki Beach and get you onto your final tour bus. Your tour will have many stops, but even during your drive to each stop, you will see beautiful and interesting sights as well as hear facts and stories from your tour guide. During our first few minutes of our tour we found out that all beaches on the island are public, even if they are in front of famous hotels or swanky oceanfront homes.
Hanauma Bay and Halona Beach
We started our tour driving around Diamond Head and through the Kāhala neighborhood which is known as the "Beverly Hills of Oahu." After a short drive we made our first stops at Hanauma Bay and Halona Beach. The stop at Hanauma Bay is in the scenic overlook but not on the beach itself. The same goes for Halona Beach where you can view the famous beach from a scenic overlook. Although we didn't get to step foot onto Hanauma Bay's beach, it was a beautiful view and we put it on our list for a later visit.
Makapu'u Beach
Our next stop on our Oahu Circle Island Tour was Makapuʻu Beach. This gorgeous beach on the east coast of Oahu was one of the nicest beaches we saw on our tour of the island. The beach also gives you a great view of the uninhabited Mānana Island. Makapu'u is also the area where the Sea Life Park and Makapu'u Point Lighthouse are located, though the tour does not drive by them.
Nu'uanu Pali Lookout & Valley
Our next stop was the Nu'uanu Pali State Wayside which is right off of the Pali Highway. From the 1,200 foot elevation of the Pali lookout, visitors get a panoramic view of the beautiful windward coast of Oahu and the city of Kane'ohe.
Byodo-In Temple
After a short drive through the city of Kane'ohe, we arrived at the Valley of the Temples Memorial Park. Inside the memorial park is the Byodo-In Temple which is a non-practicing Buddhist temple that welcomes all faiths. The temple has a huge golden Buddha, a three ton sacred bell (used to cleanse the mind of evil), a meditation pavilion and Japanese Koi ponds surrounding the temple. This was a very beautiful and peaceful place to visit.
Laie Point
This stop was not on our Oahu Circle Island Tour itinerary, but the tour company web site mentioned that your driver might make extra stops along the way. Laie Point was our extra stop for our tour and we are glad it was added to our tour. Laie Point is a small piece of land that extends out into the ocean. This rocky area has cliffs and strong waves, so we suggest keeping the kids close by at all times. It was fun exploring the area, climbing around and watching the waves crashing around the Laie Point rocks.
Waimea Valley and Waimea Bay Beach
After our longest drive of the tour through the North Shore of Oahu, we arrived at Waimea Valley. This was also our longest stop of the day as we were there for a little over an hour and a half. The Waimea Valley a nature park that is over 1800 acres and is considered to be a sacred place to the native Hawaiians.
The main attraction at the park is the 45-foot tall Waimea Falls which the park allows visitors to swim and has a changing room and a lifeguard on duty. The 3/4 of a mile hike up to falls is along a paved path and is not too difficult even for kids. There was plenty of sights along our hike up to the Waimea Falls and we even took the non-paved river hike for part of our walk. The Waimea Valley was easily the family's favorite stop on the Oahu Circle Island Tour.
Dole Plantation
The Dole Pineapple Plantation was our last tour stop before heading home. Although the plantation is very large and has many attractions, our stop is only long enough for a quick look around, a bite to eat and a little shopping. The Oahu Circle Island Tour itinerary had only 15 minutes down for this stop, but our guide gave us 30 minutes. We had heard from our tour guide that the Dole Whip (frozen yogurt) was the thing to try. We jumped in line and spent 15 of our 30 minutes waiting for our Dole Whip with some fresh pineapple chunks on top. It was worth the wait, but spending half our time at the plantation in a line felt a bit wasteful. The Dole Plantation has the world's largest maze, a train called the Pineapple Express and a plantation garden tour. They have a nice Dole store filled with foods, clothing and other cool items. The big seller at the store that we saw was buying a whole Dole pineapple. Good fun but not enough time for most of it.
Why We Recommend an Oahu Circle Island Tour For Families
See a lot of Oahu in 1 Day
Comfortable Tour Buses
Knowledgeable Tour Guides
Learn About Oahu and the People
Parents not occupied with directions and driving
Walking through Waimea Valley
Nu'uanu Pali Lookout
Byodo-In Temple
Nu'uanu Pali Lookout
Dole Plantation
Oahu Circle Island Tour Tips
Be On Time: Please remember that the tour relies on everyone being on time for their pick-up in the morning and returning to the bus at specified times. If you or some one else on the tour is late, you loose time during your stops on the tour. Our bus had one family that was constantly 5 to 15 minutes late and they sure got the looks from the others when they boarded the bus each time.
Comfort: Dress comfortably and wear comfortable walking shoes. The Oahu Circle Island Tour has a lot of different terrain so having good shoes is important. Even though there are stops for lunch and some places that sell food and drinks, we recommend you bring a backpack with snacks and drinks as you are gone for the whole day.
Watch the Kids: Although we wouldn't say the tour is dangerous in any way, it does have its times when you need to pay more attention to what the kids are doing. With many stops being near the edge of overlooks, rocky roads and even cliffs, it is important to keep an eye on the kids to keep them in the safe areas.
---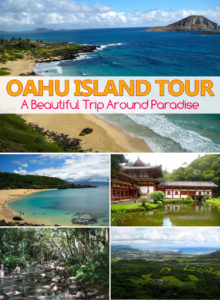 ---
Oahu Circle Island Tour Links & Information
Roberts Hawaii: (800) 831-5541