Best Family Restaurants in NYC
New York City is one of the greatest food cities in the world. Visitors can enjoy some of the best eats from the endless restaurants, hole-in-the-walls and street carts located throughout the city. Alongside all of the fun things to do with kids in New York City, enjoying the unique foods that the city has to offer is worth the visit to the Big Apple itself. Having a family meal in Manhattan can be a challenge, an adventure and a whole lot of fun. Below is a list of some of our favorite Kid Friendly Restaurants NYC, along with our favorite dish from each.
Kid Friendly Restaurants NYC – Upper East/West Side
Luke's Lobster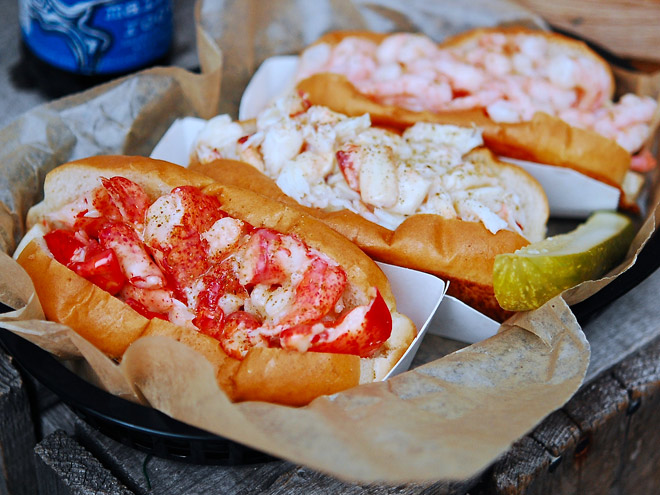 Favorite Dish: Lobster Roll
This casual seafood restaurant knows how to keep it simple and still serve delicious food. While their menu only has a handful of main entrées to choose from, what they do serve up has been done to perfection. Luke's Lobster has three sandwich roll choices – lobster, crab or shrimp – each with the chilled seafood loaded onto a New England split-top bun, a light swipe of mayo, some lemon butter and a dash of spices. Throw in a side or two (Clam Chowder for us) and a drink and you have one great meal. The kids might also like trying their tasty Grilled Cheese. Visit Luke's Lobster website for more information, menu items and locations.
---
Papaya King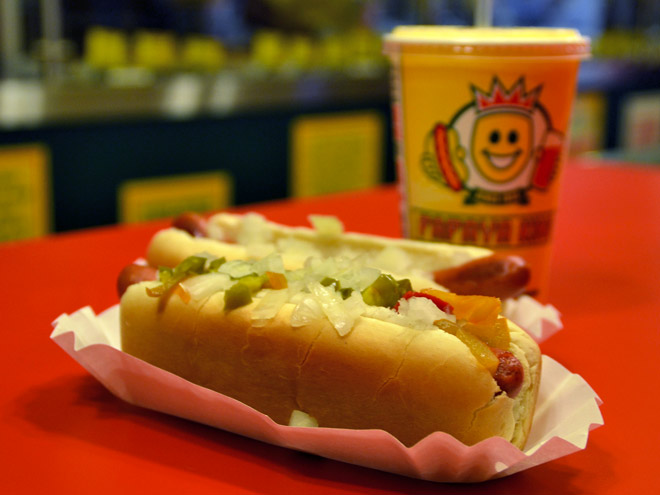 Favorite Dish: Frankfurter with NY Onions & Kraut
The original New York City restaurant to pair up frankfurters and tropical drinks, this Upper East Side fast food legend should be easy sell to the kids and will be very kind to your wallet. Papaya King's menu is very simple with hot dogs, sausages, tropical drinks and curly fries. Their tasty beef franks have a great balance of flavors and textures that go well with the handful of toppings that they offer. Our family favorite is the King Combo that comes with two franks with kraut, onions and the red onion sauce, a refreshing cup of papaya juice and some curly fries. Visit Papaya King's website for more information, menu items and locations.
---
Carmine's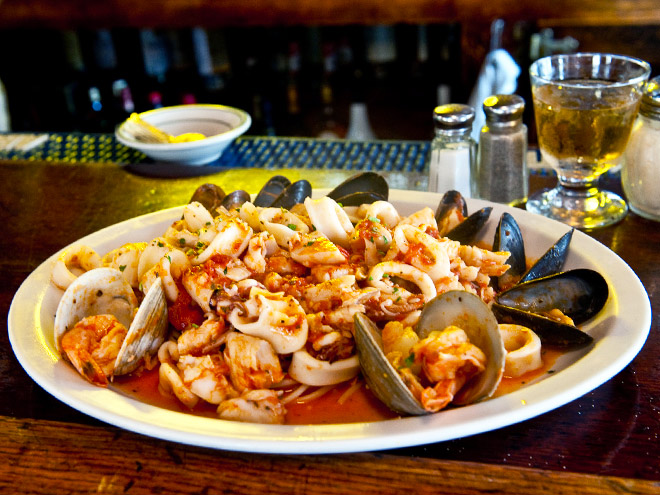 Favorite Dish: Rigatoni Ragu (Meatballs & Sausage)
A family style Italian restaurant serving up generous sized portions that will have you and the kids feeling like they are at a family dinner. Carmine's has a fun atmosphere, a comfortable dining room and is the type of Italian restaurant you would envision when visiting NYC. The restaurant reminds us of a place that families and friends go for special occasions. Wonderful Southern Italian cuisine, great atmosphere and huge portions will have your family happy to have dined here. Visit Carmine's website for more information, menu items and locations.
---
2nd Ave Deli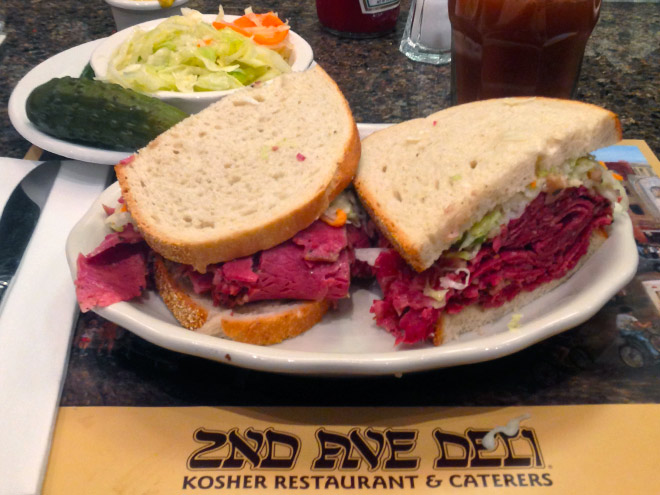 Favorite Dish: Corned Beef Sandwich
With two Manhattan locations, neither being on 2nd Ave, this kosher deli is one of the old-timers that are still around to serve delicious delicatessen fare and give the family that true NYC Deli experience. While the decor is more modern and bright since its relocation to First Avenue, 2nd Ave Deli still serves up authentic old-world specialties, like Matzoh Ball Soup, potato latkes, knishes and yummy double and triple-decker sandwiches. Visit 2nd Ave Deli's website for more information, menu items and locations.
---
Gray's Papaya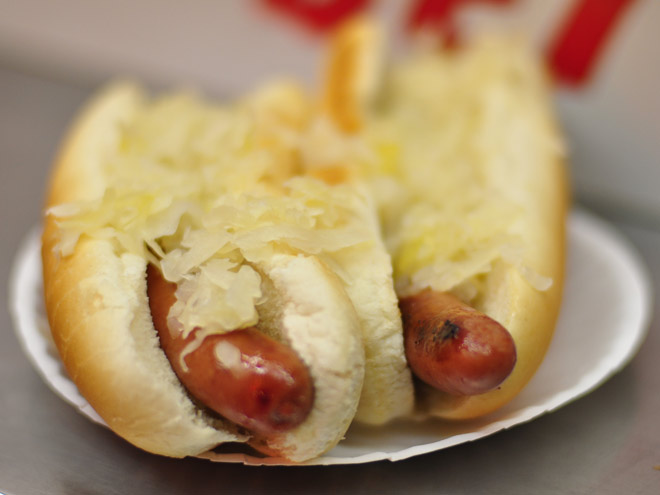 Favorite Dish: Hot Dog with Sauerkraut
Since the former Papaya King partner went on his own in the 70's, Gray's has gone on to become an Upper West Side staple that has been dishing out delicious hot dogs and fruity drinks. Much like PK, Gray's has a simple menu that starts and stops with their top notch hot dogs with toppings and tropical flavored drinks. This iconic hot dog joint is very casual, easy on the wallet and is open 24 hours a day. The NYC hot dog war of Papaya King vs Gray's Papaya rages on as each establishment has its own loyal fans. Which one gets your family vote?
---
Levain Bakery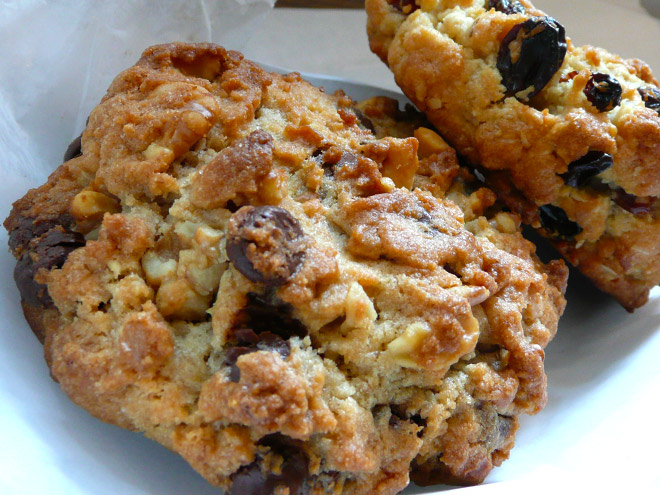 Favorite Dish: Chocolate Chip Walnut Cookie
Local and tourists alike wait in line to get a taste of the amazing baked goods at this Upper West Side bakery. Levain Bakery is best known for their signature cookie, the huge six-ounce Chocolate Chip Walnut cookie that has a crispy crust and a gooey chocolate center. There will be lines to wait in and the price isn't cheap, but once you take a bite of their baked goods, you will forget all you had to go through to get a taste. Visit Levain Bakery's website for more information, menu items and locations.
Kid Friendly Restaurants NYC – Midtown
Ellen's Stardust Diner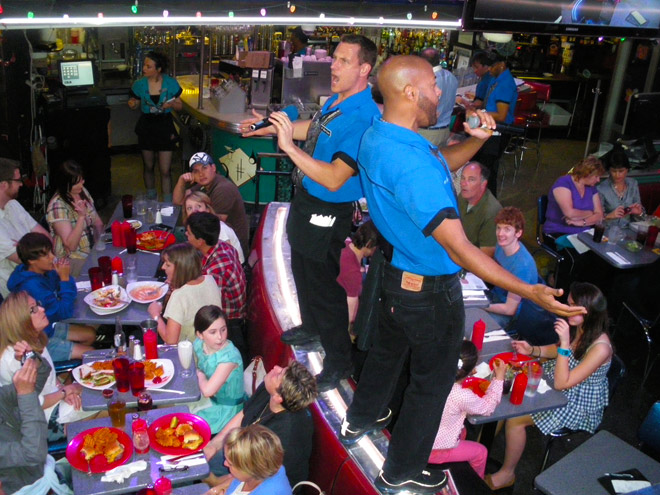 Favorite Dish: Ruby Reuben
Appropriately located in the Theater District of the city, this retro 1950s theme diner is the home of the singing waiters. The Stardust Diner has a fun, loud and electric atmosphere that serves tasty diner comfort food while the talented waiters and waitresses give live musical performances table side by belting out popular songs and Broadway show tunes. The diner gets our two thumbs up for being one our top choices for Kid Friendly Restaurants NYC. Visit Ellen's Stardust Diner's website for more information and menu items.
---
Los Tacos No.1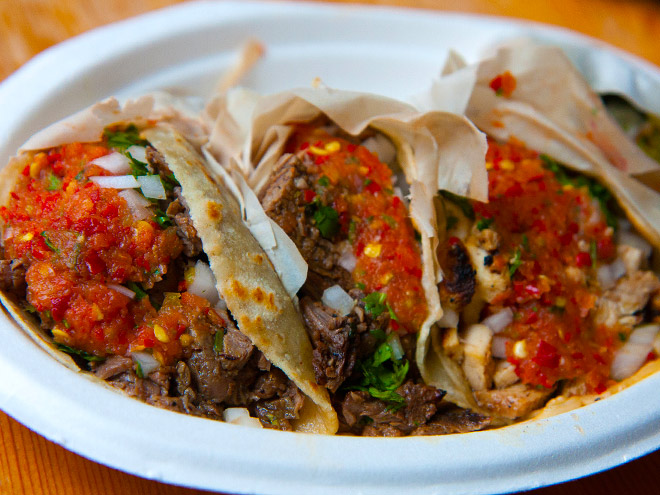 Favorite Dish: Carne Asada Taco
This authentic Mexican food stand is located inside the Chelsea Market, which is a wonderful indoor food hall that is full of various food shops and restaurants that the whole family will enjoy. The Los Tacos No.1 food stand brings the East Coast a taste of authentic Mexican tacos, tostadas and quesadillas using quality ingredients and old family recipes. Grilled steak, chicken or pork served on a warm corn tortilla and garnished to your liking with their free sides and salsas. Simple and delicious the way it should be. Visit the Los Tacos No.1 website for more information and menu items.
---
Patzeria Perfect Pizza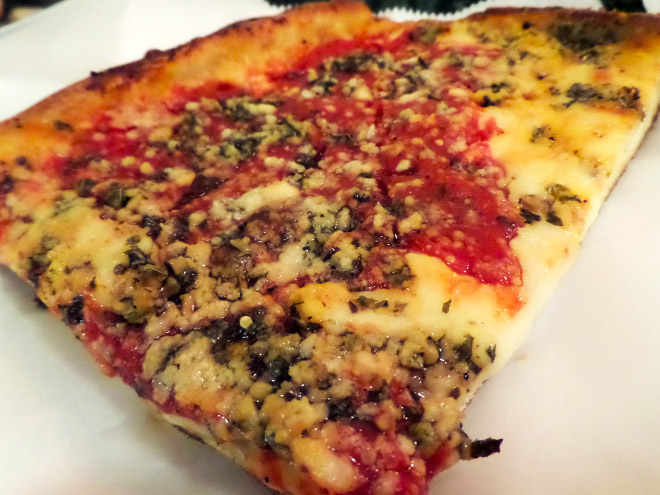 Favorite Dish: Grandma Slice
If you and the kids don't mind eating in a basic, no-frills pizza joint, this Theater District hole–in–the–wall is the place to eat. Patzeria Perfect Pizza is a very small – like six counter seats small – pizzeria that sells pizza by the slice, pasta, Italian heroes and more. With an assortment of scrumptious Italian food to choose from, finding something everyone in the family wants is quite easy, but getting a seat for you and kids can be a bit of a challenge. What this pizzeria lacks in ambiance, it more than makes up for it with their pizza. We would be hard-pressed to find a better pizza slice than Patzeria Perfect Pizza's Grandma Slice. The family can always get the food to go and take a two minute walk to Times Square to people watch and enjoy a delicious Italian meal.
---
Grimaldi's Pizza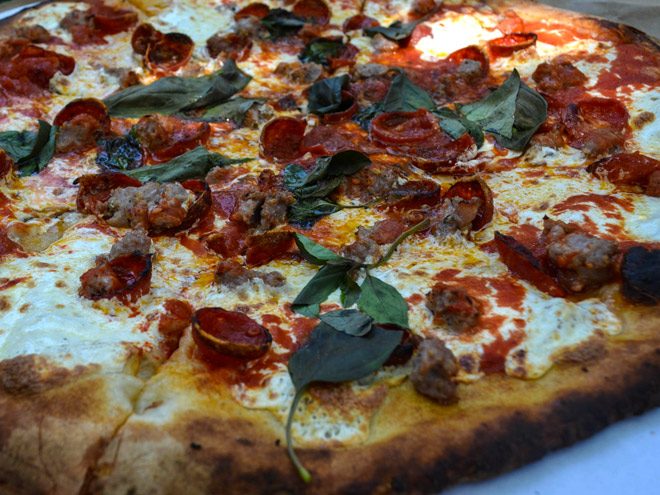 Favorite Dish: Italian Sausage Pizza
Grimaldi's is a popular NYC pizzeria that is well known for making their pies in their 1000° coal brick-ovens. The pizza pies here strike a good balance between a crispy crust, gooey mozzarella cheese, fresh tomato sauce and toppings. The freshly prepared pizzas have a unique slightly charred and smoky taste that sets it apart from other NYC pizza places. While its best known restaurant is under the Brooklyn Bridge in Brooklyn, their Manhattan location will help those families looking for a good pizza in Midtown. The restaurant is cash only and only sells whole pies. Visit Grimaldi's website for more information, locations and their menu.
---
Ess-a-Bagel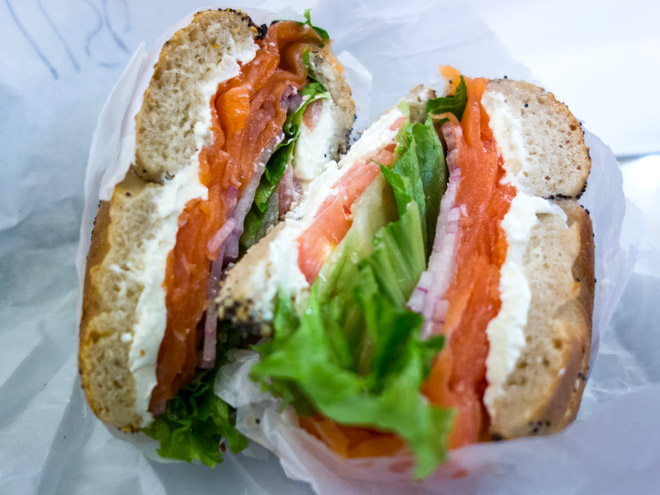 Favorite Dish: Everything Bagel, Cream Cheese and Lox
This bagel shop offers their freshly made, hand rolled bagels with a myriad of options to add to them. Having a good amount of options is key to any bagel shop, as everyone likes their bagel a certain way. Ess-a-Bagel offers their bagels with a choice of over 20 varieties of cream cheese, tofu spreads, and a nice variety of egg, fish and meat sandwich options. The bagels have a nice crunchy crust and a perfect chewy texture inside that works well whether it's toasted or not. Ess-a-Bagel is a must, if you and the kids are looking for a NYC bagel. Visit Ess-a-Bagel's website for more information and their menu.
---
The Halal Guys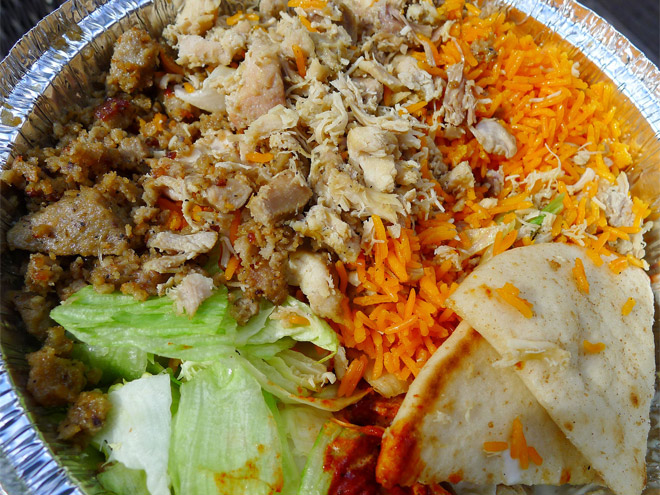 Favorite Dish: Chicken and Gyro Combo Platter
If you and the kids are feeling a bit adventurous, food and dining wise, The Halal Guys might be a good place to stop by and grab a meal to go. On the corner of 53rd St & 6th Ave (aka Avenue of the Americas) is the food cart that will draw you in with a delightful whiff of their food. The Halal Guys food cart serves their famous combo platters of chicken and gyro served over rice and topped with their heavenly white or hot red sauces. Get your family's meal packed up and head over to Central Park or Times Square to enjoy a nice family meal.
---
Sergimmo Salumeria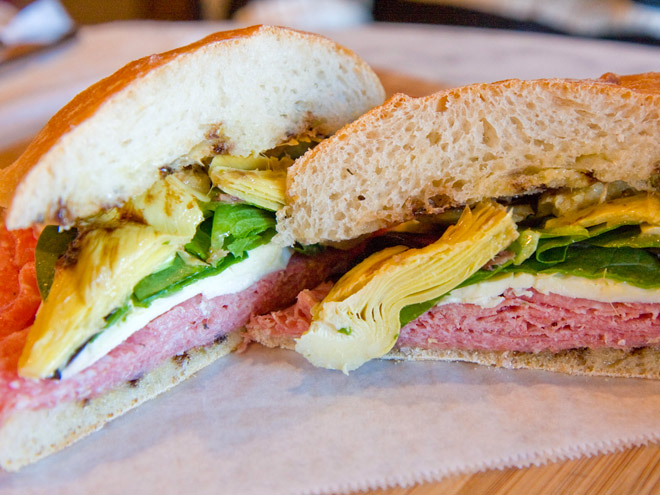 Favorite Dish: Il VIP (Prosciutto)
If you are a family that likes a good Italian sandwich, Sergimmo Salumeria will satisfy your hunger. This Italian deli-style restaurant serves wonderful sandwiches, pastas and salads in a small but nicely decorated space. The sandwiches have beautiful cuts of a variety of Italian meats, fresh mozzarella, arugula, peppers, spreads… served on a baguette that has a crunchy crust and a soft bread inside that soaks in the olive oil and spices. YUM! Visit Sergimmo Salumeria's website for more information and their menu.
---
Don Antonio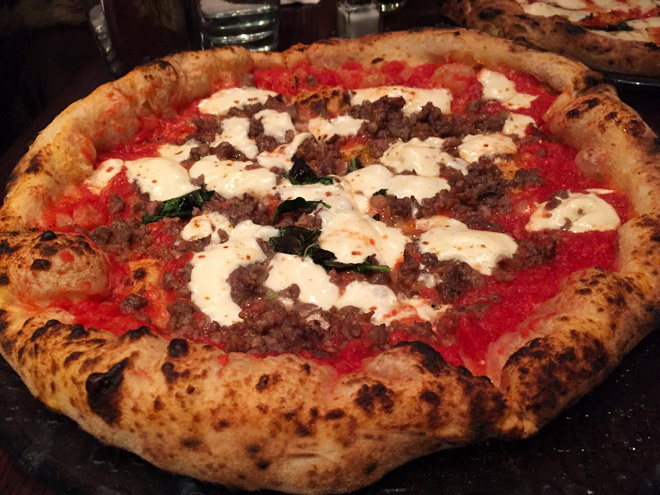 Favorite Dish: Margherita Pizza
Two renowned pizza chefs teamed up to open this Neapolitan pizza restaurant in Midtown Manhattan. Don Antonio's wood-fired Neapolitan pizza pies and their unique Pizze Fritte's, which are lightly fried, will delight your taste buds. The restaurant is small and very nice, but it does border on more of a bar scene than a family restaurant. I would recommend going in for lunch to avoid the night scene vibe or dinner if you have older kids that can handle the electric atmosphere. Visit Don Antonio's website for more information and their menu items.
---
Dylan's Candy Bar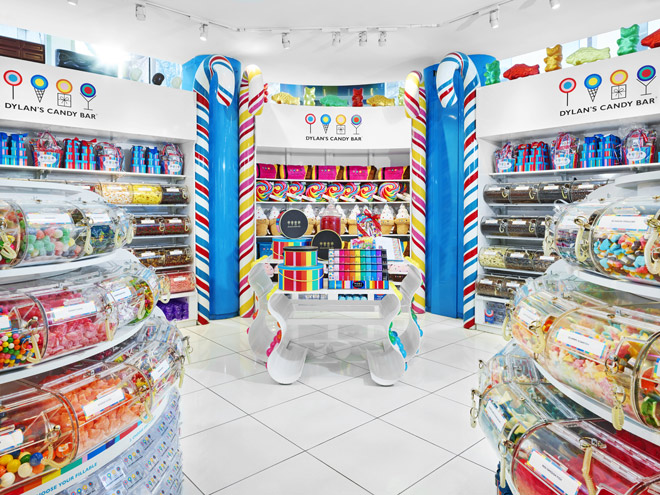 Favorite Dish: Dylan's Candy BARK: Candy Bar Explosion
When you are ready to treat your kids, and yourself, with some sugary goodness, then head on over to Dylan's Candy Bar. This Willy Wonka like candy store will wow the family with its vibrant and energetic decor and its sheer amount of goodies to choose from. The store has thousands of treats to choose from as well as a cafe to order homemade ice cream, sundaes, cake pops, cupcakes and hot and cold beverages. Dylan's shop will surely satisfy the family's sweet tooth. Visit Dylan's Candy Bar website for more information and NYC locations.
Kid Friendly Restaurants NYC – Lower Manhattan
Lombardi's Pizza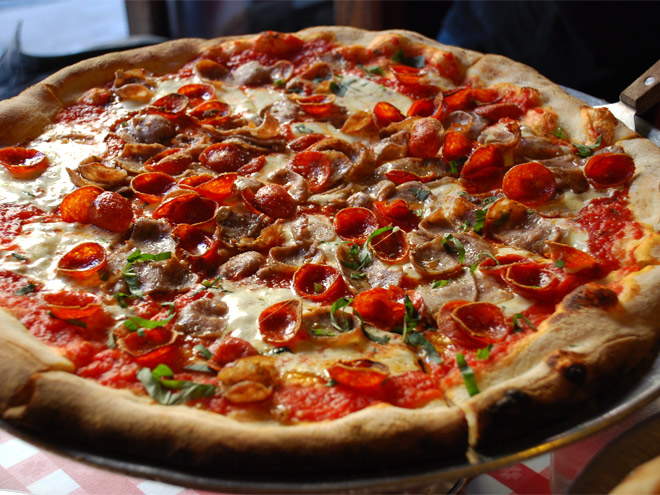 Favorite Dish: Meatball Pizza
You don't stay in the pizza business for over 100 years in New York City unless you serve an amazing pizza pie. This landmark NYC pizzeria in Nolita (North of Little Italy) was originally opened in 1905 and has been acknowledged as the first pizzeria in the United States. Lombardi's Pizza uses a coal oven to bake their thin-crust Neapolitan pizzas, which give them a smoky pizza crust that is topped with fresh tomatoes, mozzarella and maybe a premium topping or two. The restaurant itself has the charm of an older Italian pizzeria, with red and white checkered tablecloths and brick walls. Popular with tourists and locals means there will be a line to get a table, but don't let that deter you and your family from having a great pizza at this landmark restaurant.
---
Katz's Delicatessen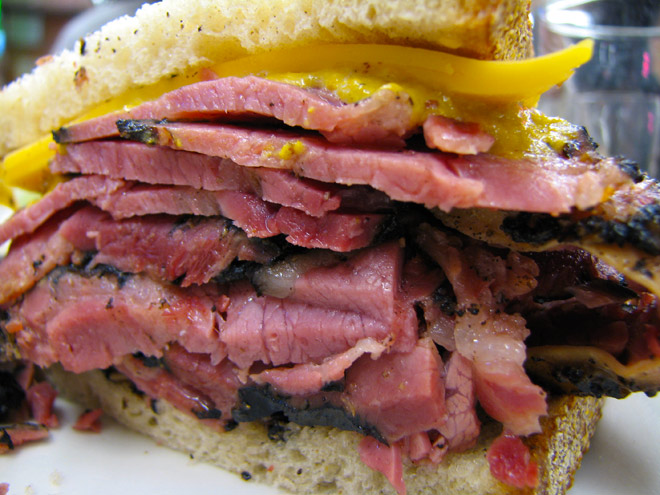 Favorite Dish: Pastrami Sandwich
In a city that was once inundated with delicatessens, but has seen many fade away over the years, this family-run kosher style deli has been around for over 125 years. Katz's Delicatessen is another NYC restaurant legend that has locals and tourists flocking in to experience and eat from a true New York City deli. Katz's takes the time to cure their meats for up to 30 days and when you bite into one of their corned beef or pastrami sandwiches; you will know they are the real deal. The dining area of Katz's is a madhouse during peak hours, with patrons ordering from the food counters on one side and people sitting (or trying to sit) and dining on the other side; but that is part of the fun of this restaurant. Excellent food and a fun atmosphere is why we highly recommend the family stop by for a meal at Katz's Delicatessen.
---
Underground Pizza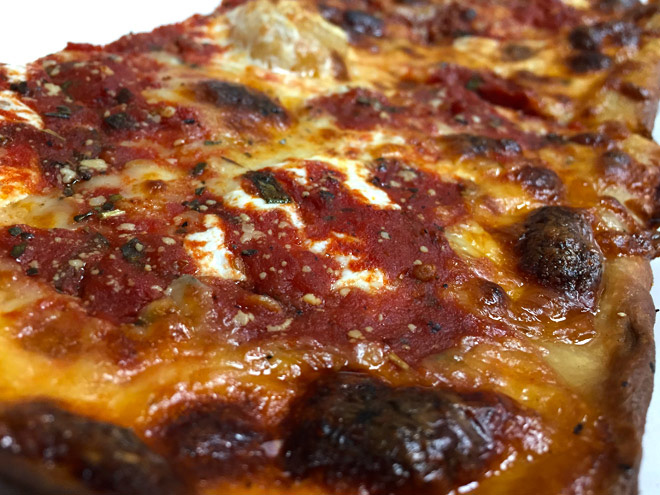 Favorite Dish: Grandma Pizza
Not far from Wall Street, this Italian pizzeria serves pizza by the slice, calzones and heroes along with other Italian dishes. Underground Pizza is a fast casual restaurant that greets you with a nice assortment of pizza pies for you to choose a slice from and then grab a table in their upstairs dining area. We had stumbled upon Underground Pizza on our way to our New York Water Taxi boat ride and stopped in for a slice and were very happy we did. Their pizza was among the best pizza by the slice restaurants we ate at in NYC and the Grandma Slice, their specialty, was a family favorite. If the family is near Wall Street and hungry, stop by and grab a couple of pizza slices. Visit Underground Pizza's website for more information.
---
Shake Shack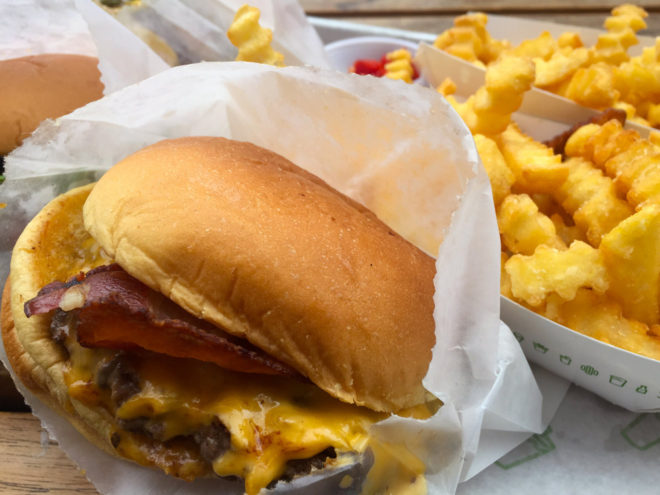 Favorite Dish: SmokeShack
The Shake Shack, which originated in Manhattan, have a very lively and fun vibe, offer a nice variety of seating options for everyone and most importantly, serves one of the best burgers in the city. The menu at the Shake Shack is perfectly simple with burgers, dogs, fries, shakes, frozen custards as well as a nice assortment of drinks. All of their burgers are a truly amazing with a freshly ground all-natural Angus beef patty, grilled potato bun, American cheese and their delicious ShackSauce which is a bit of everything – spicy, tangy, sweet and sour. Add in a side of their crispy crinkle cut fries and one of their creamy, hand-spun shakes and you have one delicious meal that the whole family will love. The Shake Shack's burgers are definitely on our "Best Burgers" list. Visit Shake Shack's website for more information, locations in Manhattan and menu items.
---
Which of the kid friendly restaurants NYC is your favorite? Do you know of a great family friendly restaurant in Manhattan that we didn't list? If so, leave us a comment with your suggestion or just email us.
---
NYC with Kids Vacation Guide and Travel Tips

Visit our complete New York City with Kids family guide, with our categorized lists of NYC's best family friendly activities, restaurants, hotels, and kid friendly Broadway shows. This all-in-one family guide will help you plan that perfect New York City vacation with your kids.
---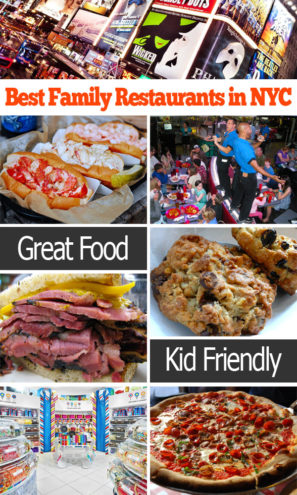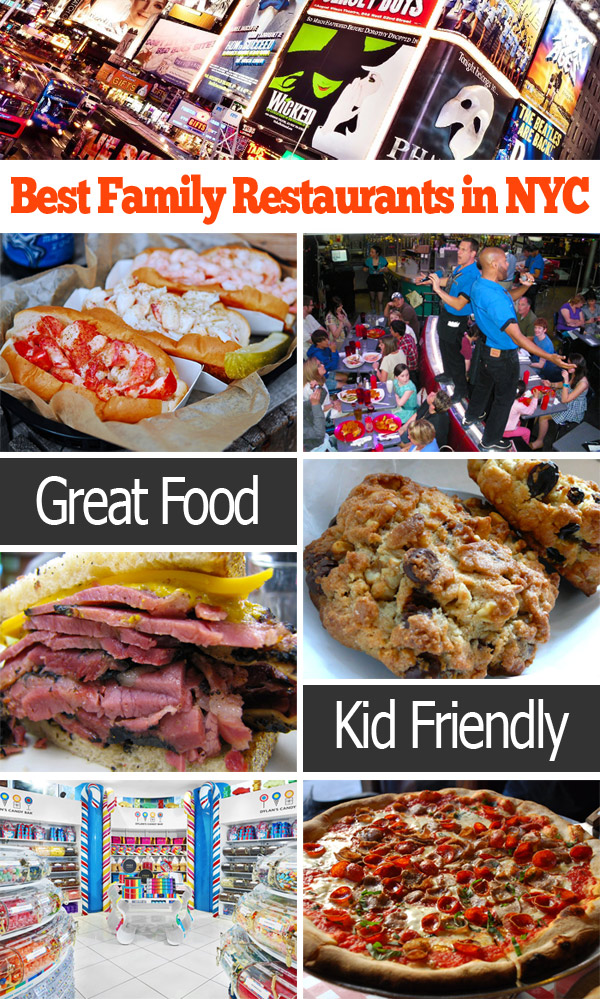 ---
Photo Credits: Gray's Papaya by Lucas Richarz via license | Carmine's by Jazz Guy via license | 2nd Ave Deli by albedo20 via license | Papaya King by jpellgen via license | Ellen's Stardust Diner by Luiyo via license | Lombardi's Pizza by rheanvent via license | Ess-a-Bagel from Daniel Castillo | The Halal Guys by Gina Sales | Los Tacos No.1 and Sergimmo Salumeria by Garrett Ziegler via license | Grimaldi's Pizza by m01229 via license | Katz's Delicatessen by Al Scandar Solstag via license