New York Family Vacation – Activities, Restaurants, Hotels and Shows
New York City with kids can be a bit intimidating, but this wonderful city is brimming with fun activities, historical landmarks, diverse architecture, museums and major tourist attractions that the whole family can enjoy. With so much to see and do when you and the kids visit NYC, we put together our family friendly recommendations to help you plan out plan out your visit. This New York City with kids guide is sectioned off into categories which highlight some of our top choices along with links to our articles with the full list of recommendations and additional details.
Jump To: | Family Activities | Family Restaurants | Family Hotels | Broadway Shows | Family Travel Tips |
Family Activities in NYC
Planning your activities for your trip to New York City with kids can be exhausting as the city has so much to offer. Take into mind not to plan too much into each day and try to schedule your activities around the same part of NYC, otherwise your trip may seem rushed and your kids might lose steam half way through the day. Below are a few of our favorite family friendly activities that we recommend during your visit to NYC, along with a link to our complete list of things to do with kids in New York.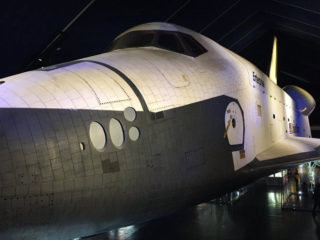 Intrepid Sea, Air, and Space Museum
This fun and educational museum is housed aboard the aircraft carrier USS Intrepid, a National Historic Landmark. In addition to touring the Intrepid, the aircraft carrier is filled with generations of warplanes, the space shuttle Enterprise, the USS Growler submarine, a British Airways Concorde and much more. Visit the Intrepid Sea, Air, and Space Museum's website for more information and to plan your visit.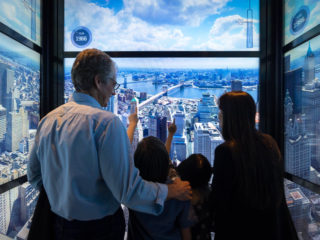 One World Observatory
There is no better way to view New York City from above than from atop the One World Trade Center. One World Observatory takes visitors from the ground floor to the 102nd floor in less than a minute in their immersive and entertaining Sky Pod elevators. From the 100th floor visitors will get a 360-degree panoramic view of New York. Visit One World Observatory's website for more information and to plan your visit.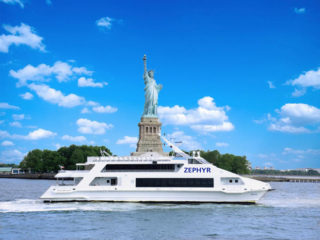 Statue of Liberty Cruise
There are a variety of ways to see and visit the Statue of Liberty, with each having its pros and cons. New York Water Taxi has a great one hour cruise aboard the Zephyr, which has multiple passenger decks with an inside cabin and an open air topside deck. The cruise offers a narrated tour with spectacular views of the Manhattan and New Jersey skylines, Governors Island and a wonderful close-up view of Lady Liberty.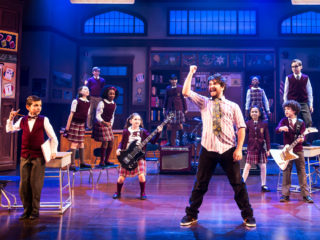 See a Broadway Show
There is no better place than Broadway to expose your kids to the wonders of the theater and its musicals. While taking in a musical might not be tops on your child's wish list, once they experience the joyous magic of the theater, it will be a night they'll fondly remember for a long time. See a few of our recommended Broadway Shows for kids to find a show that your family will love.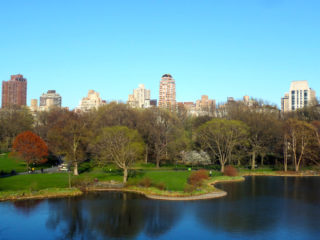 Explore Central Park
Amid all of the hustle and bustle of New York City is one of the most famous and beautiful parks in the world. Parents and kids can easily spend a day exploring and enjoying all the park has to offer. As you wander Central Park you will come across lakes, bridges, sculptures, fountains, castles, playgrounds, gardens, a zoo, a carousel, a 3,500-year-old Obelisk and so much more.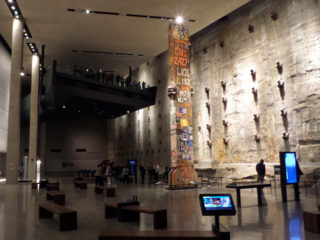 9/11 Memorial & Museum
The memorial and museum are a very powerful and emotional experience for families. The museum tells the tragic story of 9/11 through various artifacts, images, movies and audio, which will stir up emotions and memories of the tragedy. Parents with older (10+) children can help them understand the history of what happened on 9/11 and the aftermath.
See our complete list of the
Things to Do with Kids in NYC
Family Restaurants in NYC
NYC is well known for its food and its culinary diversity. Having a meal in New York City with kids is almost an activity, much like seeing a tourist attraction, where certain restaurants, eateries and carts are on your must-do list when visiting. We put a list of family restaurant recommendations that offer up great food and a kid friendly atmosphere (for New York) that both kids and adults will love. Below are a few of our favorite family restaurants along with a link to our complete list.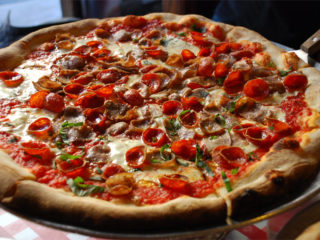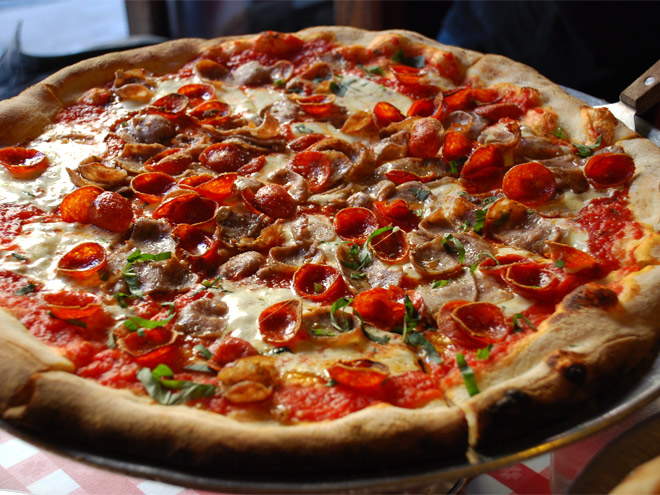 Lombardi's Pizza
A coal oven baked thin-crust Neapolitan pizza that is quite possibly the best pizza in NYC. Lombardi's Pizza in Nolita (North of Little Italy) was opened in 1905 and has been acknowledged as the first pizzeria in the United States.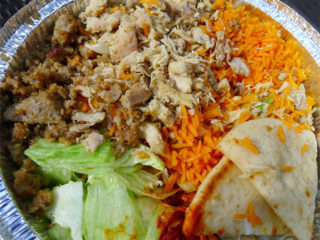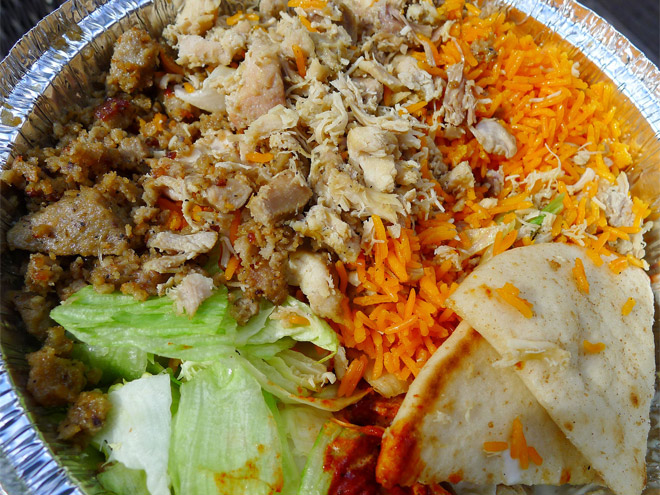 The Halal Guys
Walking the streets of New York City with kids you will see tons of food carts across the city. The Halal Guys is one that you have to stop by and grab one of their famous platters that comes with your choice of gyro, chicken or falafel served over rice and topped with their delicious white sauce.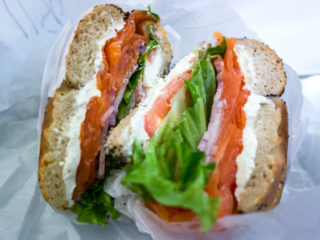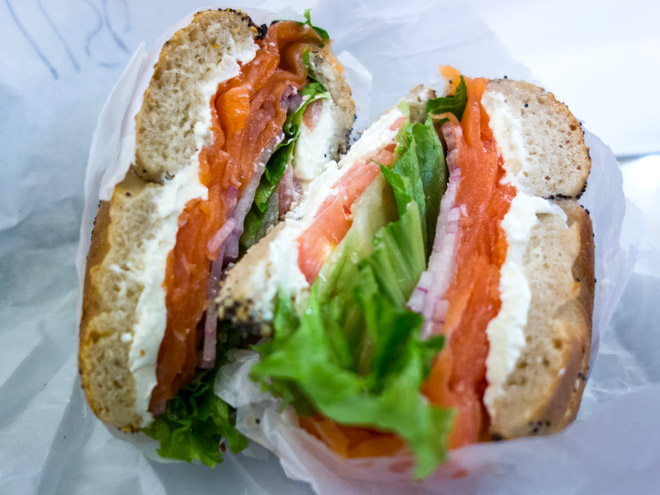 Ess-a-Bagel
Not only does Ess-a-Bagel have one of the best bagels in NYC with its crisp and crunchy outside and soft and chewy inside, but the shop pairs that with scrumptious spreads, bagel and egg sandwiches and deli worthy bagel and fish combos. Go simple or go crazy with what you want on your bagel.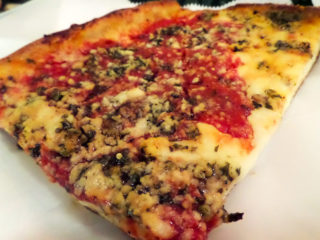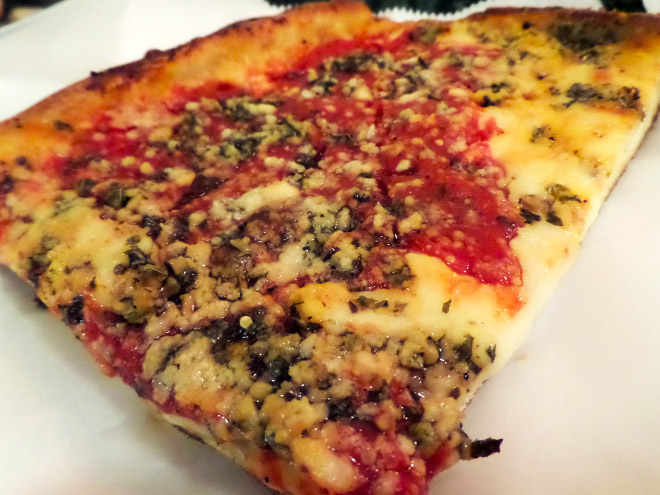 Patzeria Perfect Pizza
This basic, no-frills pizza joint in the Theater District, just a short walk from Times Square, serves up some of the best pizza in the city. The pizza counter sells an assortment of pizza by the slice (we highly recommend the Grandma slice) and delicious garlic knots. A quick and tasty meal for you and the kids.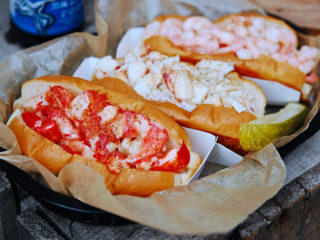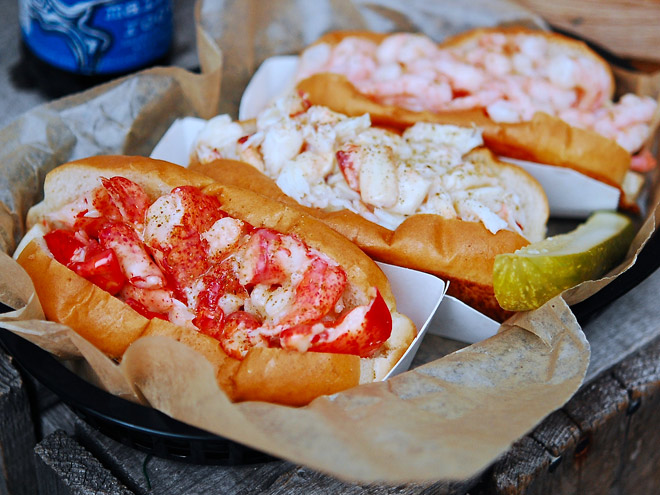 Luke's Lobster
With multiple shack-style casual restaurant locations throughout the New York, it's easy to get your fix of fresh and sustainable seafood from Maine. Luke's Lobster perfects the lobster, crab and shrimp rolls with chilled seafood loaded onto a New England split-top bun, a bit of mayo and lemon butter and a dash of their spices.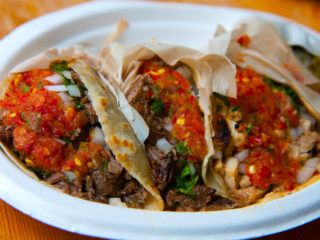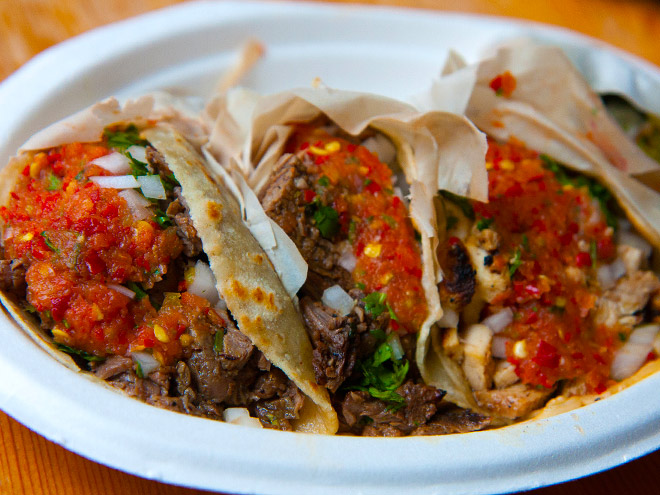 Los Tacos No.1
Among the many restaurants and food shops of the indoor food hall at Chelsea Market, is Los Tacos No. 1. This Mexican food stand dishes out tasty and authentic Mexican tacos at an affordable price. The tacos and quesadillas can be ordered with grilled steak, chicken, pork or cactus with an array of condiments to add onto them.
See our complete list of
Kid Friendly Restaurants NYC
Family Friendly Hotels in NYC
Traveling in New York City with kids requires a bit more planning when looking for a hotel room for the family. NYC hotels are typically a lot smaller than the average hotel room in other cities and finding accommodations for a family of three or four will have your choices whittled down a bit. Location can be a strong selling point for some families wishing to be in the heart of the action, while others may opt for a bigger room or quieter area in neighborhoods outside of the tourist hotspots. Below are three of our recommendations for family friendly hotels in New York City.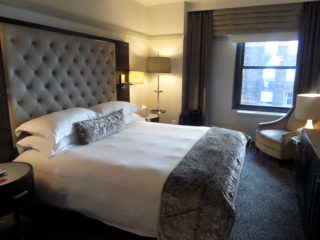 WestHouse Hotel
This boutique hotel in Midtown Manhattan combines a perfect location for visitors with spacious and upscale hotel rooms. The WestHouse Hotel's location is ideal for visiting families as it is just four blocks south of Central Park, a short walking distance from Broadway, Times Square, Rockefeller Center and has multiple subway stations nearby. The rooms have a luxurious 1920's decor, are pretty spacious for NYC and the one bedroom suites have a separate living room with a pull out sofa to give the kids their own room to relax in. Visit WestHouse Hotel's website for more information.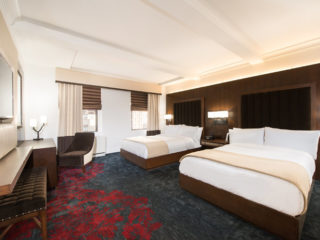 The Tuscany
This modern boutique hotel in Murray Hill is a nice place for families that want to stay in a quieter, less touristy part of New York City. While not in the heart of the tourist action, the hotel's location is still close to restaurants, shops, many subway lines as well as being walking distance to the Chrysler Building and Empire State Building. The Tuscany's upscale deluxe studio rooms with 2 queen beds, which are larger than the average NYC hotel rooms, are good for a family of three or four. Visit The Tuscany Hotel's website for more information.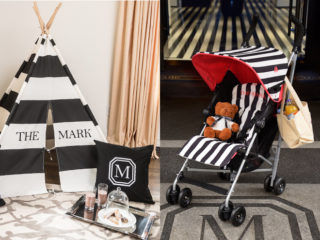 The Mark
Located on the Upper East Side, this luxury hotel overlooks Madison Avenue and is walking distance to Central Park, Museum Mile, designer boutiques and restaurants. The Mark does a tremendous job at pampering the adults with a Michelin star chef, a world famous hairstylist, hotel bicycles and chauffeured rides in The Mark Pedicabs. The hotel has not overlooked your kids, as they will get fun amenities from Zittles, tasty snacks and custom-designed strollers. Part of the Slumber Party suite offers a tent set up, a family movie, milk and cookies and breakfast. Visit The Mark Hotel's website for more information.
Broadway Shows for Kids & Family
Seeing a Broadway show is a perfect way to leave a lasting impression that your children will remember from their visit to New York City. Many of today's Broadway shows are kid-friendly and have done a great job at appealing to children and parents alike. Below are three of our top show picks that the whole family would enjoy. Be sure to check the age minimum for each show before booking you tickets.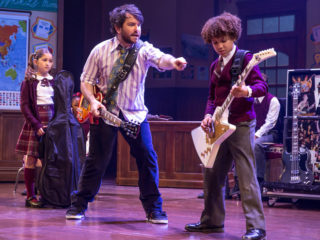 School of Rock
Based off the hit film, this Andrew Lloyd Webber musical brings an unparalleled energy to Broadway. The story follows Dewey, a 30 something wannabe rock star, into prep school to earn some much needed money as a substitute teacher. While teaching there, he ditches the curriculum and turns the class of kids into a bona fide rock band. The kids are truly talented and we don't know how Alex Brightman brings so much energy (and talent) into the show night after night. Your family will marvel at the cast's talent and have a blast rocking out on Broadway. Visit School of Rock's website for more show information.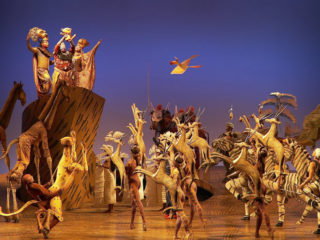 The Lion King
Based off Disney's animated film, this Tony award winning musical has been running on Broadway since 1997 and is the highest grossing Broadway production of all time. The musical is a pure joy to experience with its awe-inspiring visuals and beautiful music coming together to give kids and adults a exciting and fun theatrical journey. Visit The Lion King's website for more show information.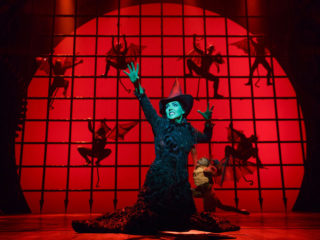 Wicked
This musical is a re-imagining of the Wizard of Oz that tells the story of two witches, Glinda and Elphaba who are completely different, yet form a strong friendship with each other. Wicked will appeal to your kids though its music, special effects, costumes and a new story to something they are familiar with. Visit Wicked The Musical's website for more show information.
New York City with Kids Travel Tips
Start off your vacation planning by finding your family must-do's and then piece them together without planning too much into each day and night. Try to plan your family activities in the same general part of the city to avoid running around with the kids with very little down time.
New York City with kids can get quite expensive, so take advantage of the many free family friendly attractions, such as Central Park, that the city has to offer. Try to schedule in some free attractions and your family day will be packed with fun without spending too much.
Try not to make reservations for attractions or tours unless it is absolutely necessary. This may rush the family through their visits to other attractions, weather could impact your plans and it just puts undue pressure on everyone when they should be enjoying their time together.
With the large number of attractions, sights and entertainment choices available for families in New York City, it can be easy to schedule in way too much each day. Make sure not to pack your itinerary with so many activities that the kids will be worn out by the afternoon.
New York's many museums have activities and programs for families that will have your kids enjoying the museum as much as you are. From scavenger hunts, workshops, age appropriate activities, family guides and more, the museums have put a lot into having the kids engaged, entertained and educated during their visit. Look into the family programs ahead of your visit to get the most of your time there.
Using the subway system is the best way to get around NYC with kids that are not in strollers. Grabbing an unlimited ride MetroCard may be the way to go if you are visiting for a week or so and kids that are 44 inches and under ride for free on the subways. Watch out for express lines as they skip some stops along their route and that might be the stop you need. Be sure you and the kids wear comfortable shoes as you will be walking around quite a bit.
If you are driving in to town, look up parking garage rates ahead of time as parking your ride in NYC is pretty expensive. We recommend checking sites like bestparking.com or even calling the hotel you will be staying at to ask what the best parking garages are close to the hotel. Some hotel employees will even tell you what garage they use to valet your car and then you can bring it there yourself and pay the public price, which is much cheaper.
Venture outside of Manhattan to one of the other New York City boroughs to experience all the other family friendly activities, sights, shopping and restaurants that New York has to offer. Walk across the Brooklyn Bridge, go on some rides at Luna Park in Coney Island, take a scenic boat ride on the Staten Island Ferry, explore the New York Botanical Garden and so many more family fun things to do.
---
We hope our New York City with kids vacation guide and travel tips will help you plan that perfect getaway for you and the kids. As you can see there is plenty to see and do in NYC, so check back here as we will keep all our family friendly lists up to date with all that the Big Apple has to offer. If you have any questions or know of any suggestions, please feel free to contact us or leave a comment.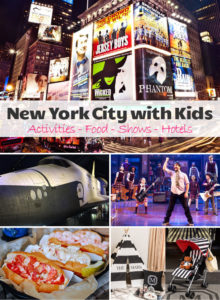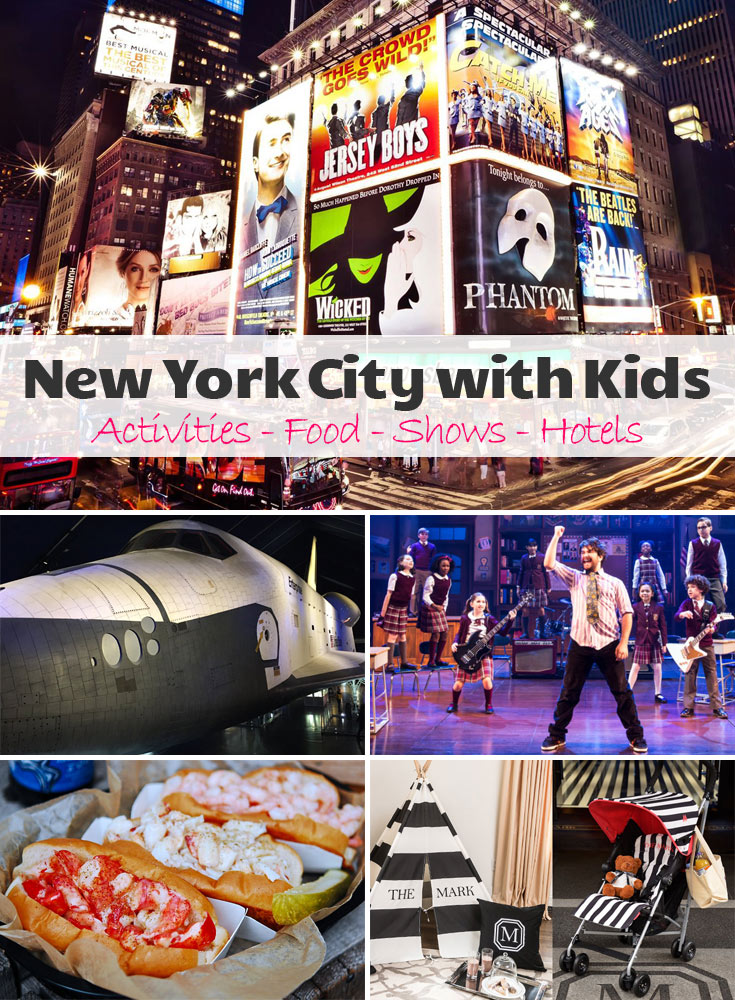 ---
Photo Credits: School of Rock by Matthew Murphy | The Lion King by Brinkhoff Mogenburg | Wicked by Joan Marcus | One World Observatory Sky Pod by One World Observatory | 9/11 Museum by Jin Lee | Lombardi's Pizza by rheanvent and Los Tacos No.1 by Garrett Ziegler via license | Ess-a-Bagel from Daniel Castillo | The Halal Guys by Gina Sales | AKA United Nations by Preferred Hotels | The Tuscany by St Giles Hotels