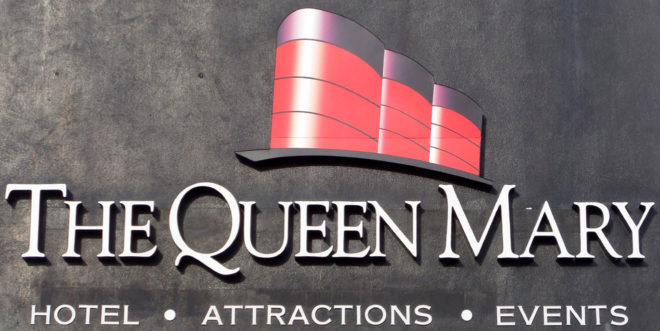 Fun, Education and Luxury Aboard the Queen Mary
The RMS Queen Mary is a luxury ocean liner that sailed the Atlantic with over 1,000 crossings from 1936 to 1967 and is now a major tourist attraction in Long Beach, California. The ship has a variety of tours, exhibits, events and dining as well as the Queen Mary Hotel that offers staterooms and suites to have you spend the night aboard the Queen Mary. This family friendly attraction is way for families to immerse themselves in a bygone era that is both fun and educational.
Queen Mary Tours
There are a variety of tours aboard the Queen Mary that will give visitors an up close and personal look at this luxurious ship from the past. Our family took the Glory Days Historical Tour, which take you behind the scenes of the ship that you would see on the self guided tour.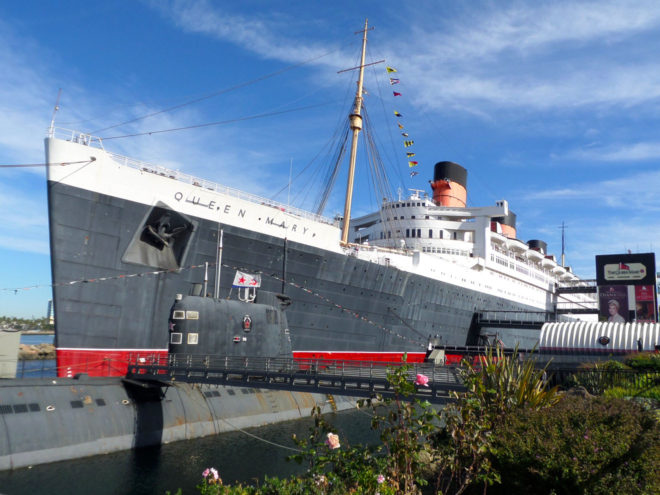 Our tour guide took our family, in a tour group of fifteen, on a one hour tour of the ship. As our guide unlocked doors and brought us into various parts of the ship, he explained the history of the areas, answered questions and let us wander around on our own. During our tour we saw the Queen's Salon with golden onyx fireplaces, a spooky indoor pool area, a bar with beautiful porthole views of Long Beach, the original children's playroom, ticket booths, travel agency office and many other areas of the ship. Our tour guide also explained the Queen Mary's transformation into a troopship (nicknamed the Grey Ghost) during WWII and brought us by the Twin 40 MM Anti Aircraft Heavy Machine Guns that are still on the Promenade Deck.
The Queen Mary also has a Ghosts & Legends and Haunted Encounters tour (if you have older and brave kids), the Russian cold war era Scorpion submarine and the Princess Diana exhibit.
Include with all tour packages guests can take an audio tour of the ship, visit The Shipyard, which has the LEGO Queen Mary brick model ship measuring over 26feet, view the captain's demonstrations and view the model gallery.
Queen Mary's Ship Model Gallery displays dozens of passenger ship models dating back over 100 years. Some notable ship models to see include the RMS Queen Mary, RMS Titanic, SS Normandie and the RMS Lusitania among many others.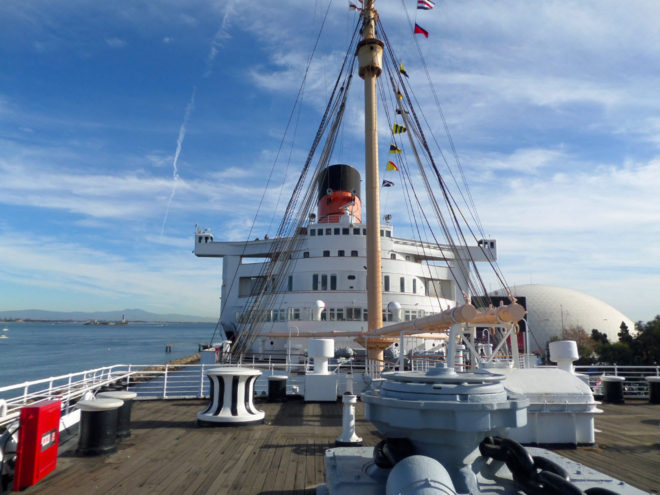 Also, make sure not to miss one of the Queen Mary's horn blowing every day at 10:00am, 3:00pm and 6:00pm.
Queen Mary Events
The Queen Mary offers up a wonderful variety of events throughout the year that range from once a week, annually or on special dates. Here are some of the most notable events that should not be missed.
All-American 4th of July: The whole ship is yours to celebrate on, with different era's of entertainment spanning the 1940's – 2000's, live music, family-friendly activities and an amazing fireworks extravaganza.
Queen Mary's Dark Harbor: For those with older kids (13+), this Halloween themed event lasts through the month of October. The Queen Mary, already noted as one of the most haunted places, hosts this terrifying event with a variety of mazes that is haunted by over 200 monsters.
Queen Mary's Chill: This holiday winter wonderland is a family favorite and we highly recommend taking the family. Chill has a variety of family friendly activities, which include ice skating in an outdoor ice skating rink, throwing on a parka and gloves to walk through the awe inspiring Ice Kingdom and racing down a hill of ice on a snow tube. The Ice Kingdom is a giant dome that is frozen over to a bone chilling 9° and filled with over two million pounds of beautiful ice sculptures. There is also a holiday village, arts & crafts, shops and fair type food stalls. See our full review of the Queen Mary's Chill event or view our Queen Mary's Chill event picture gallery.
West Coast BBQ Classic: A one day BBQ showdown between the top grill masters from around the country gather at the Queen Mary. This event will have you tasting the best BBQ in the U.S., listening to live music, playing backyard games, letting the kids loose at kids' country and of course, touring the Queen Mary.
Champagne Sunday Brunch: Every Sunday from 9:30 – 2:00 the Queen Mary hosts their elegant Champagne Sunday Brunch in the Grand Salon, which is the former first class dining room. There is a delicious menu item for everyone, with over 50 dishes from around the world. Enjoy brunch favorites such as made-to-order omelets, eggs benedict, crepes, homemade corned beef hash, huevos rancheros, prime rib, shrimp, seared ahi, oysters, tortellini, chicken piccata, salads, fruits, pastries and champagne.
Queen Mary Hotel
The Queen Mary has very unique accommodations for the family. The one-of-a-kind Art Deco style staterooms feature the luxury ocean liners past of original art work and wood paneling mixed with today's amenities of wi-fi and flat screen TV's. The Queen Mary's Family Stateroom is a great choice for those that need some extra room for the whole family, with some staterooms having two bedrooms. Guests of the hotel can take audio tours of the ship, see captain's demonstrations, view the ship model gallery and use the fitness center, which is included in all hotel bookings.
Staying at the Queen Mary will also have your family staying close to plenty of fun and family friendly attractions. Less than a mile away, just across the Queensway Bay, is the Aquarium of the Pacific, The Pike, Shoreline Aquatic Park, Harbor Breeze Cruises and Shoreline Village. A little further out is the Battleship USS Iowa Museum, Ports O' Call Village and the SS Lane Victory.
Dining aboard the Queen Mary
While visiting the Queen Mary, you are not stuck with typical attraction type food. The ship has many options for the family that range from quick snacks and casual dining to fine-dining and Champagne Sunday Brunch.
Sir Winston's Restaurant: This elegant five-star restaurant gives diners a magnificent ocean view, impeccable service and an award-winning gourmet menu.
Champagne Sunday Brunch: Every Sunday the Queen Mary's Grand Salon hosts their lavish Champagne Sunday Brunch with over 50 delectable dishes to choose from, champagne and live music.
Tea Room: Located next to the Princess Diana Exhibit, the Tea Room gives diners an elegant, yet casual, British tea experience with a full-service lunch menu and gourmet teas.
Chelsea Chowder House: This restaurant is modeled after a traditional British fish house. Diners can enjoy a variety of chowders, seafood and steaks.
Promenade Café: This casual and family friendly restaurant serves American cuisine and gives diners a beautiful view of the ocean and downtown Long Beach.
Midship Market Place: A place to grab a Starbucks coffee or a quick bite to eat.
Queen Mary Pictures

Why We Recommend the Queen Mary for Families
Fun and educational tours of the ship
Variety of tours and exhibits
Unique hotel accommodations
A look into the past
Wonderful special events
Beautiful views of Long Beach
Casual to fine-dining restaurants
Great location
Visit the Queen Mary Website for tour, activity, dining, hotel and special event information.
---
Best Things To Do with Kids in Los Angeles

The Queen Mary is part of our comprehensive list of things to do with kids in Los Angeles. Our list of family friendly activities that the whole family will enjoy includes amusement parks, museums, aquariums, beaches, Los Angeles landmarks, parks, shopping and much more.
---
We were provided media passes to The Queen Mary tours for the purpose of reviewing it on our blog. Regardless, we would only recommend places, activities or services that we would visit/use personally and that we believe will be good for our readers.