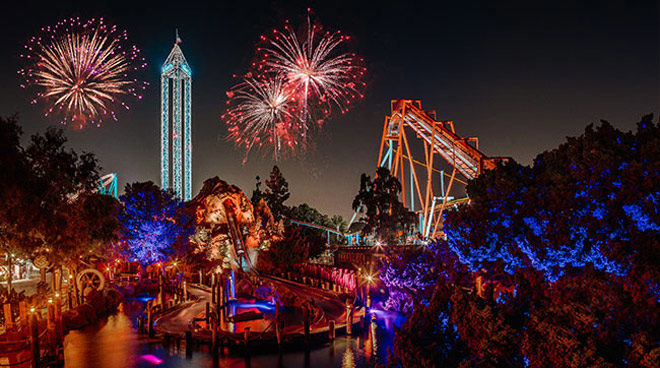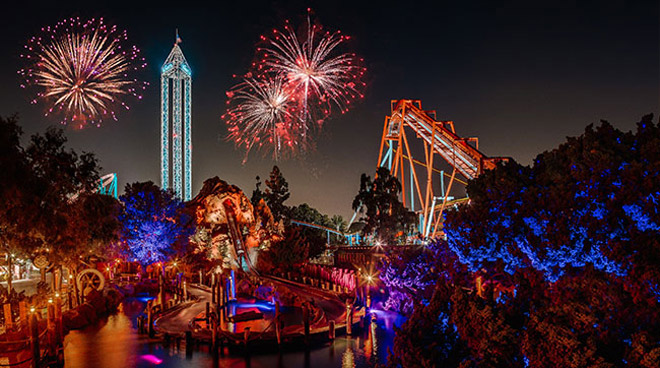 A New Years Eve Celebration for the Whole Family
Finding a place to party and ring in the New Year in Los Angeles is pretty easy to do. Trying to do that same thing with your kids in tow is not so easy. There is usually a trade off where either the kids or the adults are sacrificing their own fun to make the others happy. Well, with Knott's Berry Farm New Year's Eve celebration, adults and kids alike can have a blast together and spend the final moments of the year together.
Our family has always been big fans of Knott's Berry Farm and loved how well rounded and family friendly it is. The park has a great variety of thrill rides, roller coasters, family and kiddie rides. There is something for everyone here and quite a lot can be enjoyed by the whole family.
Knott's Berry Farm New Year's Eve
While the park always provides a wonderful family day, the New Year's Eve additions add a whole new layer of family fun that make it extra special. Below are some of the highlights of what to expect from Knott's on New Year's Eve.
New Year's Eve Countdown & Fireworks Show
One thing that everyone expects from a New Year's Eve celebration is a fun countdown to the New Year. Knott's will excite the crowd with the Knott's Sky Cabin rising over 200 feet to the very top of the "K" tower with special lighting effects counting down to midnight. When the sky cabin reaches the top at the stroke of midnight the "K" tower, the skies above Knott's Berry Farm will light up with a spectacular fireworks show.
Live Entertainment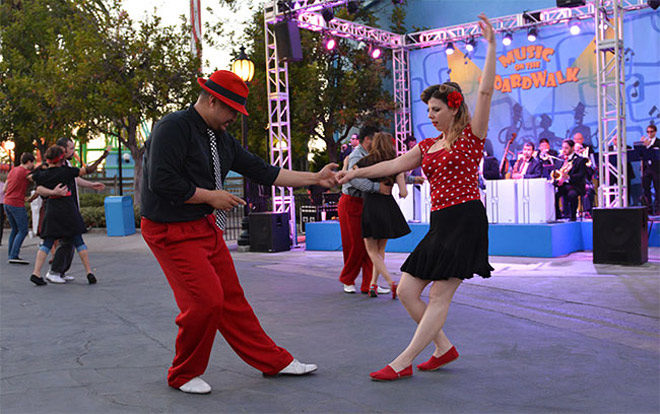 Jumpin' Joz Band – If you and you family are up for some swing, jump and jive music, then the Jumpin' Joz Band along with the Memories Swing Dancers will be a can't miss act. Watch or join them on the dance floor and learn a few new moves.
DJ Howly – Turntablist DJ Howly will energize Calico Square into the ultimate dance party with his electric mash up of hip hop, rock and electro music that will have guests dancing the night away.
The Reflexx – Another can't miss act will be the 80's new wave tribute band, The Reflexx. The band will be performing synth mega pop hits from bands such as: Depeche Mode, Duran Duran, The Cure, Flock of Seagulls, Devo, Simple Minds, Tears for Fears, New Order, A-Ha and many more.
Taylor Hughes – A family friendly comedy magician, that has performed at the world famous Magic Castle, will bring his hilarious comedy, magic and fun audience interaction to Knott's Wagon Camp.
Knott's Merry Farm Festivities
Although Christmas will be in the rear view mirror by New Year's Eve, the holiday fun and festivities will still be alive at the park. Families will love the Knott's Merry Farm lineup of entertainment, activities and delicious foods!
Merry Christmas, Snoopy! – This exciting live show is filled with whimsy and spectacular ice skating, Snoopy enjoys all of the best parts of the season, including trimming the Christmas tree, awaiting Santa's arrival and attending the festive Christmas Ball!
Snowfall at Ghost Town – When the sun sets at Knott's, the buildings and paths in Ghost Town will glow and twinkle, the snow gently falls from above while the beat of holiday music plays. The family will love having the snow fall all around them as "Let It Snow" plays and the background sparkles. Another one-of-a-kind and can't miss family moment.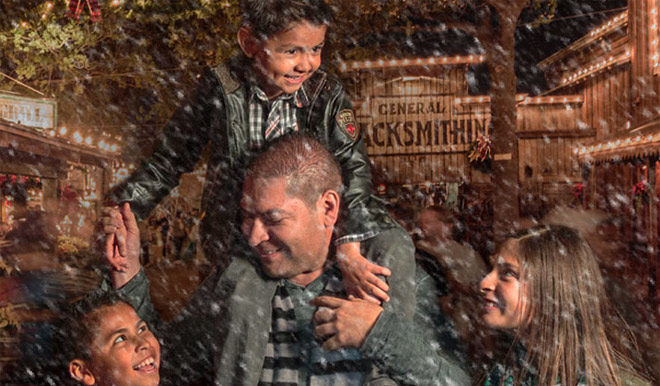 Christmas On Engine 41 – The Calico Railroad invites guests to climb aboard a vintage railcar and celebrate Christmas on Engine 41 with an ever-changing group of Ghost Town residents.
Over in Camp Snoopy, Charlie Brown, Linus, and Lucy invite you to dance, sing and join in on the holiday fun in the live show, Christmas Time is Here, Charlie Brown.
Knott's Berry Farm New Year's Eve Foods and Treats
There is a special New Year's Eve buffet in Spurs Restaurant that will be served from 4pm-9pm; prices are $34.99+tax for adults and $18.99+ tax for kids (3-11).
Santa's Christmas Cabin serves up holiday treats like Santa's homemade cookies, delicious pastries, made-to-order maple lollipops and more. Don't forget about the legendary cooking at Mrs. Knott's Chicken Dinner Restaurant.
Rides, Rides and More Rides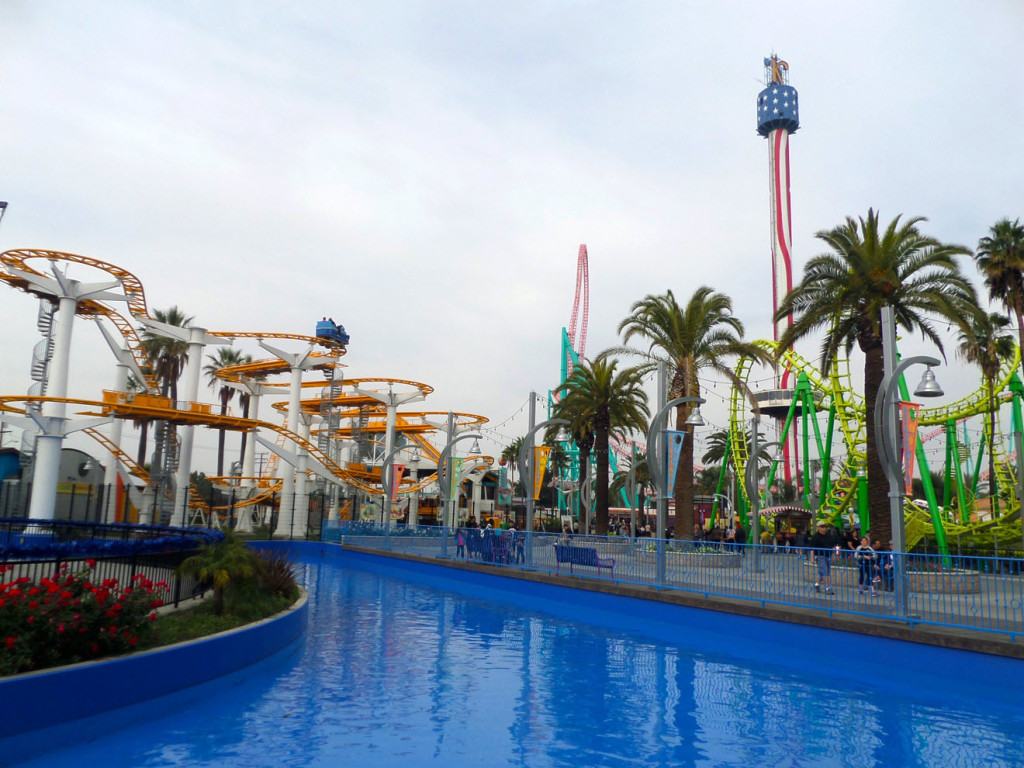 Not unique for New Year's Eve are the amazing variety of rides that makes Knott's Berry Farm the family fun theme park that it is today. See our Knott's Berry Farm Family Review with Tips and Photos or view our Knott's Berry Farm Photo Gallery for more pictures of the rides and the park.
Knott's Berry Farm Links & Information
Knott's Berry Farm New Year's Eve Celebration is included with a regular daytime park admission. Park hours on New Year's Eve are 10am to 1am. A 2016 Knott's Season Pass is a great way to visit on New Year's Eve. 2016 passes offer a year of family fun and includes one free admission in 2015, including this New Year's event.
For a limited time, Knott's Season Passes can be purchased online starting at $81.00, the best price of the year. To purchase Season Passes or tickets, or for more information about Knott's Berry Farm, visit the Knott's Berry Farm website or download the Knott's smartphone app and join the conversation using #KnottsNYE.
---
We were provided passes to Knott's Berry Farm New Year's Eve celebration and tickets for the giveaway by Gigasavvy for the purpose of promoting the event on our blog. Regardless, we would only recommend places, activities or services that we would use/visit personally and that we believe will be good for our readers.