Knott's Berry Farm is Well Rounded, Family Friendly and Fun!
Having lived in Los Angeles all my life, I have been visiting Knott's Berry Farm on and off for decades. About 5 years ago my niece came to town and I decided to take her to Knott's for the day. I was very surprised to see some of the new roller coasters and thrill rides the park had put in since my last visit. At the time of our visit my niece was 13 and big enough for all the extreme rides the park had to throw at us. Our day at the park was very fun and quite thrill packed.
For our latest trip I brought my family along with one of my daughter's friends. Both of the girls were 8 years old at the time, so they were not quite big enough for all of the rides. They were however big enough for most of the rides in the park and throughout the day we didn't run out of things to do or rides to go on.
One of the things I loved about Knott's Berry Farm was how well rounded the park was and how it doesn't cater to one type of visitor. Some theme parks are for thrill seekers and some are for kids. I felt that Knott's had found a good medium that equally allows a family with younger or older kids to have a great day at the park. Whether you are looking for an extreme roller coaster, a kiddie ride, a family ride where you can join your kids or something in between all of these, Knott's Berry Farm has what you are looking for.
Knott's Berry Farm for Adults and Older Kids
A lot of theme parks are usually void of or packed with roller coasters and thrill rides, but Knott's has found a nice balance of those types of rides throughout its park. Some of these rides are strictly for adults and bigger kids while some allow for a smaller child as long as you ride with them. Below is a partial list of some of the exciting roller coasters and thrill rides at the park.
Xcelerator (52″ and Over) – This is the biggest and baddest ride at Knott's Berry Farm and one of my top roller coaster rides. This roller coaster launches you from 0 to 82 mph in 2.3 seconds and climbs up 205 feet of track before dropping you down the other side and spiraling around the rest of the track. Xcelerator doesn't curve you around the 205 foot tower of track, you go straight over it. Yeah!
Silver Bullet (54″ and Over) – Not to be outdone by the Xcelerator, the Silver Bullet suspended roller coaster is an amazingly fun and extreme ride. This ride is all about inversions and there are six of them, with a 105 foot loop, corkscrews, spirals and a cobra roll. The Silver Bullet is another favorite of mine and thrill seekers will love it.
GhostRider (48″ and Over) – This wooden roller coaster is 118 feet tall, is over 4,500 feet long, has an initial 108-foot drop and speeds around a dozen more hills and drops. Our girls were big enough to ride this wooden monster and they both loved it enough to go on it twice. If you like wooden roller coasters, you will love GhostRider.
Sierra Sidewinder (42″ and Over) – This roller coaster has you sitting in round coaster cars that spin as you bank and dip your way through the track. Although it is not super fast or incredibly tall, the spinning while riding makes it fun for adults and the kids.
Boomerang (48″ and Over) – This roller coaster has been at the park for a while and I have never gotten tired of it. It picks you up on one side and sends you back through the station, into a cobra roll and through a vertical loop. Then it picks you up again and sends you backwards through the same elements. Classic fun.
Montezooma's Revenge (48″ and Over) – This is one coaster that has been thrilling park goers for over three decades and it still is as fun as it was when it opened in 1978. Montezooma's Revenge is a single track roller coaster that shoots you out of the gate from 0 to 55 MPH in 3 seconds, takes a seven-story loop, climbs higher up on the track before falling back down and taking the loop backwards, shooting back through the loading area and then climbs the back track before falling back into the terminal. Great fun!
La Revolucion (48″ and Over) – This is my favorite non-coaster ride at the park. Riders sit in a round gondola facing inward while the swinging arm rocks it over 6 stories high on each side. All of this while the gondola continues to spin. Intense, thrilling and not as innocent as it looks from the outside.
Supreme Scream (52″ and Over) – Okay, here is the one ride that scares me and that I skip every time. Towering over Knott's Berry Farm is the 300+ foot tower of Supreme Scream. Riders are taken up in open air chairs to a height of 252 feet and then, after a pause, plummets you down in three seconds before bouncing up for another dive. Not for this acrophobic family!
Knott's Berry Farm for the Family
Scattered throughout the park there are thrilling, yet less extreme rides that you and your kids can ride together. Our girls were big and brave enough for some of the bigger rides, but most of their ride time was spent on the middle ground rides. Below is a highlight list of some of the thrilling, but not too extreme rides for the family that we enjoyed.
Surfside Gliders (36″ and Over) – This ride has you piloting your own two person glider which spins 28 feet in the air. Move your glider "sail" left or right to bank your glider as it spins above the Boardwalk area.
Waveswinger (48″ and Over) – This ride has you suspended in your own suspended swing while it swirls you around at a good pace. The girls loved going on this ride without mom and dad.
Wipeout (48″ and Over) – Most of you have seen this ride at various them parks or fairs. You sit on the outside of a fast spinning circle that lifts up and has you falling and climbing over and over. This was a big hit with our girls who must have ridden the ride at least 6 times throughout the day.
Bigfoot Rapids (46″ and Over) – This thrilling river raft ride has you careening down the fast moving rapids getting you soaked along the way.
Timber Mountain Log Ride (36″ and Over) – This classic log ride opened in the park in 1969 and takes you through a 19th century lumber camp. The fast moving logs take you through a variety of scenes with mechanical people and stuffed animals and ends with a great 38 foot drop.
Classic Theme Park Rides – Among the other rides at Knott's Berry Farm are the classic amusement park rides like the Dragon Swing, Hat Dance (spinning saucers), Wheeler Dealer Bumper Cars and the Pacific Scrambler. These rides are familiar, fun and make a good transition (and rest) from the big thrill rides. They are also a great way to get your younger kids ready for the bigger rides down the line.
Knott's Berry Farm for Little Ones
Camp Snoopy is the area where families can take the smaller kids in the family to ride some fun but less intense rides. Since our girls are too big for these types of rides, we didn't get a firsthand experience on the rides, but we did check out the kid friendly area on our way to the Sierra Sidewinder roller coaster. We noticed the kids having a really nice time on the rides and parents were equally as excited to photograph and videotape their kids having so much fun.
Timberline Twister (36″ Min, 69″ Max) – This roller coaster was made for the kids and is a great first roller coaster for your young ones. Timberline Twister rolls up and down the "hills" of the oval track at a nice pace that most young kids can handle.
Woodstock's Airmail – If the kids had to watch you go on the Supreme Scream, here is their chance to have you watch them having all the fun. Woodstock's Airmail is the miniature version of the Supreme Scream that will have them free-falling a few feet before bouncing back up.
Rapid River Run – This ride has you and the kids sitting in a boat as it rolls up and down the half pipe track while it spins at the same time.
Linus Launcher – On this ride the kids lay down on Linus' blanket and get launched up to 10 feet in the air while spinning in a circle around Snoopy.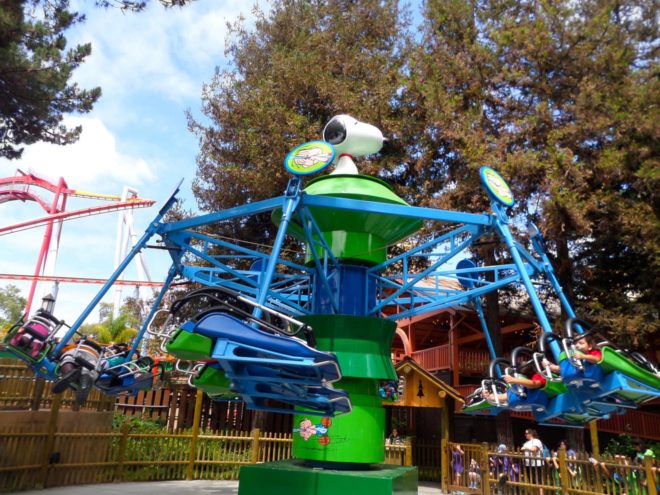 Flying Ace – Have the kids hop aboard miniature biplane and pilot it up and down as it spins around.
Other notable rides at the park for parents and their little ones include the High Sierra Ferris Wheel, Merry-Go-Round, Calico Mine Ride (train), the Sky Cabin (slow spinning tower cabin) and the Butterfield Stagecoach.
Knott's Berry Farm Rides Video
Why We Recommend Knott's Berry Farm For Families
Good Roller Coasters
Fun Thrill Rides
Plenty of Family Rides
Camp Snoopy
KidTrack Program
Nice Dining Options
Very Clean Theme Park
Rides for Kids of All Ages
Family Tips for Knott's Berry Farm
KidTrack – Before you start your day at Knott's Berry Farm, stop by guest services and register for the KidTrack program. You provide your telephone number and name and they will write that on a wristband which the kids wear. Tell your kids that if they get lost, to tell a Knott's employee and they will call your number that is on the wristband.
Dining Out – Since the park allows you to get your hand stamped for re-entry and there are great places to eat right outside the gate, we recommend taking a lunch break outside the park. If you are not planning on grabbing dinner at the park, we recommend heading over to Mrs. Knott's Chicken Dinner Restaurant for lunch to enjoy one of the best fried chicken meals. Also, close to the front gate is Pink's famous hot dogs which are one of our favorites as well.
Healthy Snacks – Okay, we all know you will be eating some delicious junk food while spending the day at any theme park. While we don't refrain from the less healthy food during our day at the park, we like to include some healthy options to balance it out a bit. We found a few places at Knott's Berry Farm that offered healthy options, like fresh fruit, salads and sandwiches.
Discounts – If you buy tickets online 3 or more days in advance you get a discount. Also, show your military ID card or AAA card for a discount off regular admission tickets.
Visit the Knott's Berry Farm website for theme park hours, tickets and other information.
---
Best Things To Do with Kids in Los Angeles

Knott's Berry Farm is part of our comprehensive list of things to do with kids in Los Angeles. Our list of family friendly activities that the whole family will enjoy includes amusement parks, museums, aquariums, beaches, Los Angeles landmarks, parks, shopping and much more.
---
We were provided media passes to Knott's Berry Farm for the purpose of reviewing it on our blog. Regardless, we would only recommend places, activities or services that we would use/visit personally and that we believe will be good for our readers.