Los Angeles Classic Restaurants Dishing Out Tasty Food
Here is a list of family friendly Los Angeles classic restaurants that have been serving up good food to the masses for many decades. These family friendly casual restaurants and "stands" have fun atmospheres, serve delicious food and are just a good time for the parents and kids alike.
Langer's Delicatessen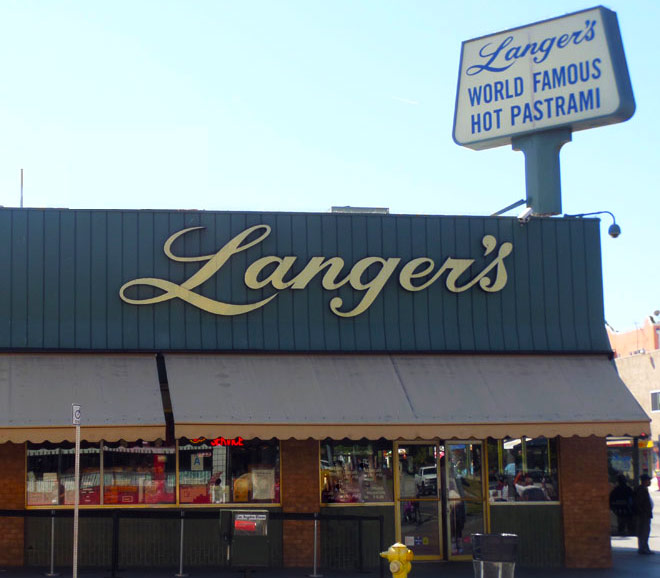 Langer's Deli opened shop in 1947 (with twelve seats) and continues to dish out traditional delicatessen food in its original, albeit larger location. This landmark restaurant is located in the so-so MacArthur Park area just west of downtown Los Angeles and has endured the generations of neighborhood changes surrounding it. The reason Langer's has made it all these years, is its delicious deli food, which is not easy to come by in Los Angeles. In my honest opinion, I think their Pastrami sandwich is the best I have ever had and I grew up on Deli food. The Pastrami is very tender and their twice baked rye bread is crunchy on the crust and soft as can be on the bread. If you are not a purist (pastrami and deli mustard), they have a fantastic Pastrami sandwich (#19) with Cole Slaw, Swiss cheese and Russian style dressing. Add in a side of Potato Pancakes and a Cream Soda and you are set. Langer's menu offers up a large variety of traditional Delicatessen fare, so everyone in the family should find something to their liking. Visit Langer's Website for more information on this Los Angeles classic restaurant.
---
Philippe the Original
Take a step back in time when you visit this original 1950's classic restaurant. Parents and kids will get a kick out of seeing what it was like to eat in the 50's and they will sure love the food. Philippe the Original was established in 1908 and has been in its current location since 1951. When you step into Philippe's you will see ten lines of diners waiting at the long serving counter. Choose a line and decide what you want to eat while waiting. Their specialty is their famous French Dipped Sandwiches which come in your choice of either beef, pork, ham, lamb or turkey. It is served on a crunchy French roll and dipped in their "jus" that they create from their roasted meats. Order your sandwich with one dip, two dips or "wet" if you like it drenched in jus. Don't forget to get a delicious fresh slice of fruit pie a la mode. Visit Philippe's Website for their menu and other information.
---
Pink's Hot Dogs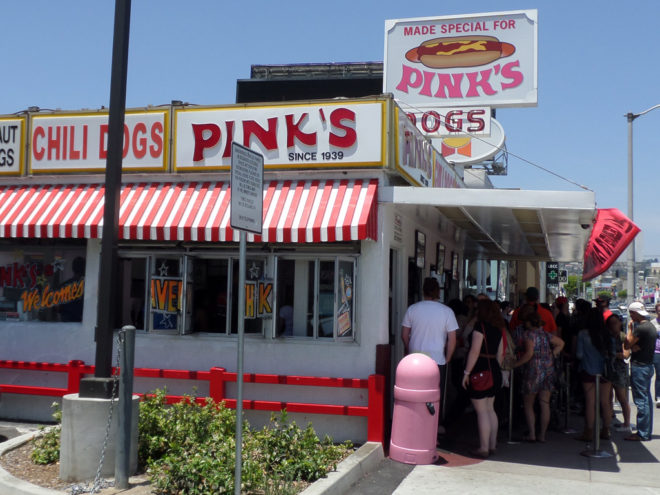 Pink's has been serving up their famous chili dogs and burgers for over seventy years in the same L.A. location. What started as a small pushcart on La Brea & Melrose in 1939 has grown into a famous Hollywood landmark and one of the oldest of the classic restaurants in Los Angeles. Pink's is visited by hundreds of people (celebrities as well) each and every day. It is a fun place to bring the kids and they always will find something that they love to eat. I have been going to Pink's since I was a kid and now I get to bring my own kid to the same spot to enjoy one of the best hot dogs in the world.
As you arrive at Pink's, you will see a long line of people zigzagging in front of the stand and into the parking lot. Grab a paper menu and decide what to order as you will not want to wait in line again if you forget something the first time through. Once you order and pay you need to find a seat either inside or on their patio.
What to order? A good start is the best selling item; their chili dog with onions and mustard. They have good burgers, but we recommend not leaving Pink's without trying one of their famous hot dogs. For those with an appetite and an iron stomach, try the bacon burrito dog which is a burrito with two dogs, cheese, bacon, chili and onions. Visit Pink's Website for more information on this Los Angeles Classic Restaurant.
---
Tito's Tacos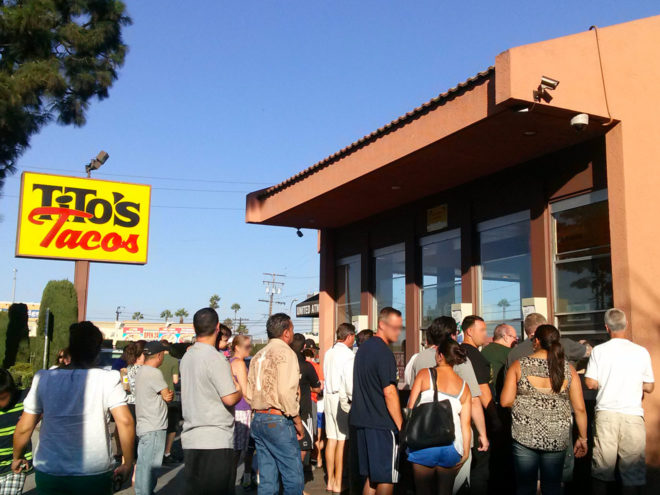 Tito's tacos has been cooking tasty Mexican food in the same location since 1959. As the name implies their specialty is their awesome tacos which are crispy hard shelled tacos and not traditional Mexican tacos. The beef burritos are made with slow-cooked Chili con Carne instead of ground beef. There are some obstacles to overcome before you get to eat here. Parking is tough to get in Tito's own parking lot, but ample street parking around the restaurant helps. The lines are ALWAYS long (about 10 – 25 minutes), it is tough to get a table and they only accept cash. Once you get through all of this you will get to enjoy very tasty tacos, burritos wrapped in delicious tortillas and their free with every order crispy tortilla chips and flavorful salsa (non-spicy, so its good for the kids). A few tips for you: 1) If you order four items they give you a large salsa. 2) If you order your tacos with cheese get one with cheese and one without since their cheese portions are very generous. 3) The small soda is really small and their large soda is the size of a regular soda at a fast food place. Visit Tito's Tacos Website for more information.
---
Bob's Big Boy
Bob's Big Boy is a true 50's diner and was declared a historical landmark in California. If you are looking to take the kids to a real 50's diner and let them get a glimpse as to what it was like when you were a kid, then Bob's is the place. For a real treat for the kids they have car hop service and classic car shows on certain (check the events page on their site) days.
Bob's is well known for their "Big Boy" burger which is two all-beef patties on a grilled sesame seed bun with shredded lettuce, American cheese, dressing, and special relish. While they serve other burgers and sandwiches, I can't not get the Big Boy when going to Bob's Big Boy (that same logic applies for Tito's Tacos as well). Another thing I love is the classic Coca-Cola flavors (cherry, vanilla and chocolate) that they offer and are harder to come by nowadays. Topping off the meal at this classic restaurant is their awesome Decadent Hot Fudge Cake which brings back fond childhood memories. Visit Bob's Big Boy Website for more information.
---
Carney's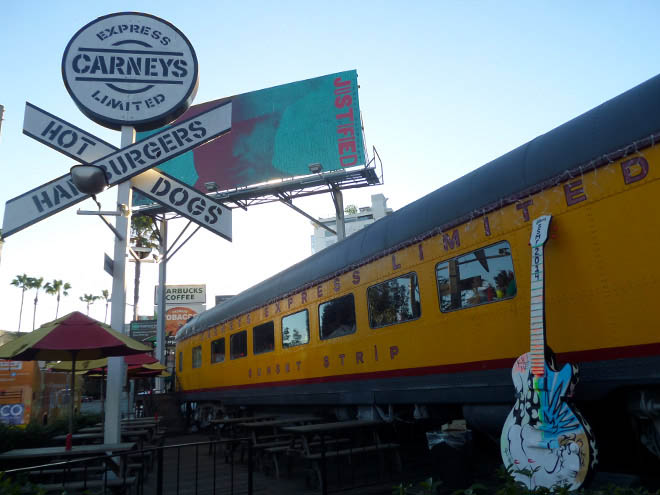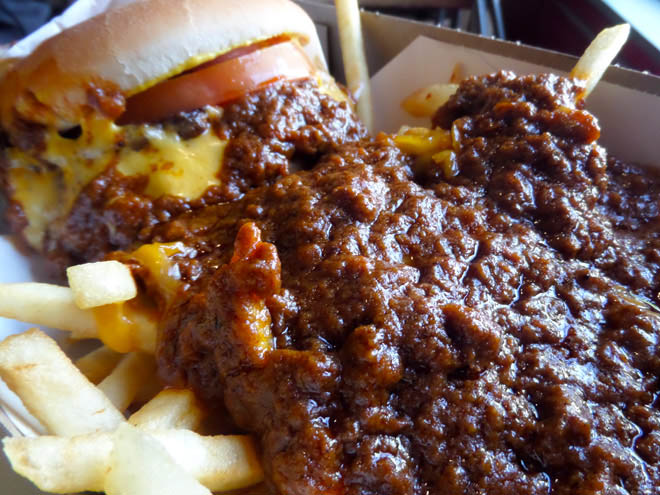 Carney's offers a double whammy for the family by having good food and a fun location. Since the 70's, the converted Pacific Railroad passenger train turned burger and hot dog restaurant has been an iconic site on the Sunset Strip. Their menu consists of mainly burgers and hot dogs with and without their delicious chili, spicy polish dogs and fries. If anyone in the family wants to go with lighter fare, Carney's has a good variety of sandwiches and wraps and even offers a low carb style which is wrapped in lettuce. We recommend getting the chili dogs and, if you can handle a double dose of chili, an order of chili cheese fries. The kids will love eating in an actual train car and giving them a choice of burgers, dogs and fries should make it twice as sweet. Visit Carney's Website for more information on this Los Angeles classic restaurant.
---
Du-par's Restaurant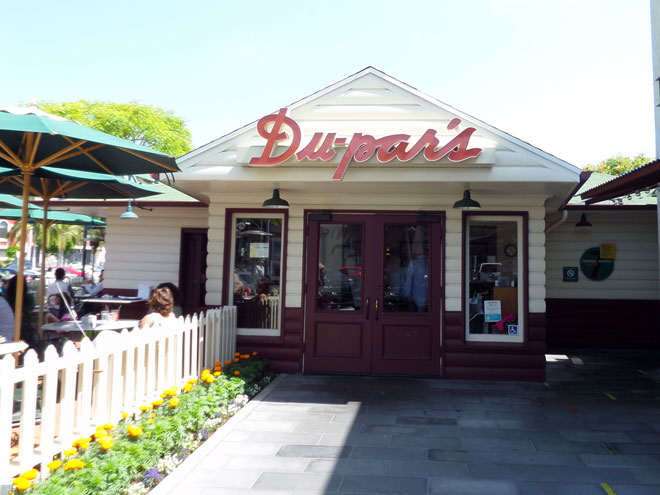 Du-par's Restaurant opened shop at the famous Los Angeles Farmers Market location in 1938. This traditional coffee shop has seen the neighborhood around them grow into a top-notch tourist stop and a favorite dining and shopping area for the locals. Luckily, Du-par's has not changed that much and still serves one of our favorite breakfast dishes in Los Angeles. We can't write about the lunch or dinner here because every time we go, we get the breakfast. I have to say that the pancakes here are second to none. Now, I am not talking about fancy Raspberry Cream Cheese or Apple Cinnamon topped with Bananas pancakes. I am talking about a traditional stack of delicious Buttermilk Hotcakes with melted butter and maple syrup. These hotcakes are unlike any I have ever had and there is some secret ingredient that makes them standout like they do. They also serve other great breakfast items like their thick-sliced French Toast and fluffy omelets. They have a children's menu as well for your little ones. After you dine at Du-par's Restaurant, you can take the family around the Farmers Market and The Grove to make a day out of it. Du-Par's is also listed on our Best Family Restaurants in Los Angeles article. Visit Du-par's Restaurant Website for more information on this Los Angeles classic restaurant.
---
Johnnie's Pastrami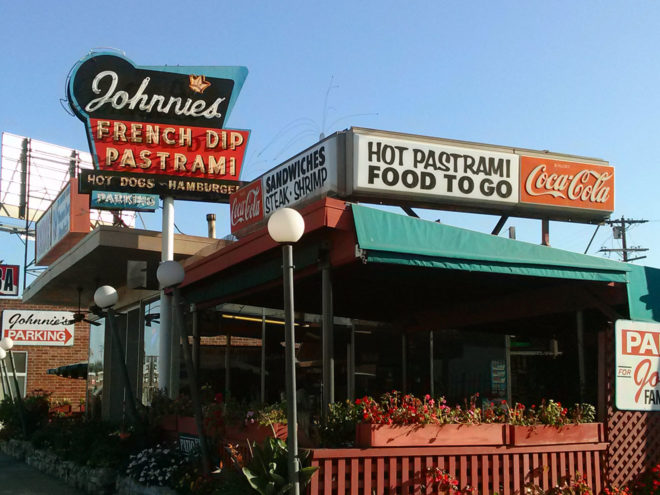 This Los Angeles classic restaurant is famous for their 50's decor, booth jukeboxes and of course their Pastrami dip sandwiches. Opened in 1952 in Culver City (a couple hundred feet from Tito's Tacos), Johnnie's Pastrami is a rockin' restaurant with classic oldies playing and a 50's style menu being served up. They also have a cool fire pit and heat lamps on their quaint outdoor patio if you wish to dine al fresco. Our recommendation is the pastrami sandwich, their burgers and the great sides like the fries, onion rings and cole slaw. Kids will get a kick out of their kids' meals that are served in a paper Chevy muscle car. Visit Johnnie's Pastrami Website for their menu and other information.
---
Randy's Donuts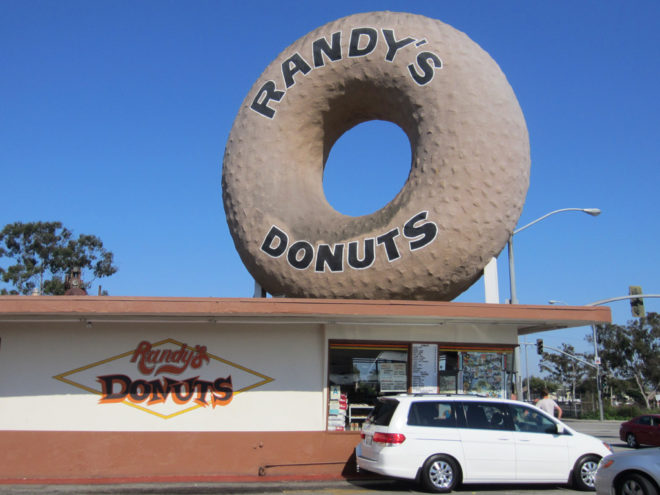 Built in the early 1950's and bought in the late 1970's by the current owners, Randy's Donuts is well known for its iconic 32 foot donut sitting atop the donut shop. This Los Angeles landmark building has been seen in such movies as Mars Attacks!, 2012, Iron Man 2 and music videos such as Randy Newman's "I Love LA" and Californication.
Everyone love's the building, but without a good product they would not be in business. The donut variety is what you would expect from most donut shops, so I am sure everyone will find their favorite. The quality of ingredients and freshness of the donuts is what our family finds to be the difference between a decent donut and a great one. Randy's bakes their own donuts throughout the day and uses quality ingredients. Soft, sweet and delicious! One thing to note is that they don't have a place to sit and enjoy their donuts. We sometimes like to park by the airport (LAX is really close), sit on the car and eat our donuts while watching the planes come in. Visit Randy's Donuts Website for more information.
---
The Hat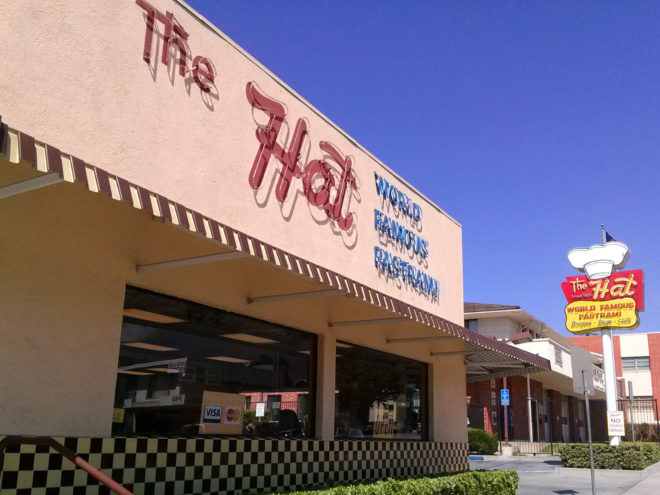 For over 60 years, the hat has been serving up their "world famous" pastrami dip sandwiches, burgers, hot dogs and other sandwiches. If you like pastrami, then you will not be disappointed in their signature pastrami dip served on a french roll with pickle and mustard. If pastrami is not your thing they make very tasty burgers and hot dogs. The Hat's chili is a great topping for the burgers, dogs and fries (warning: an order of chili fries is huge and should be shared by the entire family). Another item that we truly loved at this classic restaurant was their golden brown, crispy and crunchy onion rings. Yummy! All of their items are packed to go, but you can grab paper plates when you dine in. Visit The Hat Website for more information.
---
See our Best Family Restaurants in Los Angeles article for more great kid friendly restaurants to dine at with the family for breakfast, lunch, dinner and dessert.
---
Did we miss any of your favorite Los Angeles classic restaurants? Tell us what your favorite one is.
---