A Checklist of Fun Things To Do in Las Vegas from Wild to Mild

Outside Las Vegas | Off The Strip | Las Vegas Strip | Downtown Las Vegas
With so many fun things to do and see in and around Las Vegas, we thought creating a Las Vegas Bucket List would make it easy for our readers to plan their next visit. Our list of activities, experiences and sights range from crazy extreme to mild and everything in between. Use our checklist below to plan your next trip and find out all of the fun things that Las Vegas has to offer. We are not that far from completing our Bucket List items, so we will be on the lookout for new activities and will update the list on a regular basis.
Outside of Las Vegas Bucket List
A Helicopter Tour Into The Grand Canyon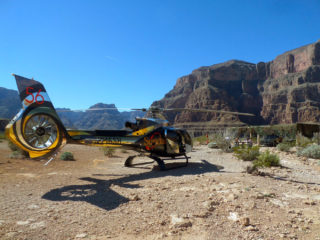 There is no cooler way to see the Grand Canyon than to take a helicopter flight into this natural wonder and landing thousands of feet below the rim for a private picnic area overlooking the Colorado River. Flying in a helicopter is a bucket list item in itself, but this tour includes stunning aerial views as you fly over the Mojave Desert, Hoover Dam, Lake Mead, Grand Canyon West and the Las Vegas Strip. See our Grand Canyon Helicopter Tour from Las Vegas article to see pictures and details of this amazing experience.
Ride In And Fly An Aerobatic Aircraft
If you are craving an extreme adrenaline rush, then this unique aviation experience is the ultimate Las Vegas bucket list item that you have to try. Sky Combat Ace gives you the opportunity to ride in and fly one of their aerobatic stunt planes that go 250MPH and pull some major G's. With choices of experiencing an aerobatic air show routine, getting into an aerial dogfight or getting behind the controls and flying the plan yourself, something will be crossed off your list here. I chose a little bit of everything for my flight with the highlight being the pilot teaching me to fly my own stunt maneuvers. See our Sky Combat Ace review with GoPro video highlights of the flight.
Drive, Jump And Drift An Off-Road Race Truck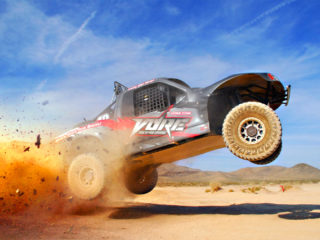 An amazing off-road experience that will have your adrenaline pumping is VORE – Vegas Off-Road Experience. The thought of strapping into a massive Pro Lite off-road racing truck and flooring it around an arena style, professional level short course race track sounded too good to not be on our bucket list. After a video introduction, a run through lap with our instructor, we were "barreling" our way through 10 fast paced laps of the off-road course. Our track, the short course, has high banks, drifting turns, dive jumps and five major jumps with a 40 foot table top jump that gets you 20 feet in the air. View our Vegas Off Road Experience video to see one of our short course track runs.
UTV Off-Roading through the Mojave Desert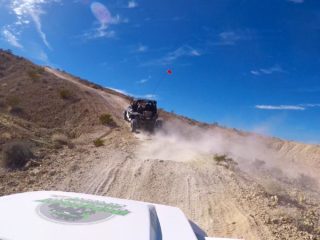 Driving a UTV through the absolutely crazy terrain of the desert is a unique experience you can't get with most other vehicles. With a mix of speed and off-road agility, these vehicles let you take on the most daring off-road courses. We took a two hour off-road tour from Desert Off Road Adventures, which had us driving our 2-seat Arctic Cat Wildcat X far into the desert. Our tour took us through diverse desert terrain and we experienced portions of the famed Mint 400 off-road race course. Following our tour guide in the lead UTV, we sped through desert trails, climbed and descended the steep hills, wound through the sandy dunes, glided over rock and bumps, squeezed through trail openings and everything else the desert could throw at us. We took breaks to change drivers, hydrate, dust ourselves off and take in the views along the way. This tour offered us a variety of off-road experiences that made it a unique experience that we won't forget.
Drive A Dune Buggy Through the Desert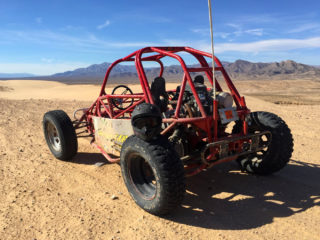 The Las Vegas desert provides a perfect place to hop out of that rent a car and strap into your own dune buggy. We chose to do the Vegas Mini Baja Chase from SunBuggy, which has you "chasing" your expert guide as you both carve up the desert in these fast-paced dune buggies. These aggressive chase runs will have you speeding over dunes, gravel and creek beds, heading sideways up the hills, sliding and drifting through turns and so much more off road fun.
Zipline Through The Desert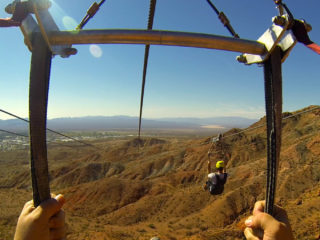 This exciting outdoor adventure has thrill seekers zipping through four separate zipline runs that cover 1 1/2 miles and soar high above the Mojave Desert. Have fun hiking through Bootleg Canyon and taking in the scenic views before strapping onto one of the ziplines that will have you flying down the mountains at speeds up to 60+ mph. See our GoPro video of our zipline runs at Flightlinez Bootleg Canyon.
Go Hiking In The Valley Of Fire State Park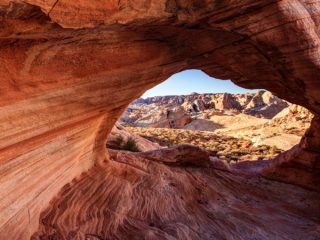 The Valley of Fire State Park is about an hour north of Las Vegas and has some of the most scenic hiking areas in the Mojave Desert. The park features red sandstone formations that formed millions of years ago, sandstone formations, petrified wood along with the must-see formations of the Arch Rock, Balanced Rock and Piano Rock. Since this is Nevada's largest state park with over 35,000 acres, we chose to take a guided tour with Pink Jeep so we would be able to see all of the major attractions and to not get lost while doing it.
Hike and Climb At Red Rock Canyon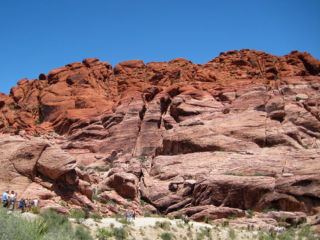 Red Rock Canyon is a short drive west of Las Vegas and provides a beautiful setting for exploring the Mojave Desert at your own pace. For a low cost entrance fee, vehicles can drive the one-way 13-mile scenic drive and stop along the way at the many hiking trails and rock climbing areas. Visit the Red Rock Canyon website to plan your visit.
Tour The Hoover Dam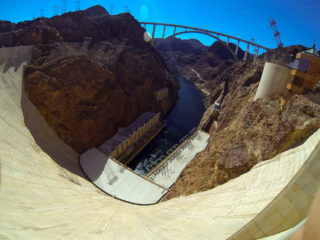 Although it's not that close to the city, this national historical landmark is close enough for it to be on your Las Vegas Bucket List. This marvel of engineering, which was built during the Great Depression, will leave you in awe as you stand on the observation deck and take in the 360-degree views of the Colorado River and Lake Mead. We have seen the Hoover Dam from the air, by river and land and prefer the land tour by far.
Rafting Through Black Canyon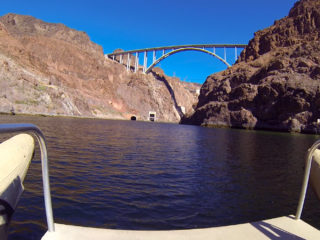 At the base of the Hoover Dam visitors can board a raft float tour down the Colorado River and the Black Canyon Water Trail. View the Dam from the bottom as your raft pauses at the base to give you close-up views of the Hoover Dam. As you travel along Black Canyon you will see the dynamite storage bunkers that were used during the construction of the Dam. This raft tour from Pink Jeep Tours is a great add on to your Hoover Dam tour.
Slide And Swim At Wet 'n' Wild Las Vegas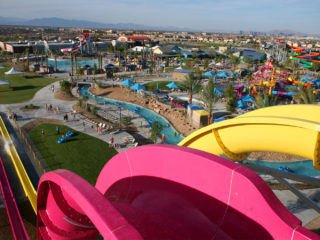 A fun and exciting way to cool off from the Las Vegas heat is the Wet 'n' Wild Water Park. A short drive from the southern edge of the Las Vegas Strip this water park has over 25 attractions with water slides, pools, kid zones, a lazy river and more. Adrenaline seekers can plummet the six story vertical drop slides of Canyon Cliffs.
Take An Exotic Car Out For A Few Laps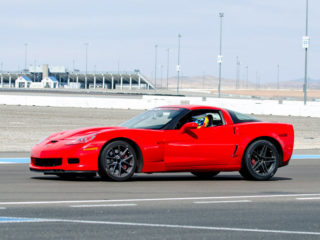 If you have ever wanted to jump into an exotic supercar and put the pedal to the metal, this is the experience you are looking for. Drivers can choose from a variety of exotic sports cars – Ferrari 458 Italia, Porsche 991 GT3, Lamborghini Gallardo, Audi R8, Corvette Z06, etc. – and race these beasts around the Las Vegas Motor Speedway track.
Visit The Ethel M Chocolate Factory And Cactus Gardens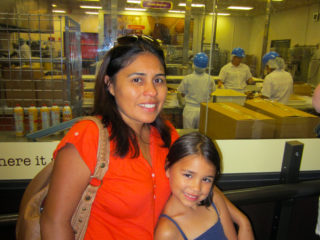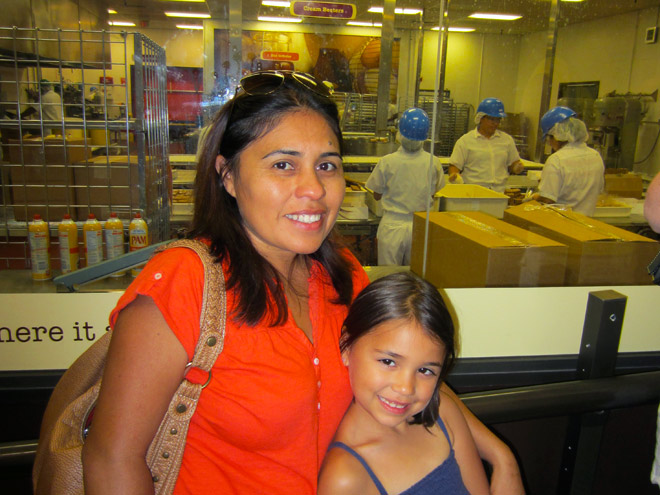 At the Ethel M Chocolate factory visitors can take a self guided stroll outside the kitchen of the factory to watch their chocolatiers creating all of their sweet treats. After going through the factory and their chocolate shop, head outside to spend some time exploring the Cactus Gardens. Ethel M's Botanical Cactus Garden is four acres of beautiful cacti and succulents with paved walking paths for taking a leisurely stroll through.
Off The Strip Las Vegas Bucket List
Catch Some Air Via Indoor Skydiving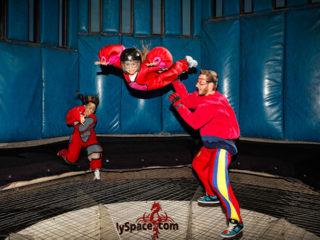 If you ever wanted to skydive, but the thought of jumping out of a plane put those plans to rest, indoor skydiving might be what you are looking for. On the north end of the Las Vegas Strip, Vegas Indoor Skydiving offers up a thrilling freefall experience without all the planes and parachute worries. We had a great time flying, floating and falling during our time in the indoor vertical wind tunnel that thrusts winds upward at 120 mph. See our article on our Vegas Indoor Skydiving experience.
Zipline 50 Stories High At The VooDoo ZipLine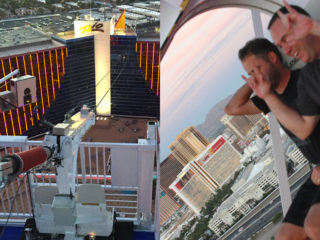 The Rio Hotel has the VooDoo ZipLine, which sends a pair of riders down from the 51st floor rooftop at speeds of up to 33 miles per hour. After a fast 800 foot ride down the zipline, riders then a take much slower return trip going backwards. Don't think the slower return trip is any less scary than the faster initial ride.
Race Through A Las Vegas Indoor Kart Racing Track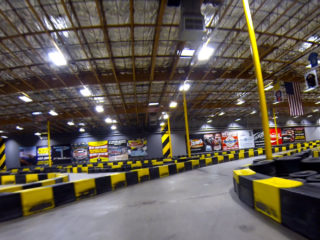 Leave the snail paced traffic of the Las Vegas Strip behind and head on over to the blazing fast go kart race track. At Pole Position Raceway, their electric go karts can reach speeds of up to 45 MPH as they navigate the turns, curves and straightaways of their large indoor race track. These electric go karts are not the ones you see at the mini golf family centers – they are high performance go karts that accelerate quickly, drift and brake, are very agile and are extremely fast. See our Las Vegas indoor go kart racing article with GoPro video of our race.
Get A Topgolf Hitting Bay With Views Of The Las Vegas Strip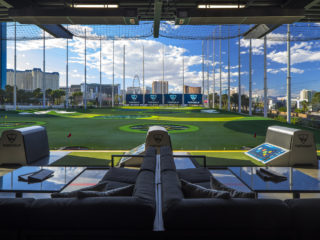 Even if golf isn't your thing, Topgolf brings a new golf experience that will have novices to pros having a great time. This driving range on steroids takes the traditional practice range and cranks the fun meter up to create an atmosphere that gives everyone a fun way to enjoy the sport. Guests rent a hitting bay, equipped with golf clubs, and compete in a variety of games as they hit microchipped golf balls at targets and watch the automated scoreboard tell them where they hit their ball and what they scored. Topgolf adds plenty of entertainment along with their golf games by having two pools, massive TV screens, bars, a concert venue, cornhole/shuffleboard and more.
Visit The Gold and Silver Pawn Shop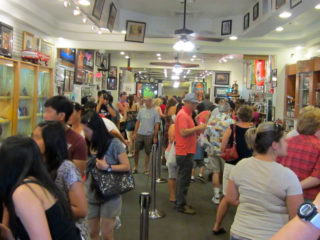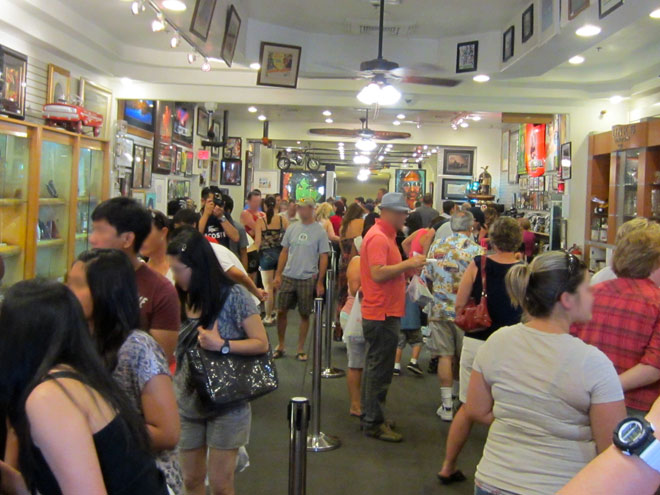 If you are a fan of the Pawn Stars TV show, a visit to the shop is a fun visit. The Gold and Silver Pawn Shop, where the show is taped, is just a few minutes above the north end of the Las Vegas Strip. After a wait in line outside the pawn shop, visitors can walk through the shop and see some of the items that were featured on the show and a lot more interesting items. Don't plan on seeing anyone from the show and beware that you can be whisked out of the store when they decide to tape a segment during you visit. Still a fun visit though.
Visit Acrylic Tank Manufacturing From The Tanked Show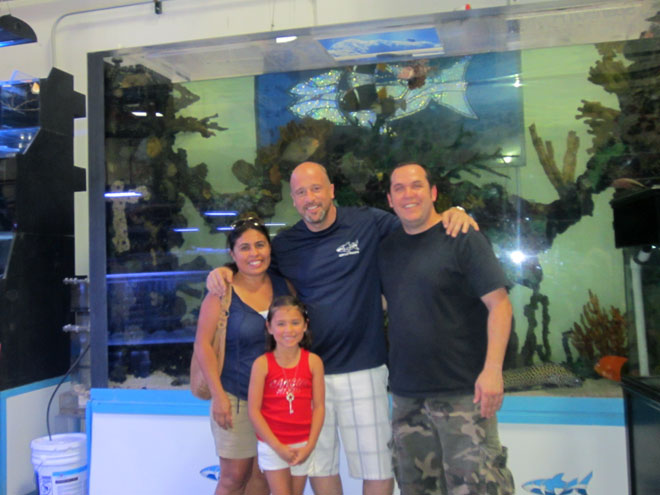 Another reality TV show set in Las Vegas is Animal Planet's Tanked and if you watch the show, a visit to Acrylic Tank Manufacturing should be on your Las Vegas Bucket List. We had been fans of the show since it started and wanted to stop by to see the showroom's aquariums and fish. We were fortunate to meet one of the show's stars, Brett Raymer who was very welcoming, took a picture with us and gave our daughter a cast signed postcard. See our article on visiting the Pawn Stars and Tanked shops.
Play Some Vintage Games At The Pinball Hall of Fame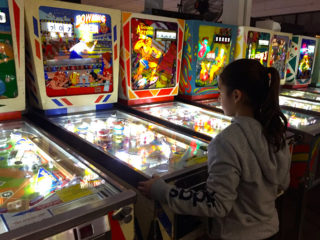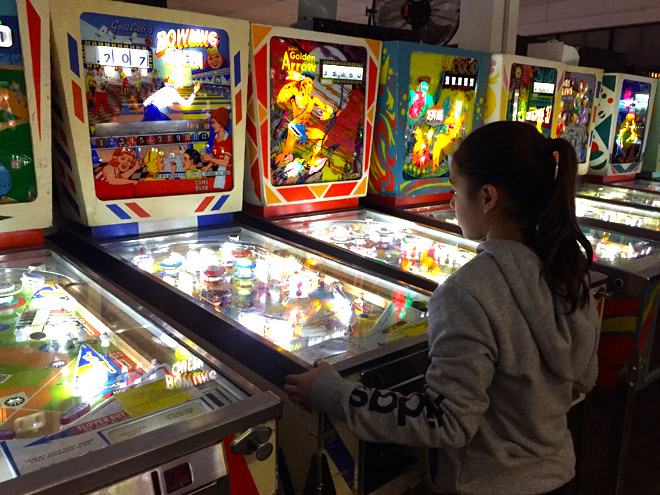 The Pinball Hall of Fame is a 10,000 square foot play space with 200+ pinball and arcade games. Just a short drive from the strip, this non-profit "museum" has fully restored pinball machines from the 1950s to the 1990s as well as vintage arcade games from the 80s and 90s. With games costing 25¢ to $1 per play, visitors can have fun without spending a whole lot of money.
Visit The Aquariums At The Silverton Hotel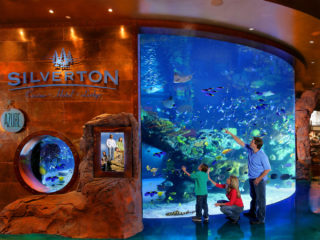 The off-strip Silverton Hotel has three great aquariums throughout the hotel that are free to visit. The main one is the impressive 117,000-gallon saltwater reef aquarium that has over 4,000 tropical fish, stingrays and sharks. This main aquarium also features live mermaid swim shows and daily interactive feedings. A stone's throw away, at the Bass Pro Shops, is a fresh water aquarium that is filled with koi fish and surrounded by Red Rock Canyon like walls. Adjacent to the main aquarium is the Mermaid Lounge, which features two LED lit jellyfish aquariums. See our article on the Silverton Hotel Aquariums for more pictures and details from our visit.
Las Vegas Bucket List on The Strip
Experience the Volcano Show At The Mirage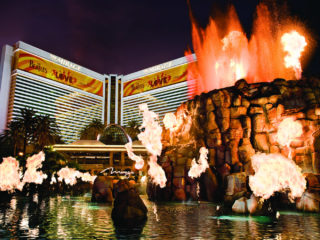 One of the most spectacular and popular shows on the Las Vegas Strip is the Volcano in front of The Mirage. Every night at 8:00pm and 9:00pm as well as 10:00pm on Friday and Saturday, the volcano that sits on a gorgeous lagoon with waterfalls, beautiful trees and plants, erupts with huge fireballs in coordination with a wonderful musical score. See our Mirage Hotel attractions article for more things to do and see at The Mirage.
Ride The Rides At The Adventuredome In Circus Circus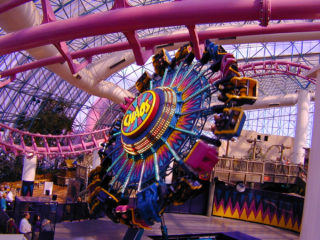 Adventuredome is the five acre indoor theme park behind the Circus Circus hotel that has plenty of rides and entertainment for kids and adults. The amusement park costs nothing to enter and only costs to ride and play. Adventuredome has a nice variety of ride, but four of them in particular are Las Vegas Bucket List worthy. Canyon Blaster is a large double-loop, double-corkscrew roller coaster; El Loco is a fast small car roller coaster with dive loops and outward turns that make you feel like you are being pushed out; Chaos and Inverter are two thrill rides that will have you upside down for a good portion of your ride. See our article on things to do at Circus Circus.
Take A Picture At The Las Vegas Welcome Sign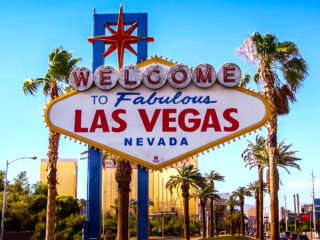 The Welcome to Fabulous Las Vegas sign at the south end of the strip has been greeting visitors since 1959. Back in the day, those driving into Las Vegas would be entering through Las Vegas Blvd and this roadside landmark welcomed each visitor. Nowadays the sign is more of a tourist attraction where visitors can park and wait in line to grab a picture with the iconic sign.
View The Las Vegas Strip From The High Roller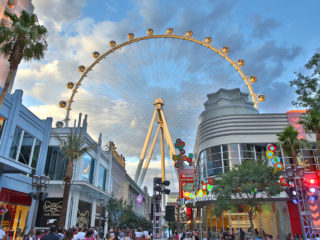 High above Las Vegas Boulevard the 550-foot-tall High Roller observation wheel will give you a fantastic view of the strip. Visitors step aboard a glass-enclosed cabin that slowly rotates at 1MPH to give them a 30 minute ride to admire the 360-degree views.
View The Strip From The Eiffel Tower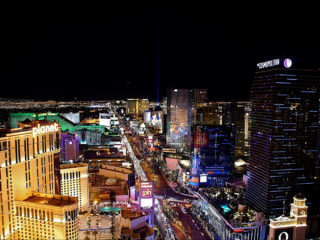 The Eiffel Tower Experience at the Paris Las Vegas Hotel will give you beautiful 360° views of Las Vegas from its open-air caged observation deck. The half scale replica of the Eiffel Tower is 50 stories high and guests take a exhilarating glass elevator ride up to the observation deck that is 46 stories over the Las Vegas Strip.
The Walk Through Tunnel At The Shark Reef Aquarium
The Shark Reef Aquarium at the Mandalay Bay Resort brings you into an underwater world that is filled with dangerous predators. With 14 exhibits that feature 100 sharks, Piranhas, Sawfishes, rays and crocodiles, as well as, the less intimidating exotic fish and sea turtles. The Shark Reef features a 2,500-gallon saltwater touch pool with stingrays and horseshoe crabs to interact with and a 1.3 million gallon shark exhibit with a walk through tunnel for an amazing view.
Ride The Big Apple Coaster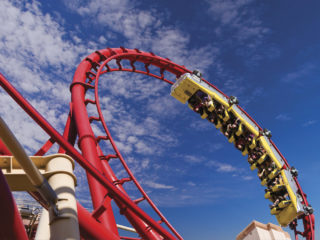 For roller coaster lovers, the Big Apple Coaster has to be on your Las Vegas Bucket List. Winding its way around the outside of the New York New York Hotel, this roller coaster will give you a unique view of the Las Vegas Strip. The Big Apple Coaster, which already starts out on top of the casino roof, has opening drop of 144 feet, speeding around the track at speeds up to 67 mph and inverts you with a loop and the send you into a 180-degree twist with a half loop.
See The Water Show At The Fountains of Bellagio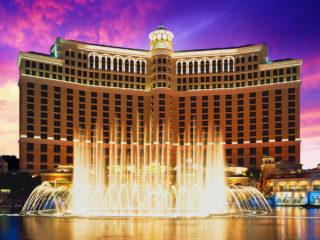 In front of the Bellagio Resort's entrance is a beautiful 8.5 acre lake where over 1,200 dancing fountains are choreographed to various music and light shows. The water display spans more than 1,000 feet with water blasting as high as 460 feet into the air. The music that accompanies the fountain shows range from opera to pop and everything in between. Shows happen every 30 minutes in the afternoon and every 15 minutes in the evenings.
Experience The Bellagio Conservatory & Botanical Gardens
Across from the Bellagio Hotel's lobby is a 50 foot glass dome that houses the Conservatory & Botanical Garden. During each season, as well as holidays and Chinese New Year, the 120 horticulturists transform the 14,000-square-foot space of trees, gazebos, bridges and ponds into stunningly beautiful scenes that showcase the distinctive sights and colors of each season.
Snap A Selfie With Your Favorite Celebrity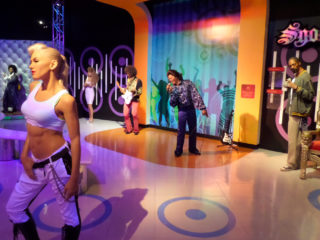 Madame Tussauds Las Vegas at the Venetian Resort gives visitors a chance to pose and interact with their amazingly life-like celebrity wax figures as you stroll through multiple themed rooms – from television and film to music and Las Vegas legends – that are lined with plenty of A-list stars. Snap some selfies with your favorite celebrities. Throw on some props, like Evel Knievel's cape and jump on his motorcycle. Jump into a scene, like passing out on the couch of the Hangover movie hotel room.
Go On A Gondola Ride at The Venetian

Winding through the heart of the Venetian Resort are the man made canals where authentic Venetian gondolas are guided through by a gondolier who sings you Italian songs during your ride. Relax as you float through the Italian inspired architecture of the Grand Canal, beneath bridges and under the sky painted ceiling.
Catch The Circus Acts At Circus Circus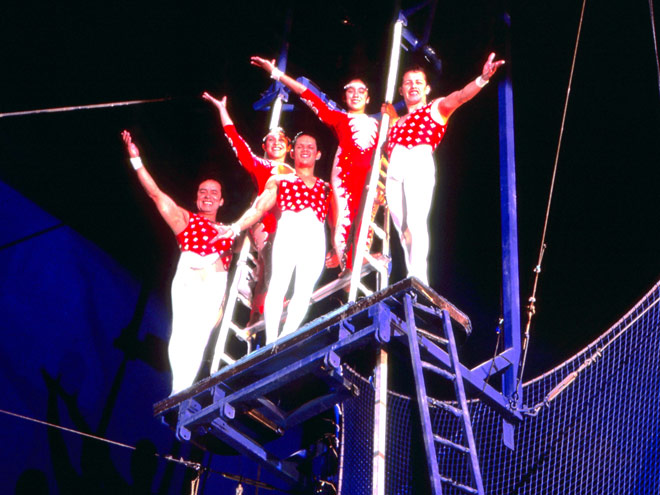 At the center stage of the Carnival Midway of Circus Circus Las Vegas Hotel you can catch a variety of free circus acts that perform daily. Some of the circus performances you will see on stage include flying trapeze, juggling, aerial silks, unicycles acrobats, circus clowns and much more. See our article with more details and other fun things to do at the Circus Circus Hotel.
Visit The Marvel Avengers S.T.A.T.I.O.N. Headquarters

At TI's Marvel Avengers S.T.A.T.I.O.N. (Scientific Training and Tactical Intelligence Operative Network), visitors can step into the world of the Marvel Universe and participate in a recruitment, as if they are being trained as an agent of S.H.I.E.L.D.. On display is a variety of Avengers equipment such as Iron Man's many armor suits including the Hulkbuster, The Hulk's lab, Captain America's shield, Thor's hammer, Ant-Man's helmet and Hawkeye and Black Widow's uniforms and weapons. This interactive and immersive experience will have you filling out your S.H.I.E.L.D. profile and answering questions through each exhibit, watching videos, jumping on Captain America's motorcycle, face off as a team in a fight against Ultron and much more.
See The White Lions and Tigers At The Secret Garden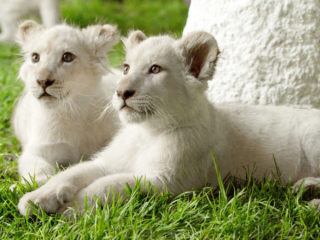 The Mirage is home to Siegfried & Roy's Secret Garden and Dolphin Habitat, which will have you up close with white tigers, white lions, black and spotted leopards and a family of bottlenose dolphins. This animal sanctuary's exotic environment is surrounded by palm trees, lush foliage and waterfalls as you take in the wildlife.
See The Chilean Flamingos At The Wildlife Habitat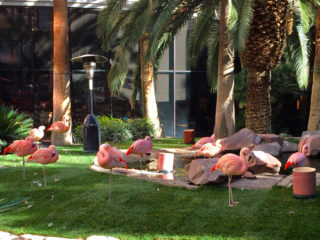 Just steps from the Las Vegas Strip, the Flamingo Hotel's outdoor Wildlife Habitat gives you a little bit of paradise to escape the hustle and bustle. The habitat's environment has lovely foliage, waterfalls, fountains and ponds that is the home to Chilean flamingos, turtles, koi fish, parrots and other exotic birds.
See Authentic Artifacts From The RMS Titanic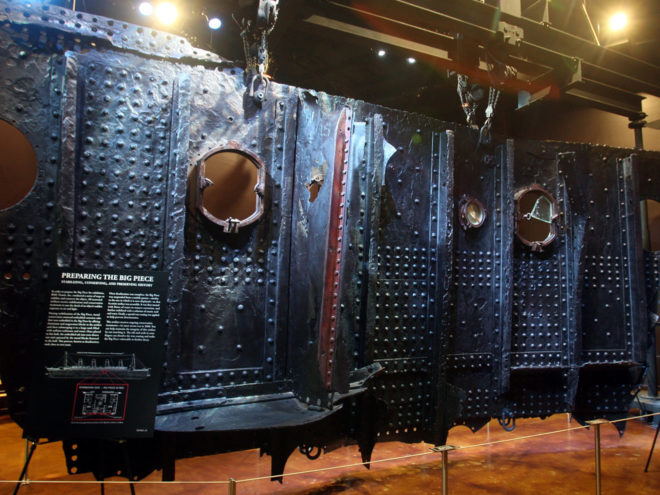 The Luxor's Titanic exhibit showcases hundreds of artifacts and realistic replicas from the RMS Titanic along with personal tales and belongings from the passengers of the ship. Visitors will see a massive 15-ton piece of the ship's hull, an amazing replica of the Grand Staircase, jewelry and dishes from the passengers, replicas of cabins, etc.
Downtown Las Vegas Bucket List
Zipline Over Downtown Las Vegas
Taking a zipline through the Fremont Street Experience over Downtown Las Vegas is one of the most unique ziplines that we have ever experienced. At the edge of Fremont Street is the SlotZilla 12-story launch tower sending riders soaring over Downtown. SlotZilla offers two different experiences with a Zipline half way down Fremont St. in a seated position or a Zoomline in a prone "Superman" position flying high at 40 MPH over the entire length of Fremont Street. We highly recommend the Zoomline option and you can see our SlotZilla Zipline GoPro video and read more about our experience.
Experience The Viva Vision Light Show On Fremont Street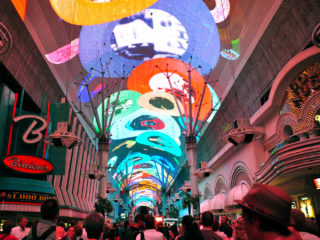 A must-see when visiting Downtown Las Vegas is the Viva Vision light show at the Fremont Street Experience. High above the pedestrian mall outside all of the casinos is a 1,500 foot long LED video screen that has an amazing music and light show that spans Fremont Street. The shows run every hour, beginning at dusk and last about six minutes with each show different than the last. We caught many of these shows and loved them all but Heart, Imagine Dragons and The Who were our favorites.
Experience Vintage Las Vegas Neon Signs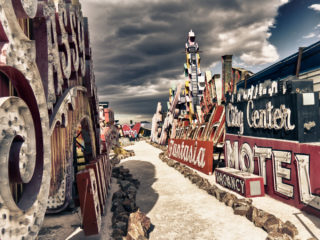 The Neon Museum preserves, restores and showcases hundreds of iconic Las Vegas signs from the 1930s to the present day. Visitors can book a tour to stroll through the Neon Boneyard, get an up close look at these world-famous signs of Las Vegas and hear their stories in Vegas' history. The museum offers day and night guided tours of their outdoor collection, with the night tour featuring the neon lit glow of their beautifully restored signs. The tour is very informative, fun and gives you an up close view of the iconic signs that helped Las Vegas become what it is today.
See A Concert On Fremont Street In Downtown Las Vegas
The Fremont Street Experience in Downtown Las Vegas is where you will want to go to see some great live concerts. With three concert stages along Fremont Street and a non-stop rotating schedule of musical talent hitting the stage for free concerts, a Fremont Street concert is a must.
Waterslide Through A Shark Tank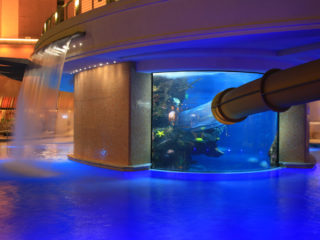 The Golden Nugget in Downtown Las Vegas has a very unique swimming experience. At the center of their pool is 200,000 gallon shark tank where swimmers can get an up-close look at hundreds of sharks, rays and other fish. Running right through this massive shark tank is a three-story water slide called the Shark Chute that will have you inches away from these sea predators. This gives a new meaning to swimming with the sharks. The Tank is listed as one of our best family pools in Las Vegas.
See The Largest Golden Nugget In Existence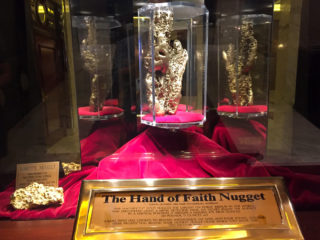 The Hand of Faith Nugget is a 60 pound gold nugget that was found in Australia and is the largest intact golden nugget. This massive piece of gold is on display in the lobby of the Golden Nugget Casino.
Get A Picture With A Million Dollars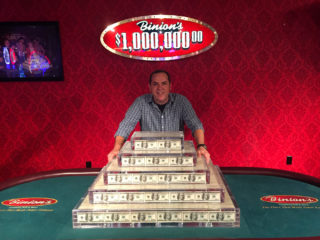 This is the closest most of us will get to a million dollars in cash. In the lobby of Binion's Gambling Hall & Hotel, visitors can get a free photo of themselves posing with a pyramid that holds $1 Million dollars in various denominations. Snapping a picture of yourself with a million dollars is a very Las Vegas bucket list thing to do. Please note that guests must be 21 years or older to take photo.
Experience The Praying Mantis Sculpture Shoot Out Fireballs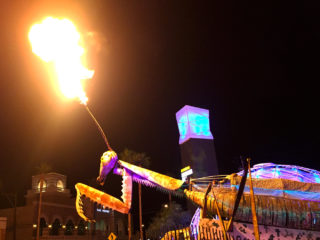 Downtown Container Park is a fun open-air shopping center constructed from giant shipping containers and consists of shops and restaurants. At the entrance to the center is a 35 foot tall praying mantis sculpture that shoots massive fireballs from its antennae on a nightly basis. You can feel the heat and hear the roar of the flame as you watch it light up the night sky.
Rub A Chunk Of Blarney Stone For Good Luck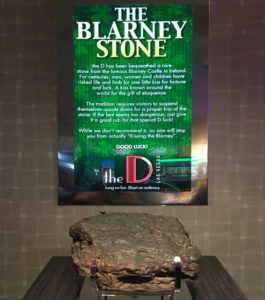 Whether you are granted with good luck or the gift of eloquence, stopping by The D Hotel to rub an authentic chunk of Blarney Stone is a fun little tradition, especially before a night of gambling. Tradition from the castle of Blarney in Ireland, dictates that visitors should be suspended upside down for the ritual of kissing the Blarney Stone, but we have stuck to giving it a good rub.
Rub Buddha's Belly For Good Luck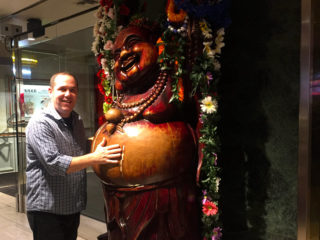 Another place to try and grab some good luck is at the California Hotel. Close to the front desk in the lobby, the hotel has a large wooden Laughing Buddha statue. Tradition holds that rubbing the belly brings good luck, wealth and prosperity.
Make A Few Bets On The Vintage Sigma Derby Race Machine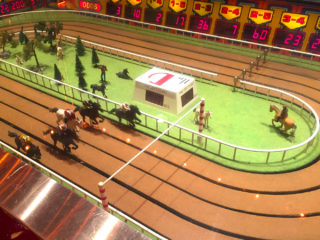 Sigma Derby is a vintage coin operated horse racing game where you bet on horse combinations and watch as they gallop around the track. With very few machines still in operation, Sigma Derby has gained a cult following among gamblers and it is usually hard to find a seat. The D Hotel has the machine located in its vintage slot area on the second floor. Rubbing the Blarney Stone and Buddha's belly didn't help me win though.
Go To The Bathroom At The Berlin Wall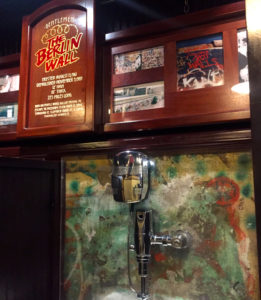 Of all the places that pieces of the Berlin Wall ended up, this one has to be the most unique. The Main Street Station Casino has a men's bathroom with a wall sized chunk of the historic Berlin Wall sitting behind a protective glass with urinals mounted on the front. It's an odd Las Vegas bucket list item, but not many can say they went to the bathroom next to the Berlin Wall.
Get A History Lesson On Organized Crime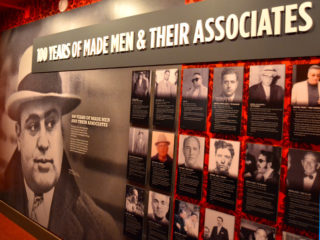 The Mob Museum in Downtown Las Vegas chronicles the history of organized crime in America by showcasing artifacts, stories, and the history of the mob and law enforcement.
Buy Some Gold From An ATM Machine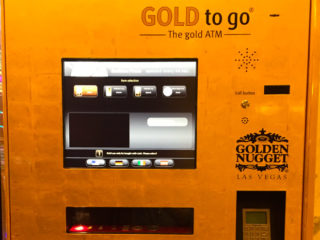 The Golden Nugget Hotel gives you the chance to get your hands on some real gold with a Gold ATM machine. In the hotel's lobby, across from the Hand of Faith Nugget, the GOLD to go ATM is ready to dispense 1 gram to 1 ounce gold bars and gold and silver coins in exchange for your cold hard cash. The ATM updates its price every minute based on current gold prices, so you will be paying a real-time price.
---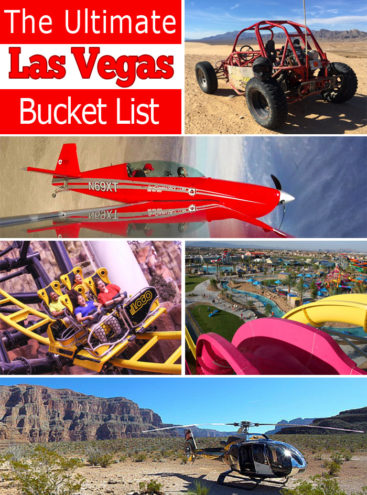 ---
If you know of any fun things to do in Las Vegas that you think should be on our Las Vegas Bucket List, feel free to leave a comment with your suggestion or email us.
---
Las Vegas Family Vacation Guide and Travel Tips

See our complete Las Vegas with Kids Guide, with our categorized lists of Las Vegas' best family friendly activities, restaurants, hotels, kid friendly pools, and family shows. Our all-in-one family guide will help you plan that perfect Las Vegas vacation with your kids.
---
Photo Credits: High Roller courtesy of Caesars Entertainment | The Tank courtesy of Patrick Breen | Eiffel Tower Experience photo courtesy of Paul Mirfin | Shark Reef Tunnel, Bellagio Fountains, White Lions, Titanic Piece courtesy of MGM Resorts International | Viva Vision Light Show courtesy of Kent Kanouse and Valley Of Fire State Park courtesy of James Marvin Phelps via license | Topgolf by Michael Baxter | Neon Museum courtesy of Paul Gorbould and Mob Museum courtesy of ATOMIC Hot Links via license | Exotics Racing courtesy of Sean O'Shaughnessy via license | Venetian Hotel Gondola photo courtesy of Las Vegas Sands Corporation