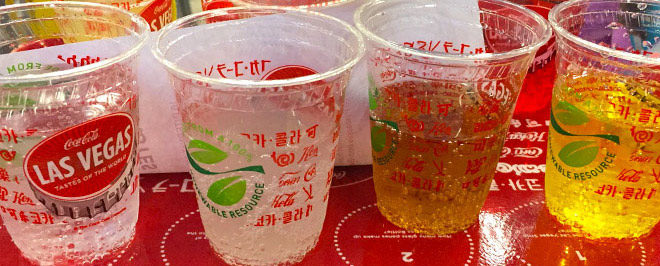 Everything Coca-Cola and Sodas from Around the World
Everything Coca-Cola, a.k.a. the Coca-Cola Store is located in the Showcase Mall on the Las Vegas Strip just north of the MGM Grand Hotel & Casino. The outside of the Coca-Cola Store features a giant 100-foot tall Coca-Cola bottle and the store itself is two-stories. The first floor of the store is a retail shop that sells a variety of Coca-Cola-branded products. The second floor has a great beverage bar that serves Coca-Cola brand beverages as well as 16 global brands of sodas that they serve together and call it Tastes of the World which is served on an Around the World tray.
Everything Coca-Cola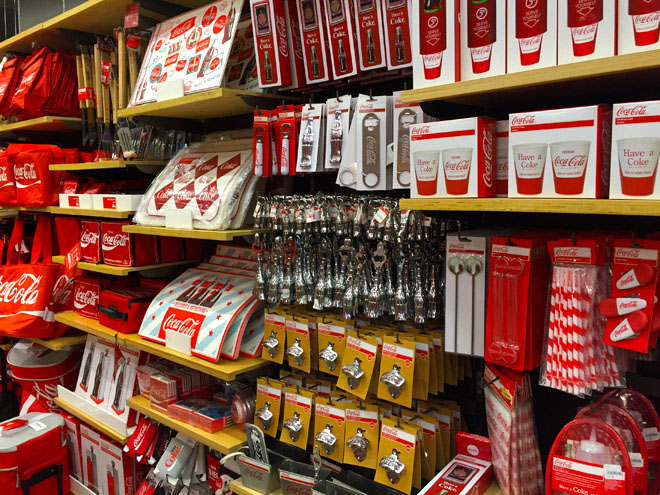 If you or someone you know is a Coca-Cola fan, this is the place to shop for Everything Coca-Cola. The store is stacked with Coca-Cola products from top to bottom and ranges from retro to modern day. The brand products that they sell in the store range from apparel and accessories to household items and novelties. The store also has the Coca-Cola polar bear that will pose for a picture with you and the family.
Tastes of the World at the Coca-Cola Store
The second floor of the Coca-Cola Store is where you will find their beverage bar and its seating area. The store offers up some of their Coca-Cola brand beverages and their fun Tastes of the World. The Around the World Tray consists of two trays that have sixteen sodas from across the globe. The two red trays have numbered circles that match the menu list of sodas/countries that you get with the tray. Each cup of soda is filled with about 1/3 of a soda can, so you get a good amount of drinks with your two trays. We have done this with two of us, where it was too much to drink and more recently, with a group of six (three adults and three kids) where it was a perfect sized taste of each soda. They also offer a third tray, the float tray, that consists of eight domestic sodas topped with ice cream.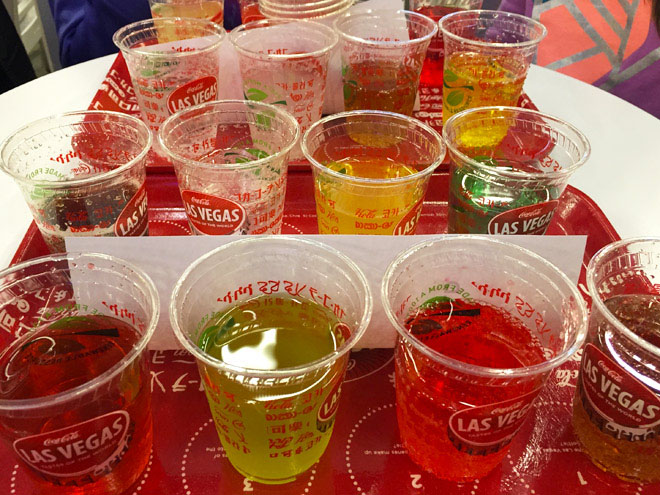 This was a very fun experience for our group as you didn't know what to expect from each tasting. I don't want to spoil your fun by telling you which sodas were the tastiest and which ones had put a yuck face on us, because not knowing is half the fun. I can tell you that about one-fourth of the sodas were very good, two-fourths were good and one-fourth were "an acquired taste." Each tasting might surprise you as one drink that I kind of liked, was the least favorite of everyone at my table as well as a few online reviewers. All in all, it was a fun hour spent tasting drinks from around the world and our preteens said it was the highlight of their night.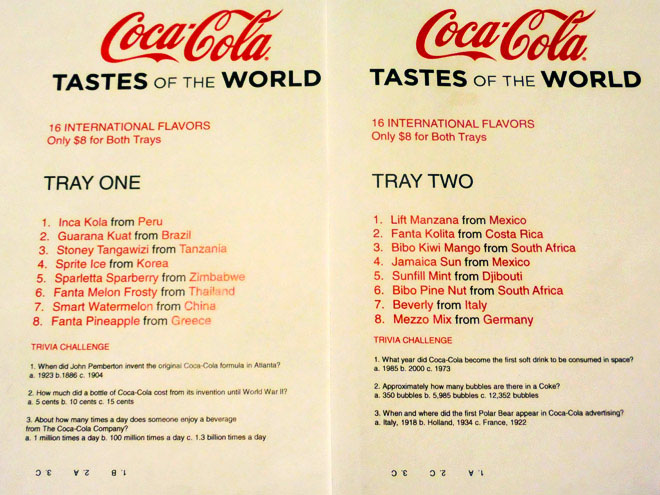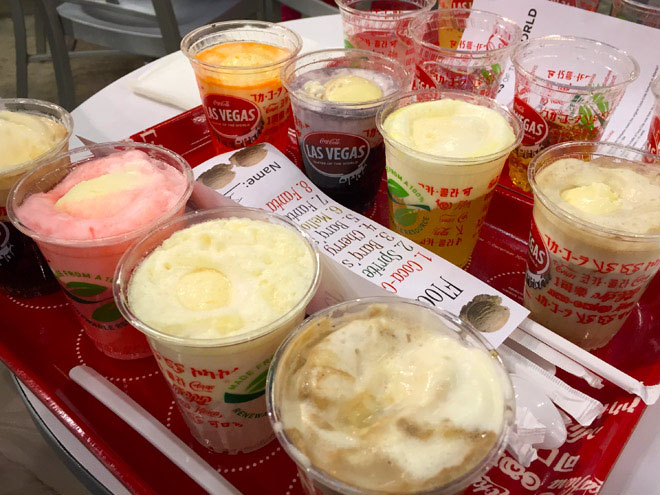 Around the World Tray Sodas
Inca Kola from Peru
Guarana Kuat from Brazil
Stoney Tangawizi from Tanzania
Sprite Ice from Korea
Sparletta Sparberry from Zimbabwe
Fanta Melon Frosty from Thailand
Smart Watermelon from China
Fanta Pineapple from Greece
Lift Manzana from Mexico
Fanta Kolita from Costa Rica
Bibo Kiwi Mango from South Africa
Jamaica Sun from Mexico
Sunfill Mint from Djibouti
Bibo Pine Nut from South Africa
Beverly from Italy
Mezzo Mix from Germany
Around the World Float Tray
Coca-Cola Float
Barq's Rootbeer Float
Mellow Yellow Float
Sprite Float
Cherry Coke Float
Barq's Red Creme Soda
Fanta Grape Float
Fanta Orange Float
Past Around the World Tray Sodas
Thums Up from India
Sunfill Blackcurrant from Mauritius
Vegitabeta from Japan
Fanta Magic from Estonia
Simba Guarana from Paraguay
Kinley Lemon from England
Krest Ginger Ale from Mozambique
Ciel Aquarius from Mexico
Smart Apple from China
Crush Lemon from Bahrain
Bonbon Anglais from Madagascar
Sparletta Sparberry from Zimbabwe
BonAqa from Germany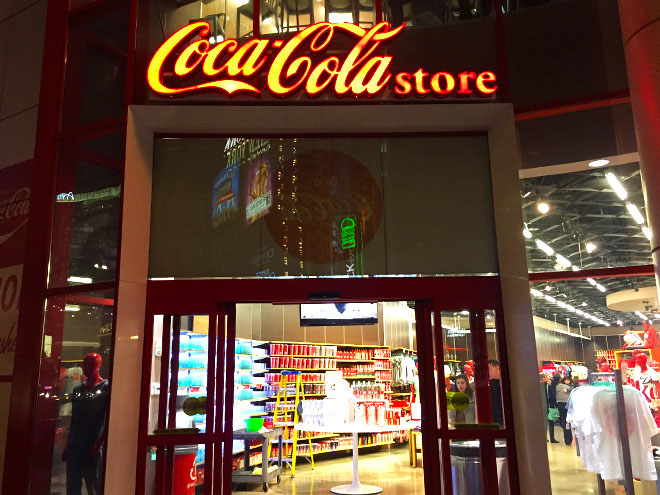 Coca-Cola Store and Tastes of the World Links & Information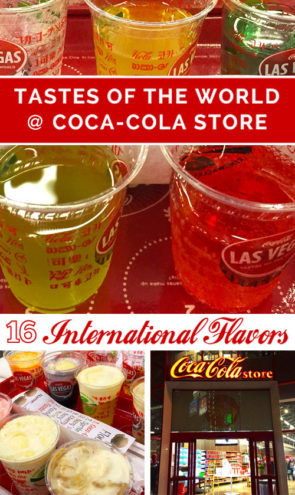 ---

There are plenty of other fun things to do with kids in Las Vegas. See our list of family friendly activities that you and the kids will enjoy together.
---