Real Down-Home Southern Barbeque in Las Vegas
Less than a mile west of the Las Vegas Strip in a humdrum area, sits one of our new Vegas restaurant favorites. We had been eagerly anticipating our visit to Rollin Smoke Barbeque since last year when we had to pass it up due to our tight schedule. On our recent family vacation to Vegas we made sure to pencil in a meal there and are we glad we did.
We arrived to Rollin Smoke Barbeque amid a power outage to a large grid of off-strip Las Vegas. We walked into the darkened restaurant and found out that there was no word on when the power would be back on. We had contemplated leaving, but the heavenly barbeque aroma kept us hanging around waiting for those electrons to start moving again. We decided we couldn't wait any longer and actually started eating in the semi dark. Luckily, the power came back on 20 minutes into our meal and we were able to enjoy the rest of our meal without our iPhone flashlight.
Rollin Smoke Barbeque Entrees
As we often do at restaurants, we asked the staff to suggest some of their favorite dishes for us to try, so that we don't miss out on their signature items. "Big Mike" and Dusty Ardoin were happy to pick out the best dishes for us and we were served an amazing variety of slow hickory smoked barbecued meats. Our feast consisted of baby back ribs, beef ribs, spare ribs, barbecued chicken, the smoked meatloaf, pulled pork and sliced brisket.
Each of the southern style prepared meats we tried had a flavorful smoky deliciousness mixed with a tangy sweetish sauce. The ribs and chicken were all fall-off-the-bone barbeque goodness which our measly plastic fork had no problem slicing through. Our favorite of the bunch was the slab of baby back ribs, but the beef ribs and smoked meatloaf were close behind. All of the dishes we had were winners and we would recommend any of them.
Rollin Smoke Barbeque Side Dishes
A good side dish can really add to a meal and the three sides we tried did exactly that. We started off with the corn nuggets which were lightly battered, soft yet crunchy with just the right amount of sweetness. After that we had the bacon potato salad which was a perfect blend of slightly creamy and oniony potato salad that is topped with crisp bacon pieces. For the barbecue baked beans we prefer them a bit sweet, but if you like them smoky, then you will enjoy Rollin Smoke's Kicken Beans. Our party of four was split between the bacon potato salad and the corn nuggets being our favorite side.
Rollin Smoke Barbeque Desserts
Sticking with their down home goodness, Rollin Smoke Barbeque does not disappoint with their yummy desserts that fit in perfectly with their southern menu. To top off our amazing dinner, we decided to share an order of the Mama's Banana Pudding, Southern Peach Cobbler and Country Black Berry Cobbler. While each of the desserts was really delicious, the Mama's Banana Pudding with Nilla Wafers and banana slices was our family's unanimous favorite.
Why We Recommend Rollin Smoke Barbeque For Families
Delicious Hickory Smoked BBQ
Tasty Sides & Desserts
Great Menu Variety
Casual Down-Home Atmosphere
Generous Portions
Great Prices
Wonderful Staff
Rollin Smoke's Tanked Fish Tank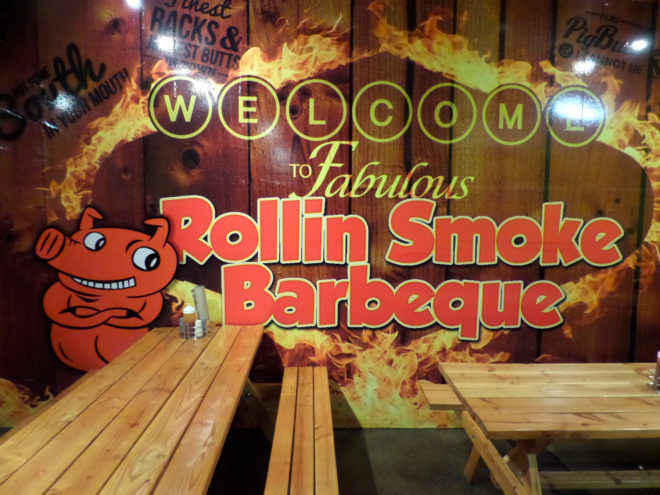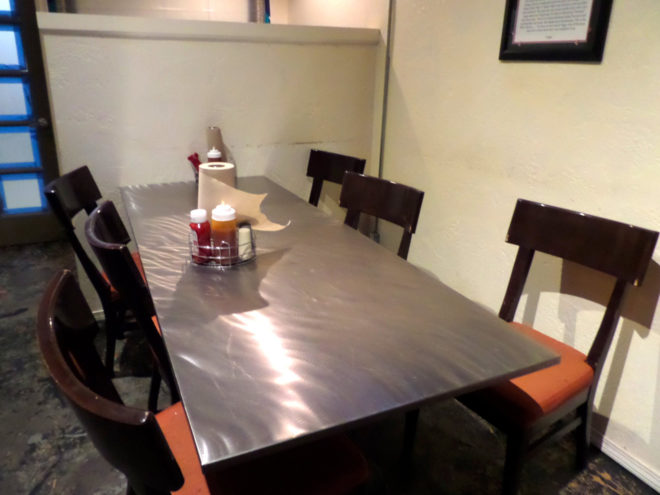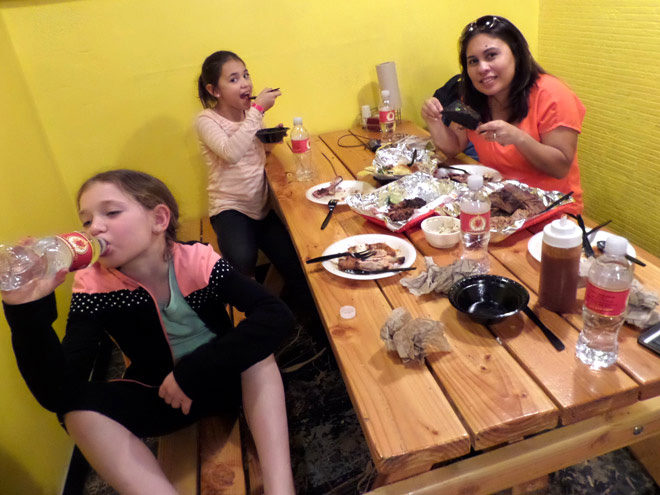 We were told that Rollin Smoke BBQ and Rick Harrison are teaming up and will soon be opening Rick's Rollin Smoke Barbeque across the parking lot from the Gold & Silver Pawn Shop from Pawn Stars. A nice addition for the many tourists waiting in line and visiting the Pawn Stars shop.
If you and the family are looking for great BBQ food at reasonable prices that's served by a friendly staff, then you don't want to pass this place up. Our family really enjoyed our meal at Rollin Smoke Barbeque and we will for sure be stopping in for a meal each time we are in Las Vegas. Don't miss our Best Family Restaurants in Las Vegas article for more family friendly restaurant recommendations on and off the Las Vegas Strip.
Visit the Rollin Smoke Barbeque Website for more information on the restaurant and their menu items.
---
We were provided a complimentary meal at Rollin Smoke Barbeque for the purpose of covering it on our blog. Regardless, we would only recommend places, restaurants, activities or services that we would use/visit personally and that we believe will be good for our readers.