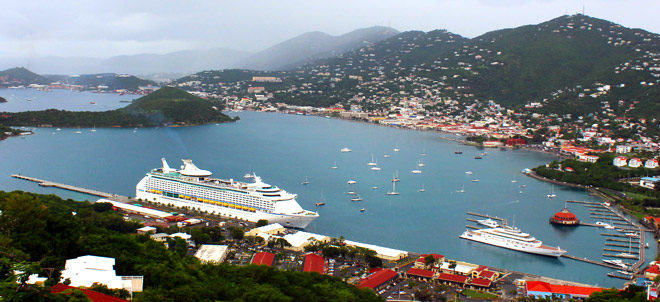 Family Friendly Activities on St. Thomas in the U.S. Virgin Islands
Whether you are staying on the island or just stopping by for the day from your cruise, this Caribbean paradise has plenty of kid friendly fun to offer the family. From relaxing on its world-renowned beaches and snorkeling in it crystal clear waters to zip lining through the rain forest and parasailing high above the water and everything in between, you can see why this is a top Caribbean destination. With such a wide variety of things to do with kids in St. Thomas, we have listed out our top recommendations to help you plan your perfect family day on the island.
---
Parasailing in St. Thomas
If your family is always looking for some excitement when on vacation then parasailing should be towards the top of your things to do with kids in St. Thomas list. Fitting this family friendly bucket list item in your itinerary couldn't be easier as it is located walking distance away from the Havensight cruise ship dock and takes about an hour total. Guests hop onto a powerboat and speed by the docked cruise ships on the way out to beautiful Morningstar Bay. As the boat arrives at the parasailing spot, guests gear up to take their turns for each 8 – 10 minutes long adventure. The boats are equipped with a launch and recovery system that will have you take off and land directly from the back of the boat. Once you get in the air you are floating 350 feet up in the air and get a bird's-eye view of St. Thomas. It is a very calm, yet exciting experience, with a view you can't get anywhere else. Don't forget to ask your captain for a dunk, where they slow the boat down just enough to dunk you in the water up to your waist. Visit Parasail Virgin Islands website for more information.
---
Zip Lining in St. Thomas
Another adrenaline fueled adventure for the thrill seekers visiting St. Thomas is ziplining through the rainforest of St. Peter Mountain, which provides your family with breathtaking views of Magen's Bay, Jost Van Dyke and the surrounding islands. There are six exhilarating ziplines situated high up in the tree tops of the tropical jungle with each zipline run being a unique experience of its own. With speeds of up to 35 miles per hour, these ziplines will give you plenty of excitement while you glide through the beautiful scenery. In between zipline runs there are sky bridges to cross and aerial platforms to take in the sights, which most people would pay to see even without doing the ziplines. The last zipline is the perfect way to end your zip line runs for the day. After you take in the beautiful scenic views of the islands from your canopy deck, you strap in and get ready to race down the most exciting zipline of them all. Called a yo-yo zipline, this last run will have you zooming down the zipline with no end in sight. As you pass the midway point the zipline rises up and as you lose your speed you head back the way you came in but now backwards. The highlight zipline run of them all! See Tree Limin' Extreme's website for more details on this exciting adventure.
---
St. Thomas Beach Resort Day Pass
When looking for things to do with kids in St. Thomas, one of the most obvious choices is to visit one of its beautiful tropical beaches. The island has many choices and each beach has its own unique characteristics and appeal. During a busy day on the island with multiple cruise ships in port, some of those beaches can get pretty busy and touristy. If your family is looking for a very relaxed beach day without the masses, we recommend looking into a day pass at a resort with a beautiful beach and other resort amenities.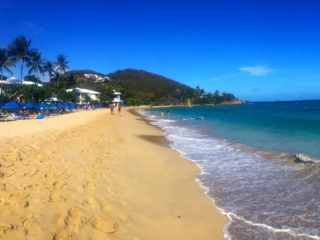 Frenchman's Reef & Morning Star Marriott Beach Resort – The Marriott Morning Star Beach Resort offers a resort day pass that includes access to the private Morningstar beach, their resort beachfront pool, a whirlpool, lounge chairs, umbrellas, towels and complimentary internet. The private beach was beautiful with soft white sand, aqua blue waters, rows of resort lounge chairs, plenty of shade and not crowded at all. It was a great alternative to the crowded public beaches on a day like our port day with four cruise ships docked on the island. This was the perfect way get in some other St. Thomas activities and still have some time to relax on a beautiful private beach. The resort is a short 10 minute ride from the Havensight cruise ship dock, aka West Indian Company Dock, and its proximity to the cruise ship dock will allow you to spend more time at the beach and less time in a taxi. Getting our resort day pass through Resort for a Day, we got the Sun Seekers Beverage Package that came with a $50 beverage credit towards drinks that are served on the beach at CoCo Joes Beach Bar. For those not looking for drinks during their resort day, they also offer a non beverage package for less money.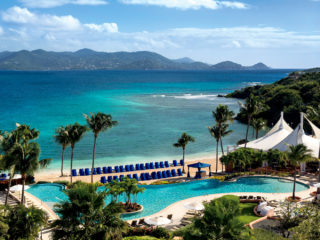 The Ritz-Carlton – On the east side of St. Thomas, the Ritz-Carlton blends its luxurious comforts with the Caribbean culture. The beachfront resort allows guests to enjoy their day on the white sand beach of Great Bay, use of non-motorized water sports equipment, swimming in their infinity-edge pool or traditional pool and soaking in its Jacuzzi. The resort's aquatic center features numerous water activities like stand up paddle boards, kayaks, snorkel equipment and more. Day sails, sunset cruises and private charters can also be booked aboard the 53-foot luxury catamaran, Lady Lynsey.
---
Skyride to Paradise Point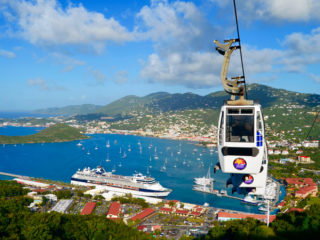 For one of the best views on the island, the Skyride tramway transports guests high above St. Thomas harbor to Paradise Point. Visitors board an aerial tramway that whisks them to the top of the island in just seven minutes for a ride they won't soon forget. Once at Paradise Point you will be 700 ft. above the town of Charlotte Amalie and get sweeping views of the city, it surrounding islands and far beyond. While at the top you can also do some shopping, grab some lunch and sip on their famous Baileys Bushwackers frozen drink all while enjoying the amazing view. Located across from the cruise ship dock, it is an easy walk for those with kids and it is open every ship day at 9 AM, so check out the Skyride to Paradise Point's website for more information.
---
St. Thomas' Famous Beaches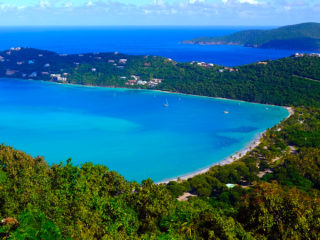 Magens Bay – This beautiful white sand beach stretches almost a mile along the north side of the island and is the top draw for the beach going tourists. The blue tropical waters at the beach are pretty calm and it makes for a family friendly beach where the kids can easily swim and they even have lifeguards on duty. Along with shops, restaurants and bars, there are booths on the beach that offer beach chairs, umbrellas, paddle boards, kayaks, floaties and much more for rent. If your family is looking for a gorgeous beach with kid friendly waters, then Magens Bay should be at the top of your things to do with kids in St. Thomas list.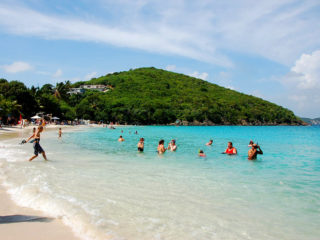 Coki Beach – Although Coki Point is not a very big beach; it makes up for that with crystal clear water and some of the best snorkeling on the island. With fairly calm surf and clear waters, visitors can see (and feed) a variety of tropical fish near the dive reef towards the end of the beach. Experienced swimmers and snorkelers can venture out further to see more reefs. Coki is a bit more busy and touristy than some of the other beaches and has many vendors selling and renting guests almost anything they would need for a day at the beach. Located on the North East side of the island, Coki is right next to Coral World Marine Park, which could be combined with the beach to make a fun family day.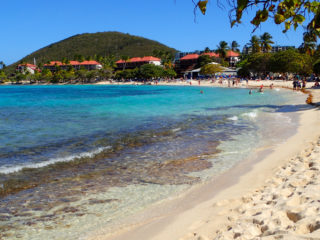 Sapphire Beach – Another tropical beach with beautiful white sands and crystal blue waters. Sapphire Beach is another good snorkel spot with reefs on both ends of the beach and also has a good choice of various water sports nearby. Not overly done with vendors, restaurants and shops, the beach is for those not needing everything for sale right by them and are instead rewarded with a little less hustle and bustle.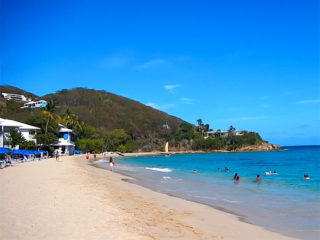 Morning Star Beach – This is the perfect beach to get away from the crowded public beaches. Morningstar beach features soft white sand, turquoise waters, lounge chairs with umbrellas, beachfront pool, beachfront restaurant, beach side bar and other resort amenities you won't find at other beaches. Unlike some of the other beaches, this South facing beach has some mild surf, so expect some fun and small waves when swimming/wading in the water. This is a great choice for your family day at the beach, which has a more relaxed atmosphere, resort amenities, is close to the cruise ship dock and still gives you a top notch Caribbean beach to spend your day. While buying a resort day pass might seem like a bit of an extravagant expense when you can just go to the public beaches, by the time you add up taxi fare, public beach admission, chair rentals, etc., you are more than halfway there with none of the resort perks. But we don't think you will be disappointed either way.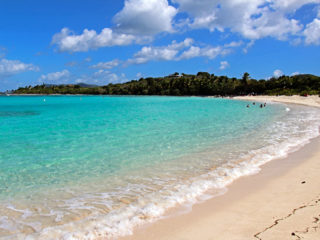 Lindquist Beach – While being one of the most gorgeous and pristine beaches on our list, Lindquist Beach (or Smith Bay) has very little amenities available and requires you to bring your own everything. If you are okay with bringing everything you need for a family day at the beach, you will be rewarded with the clearest of turquoise water and gentle surf that is perfect for you and the kids to go swimming in. The soft white sand beach is surrounded by trees, bushes and groves as it is a government owned and protected area. If a secluded beach paradise is something your family is looking for, then head on over to Lindquist Beach on the north part of the island.
---
Coral World Ocean Park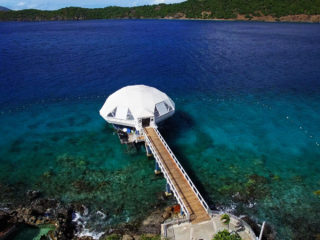 This 5 acre Eco marine park is located on the North East side of the island at Coki Point. Coral World has a variety of activities and attractions with aquariums, underwater viewing of the Caribbean sea, touch pools, reefs, nature trails and more. The park's Undersea Observatory is a three story tower that sits offshore and allows guests to go under the surface and view fish and other marine life coming and going around the reef. Another popular attraction is the Caribbean Reef Encounter that is an 80,000 gallon coral reef aquarium that is home to hundreds of fish that are found in the surrounding Caribbean waters. If you are feeling adventurous, Coral World also has many activities you can add to your visit, such as SNUBA, sea lion, turtle and shark encounters and the semi submarine ride. There is a lot to do and see at the park and with Coki Beach a short walk away, you can spend the whole day with the kids without going anywhere else. Visit Coral World Ocean Park's website for more information.
---
Blackbeard's Castle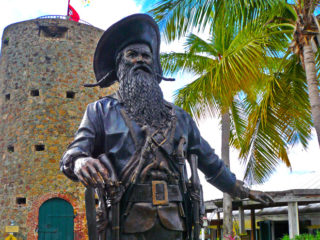 Located in the heart of Charlotte Amalie, this famous historic landmark sits on five beautiful acres that overlooks the city. The jewel of the property is the Skytsborg Tower, which was built in the late 1600s as a way to spot incoming enemy ships. As the tower was built for observing the harbor, this area has some of the best views of Charlotte Amalie and the surrounding islands. Blackbeard's Castle has three historic manor houses as well as numerous life-sized pirate sculptures that add to its charm and character. The property has many tropical gardens, terraces and fountains to enjoy while taking in the views. Also, there are three pools on the property that guests are allowed to use and they do have changing rooms to boot. When you are done, take a walk down the famous 99 Steps and find yourself in the shopping district. Visit the Blackbeard's Castle website for more information.
---
We hope our list of things to do with kids in St. Thomas will help you plan your perfect family day on the island. Feel free to leave us a comment or email us with any questions or suggestions you have about planning your stay on the island.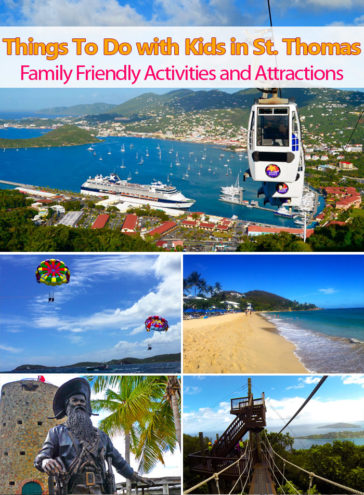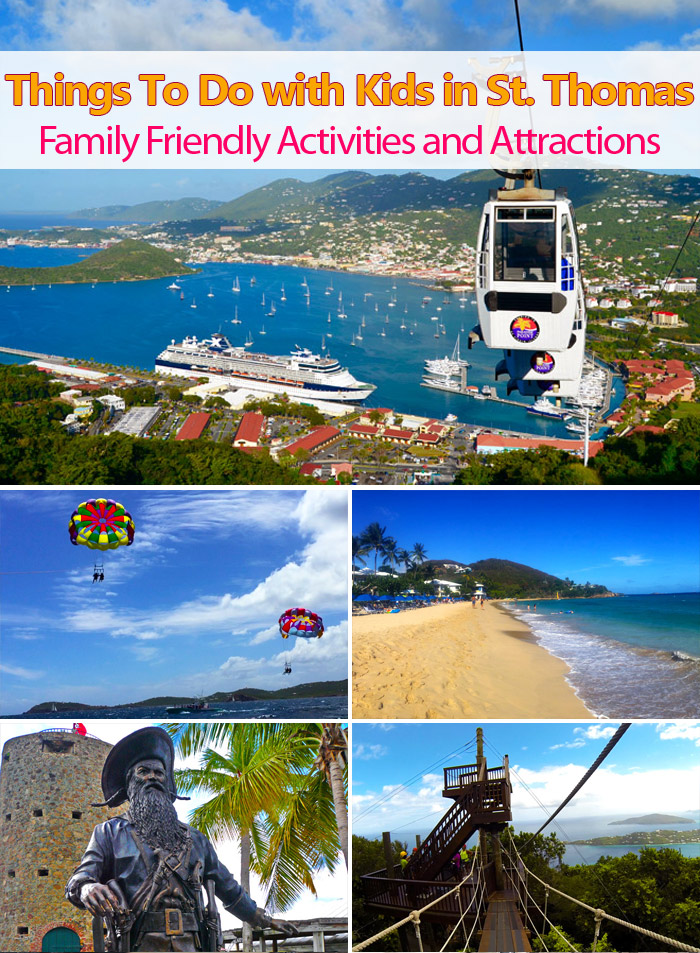 ---
We were provided media passes to Tree Limin' Extreme zip lines, Parasail Virgin Islands and Resort for a Day for the purpose of reviewing it on our blog. Regardless, we would only recommend places, activities or services that we would use/visit personally and that we believe will be good for our readers.
Photo Credits: The Ritz-Carlton by Courtney Hayden | Coki Beach by Steve Hajjar, Coral World Ocean Park by Compass Cinema and Blackbeard's Castle by Bart Heird via license | Sapphire Beach by Dave Darrah via license | Lindquist Beach by Carolyn Sugg and Skyride to Paradise Point by Matt Wade via license | Magens Bay by Greg Heartsfield and Charlotte Amalie by Prayitno via license