A Hands-On and Family Friendly Zoo
Prior to hurricane Gilbert, Crococun Zoo was only know as a crocodile farm, but since then it has dedicated itself to helping bring awareness and education to people about the animals, habitats and their environment.  Crococun Zoo has since become a 100% conservationist project dedicated to working with  many species of animals local to the cities habitat, all within their natural environment.
On our visit to Cancun, we met up with the Director of Public Relations for The Bureau of Tourism for Cancun who suggested we visit Crococun Zoo.  We were so glad we did!  Our experience there was just that – AN EXPERIENCE!  I was expecting to see some crocodiles, a few birds and maybe some snakes in the traditional setting that i have only know and  have only experienced in the U.S. zoos growing up, but this was quite the contrary!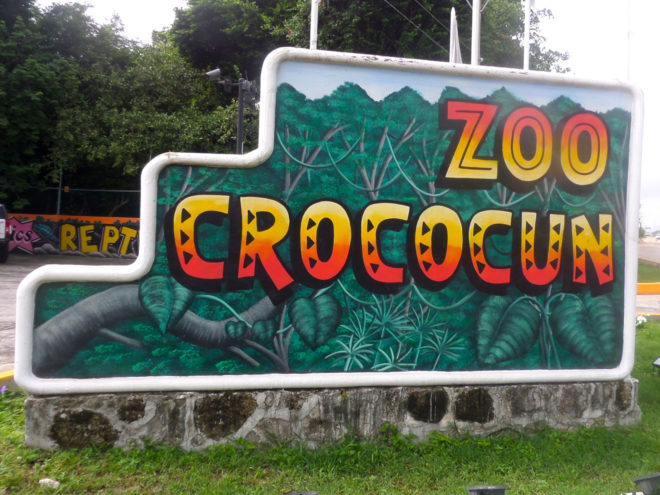 Upon arrival we purchased a bag of food for the animals which the tour guide suggested we place in his Indiana Jones-style bag.  At that very second I thought, "This might turn out to be a little different zoo than I expected." After just a few steps into the narrated tour, we came upon a few macaws who were eager to chat with us, do tricks and we even had a chance to take pictures with them and feed them some peanuts.
---

See the CrocoCun Zoo and all of our other family activity recommendations for Cancun on our
Cancun Tourist Map with Points of Interest
.
---
Every turn was an experience; one that I had never experienced before with a traditional zoo.  We held baby crocodiles, wrapped snakes around our necks, fed the wild monkeys bananas, petted some Mexican hairless dogs (Xoloitzcuintle) and fed the deers some carrots.  We walked through a jungle and even took a few pictures up close and personal inside the actual crocodile habitat – without a fence between us!
All along the way we enjoyed many animals in what was seriously as close to "a natural habitat" as one could ever get to see within an organized fashion. Make sure when visiting the zoo, that you bring insect repellant because there are some mosquitoes due to the environment and humidity. Yes, they are in their natural habitat too!
Crococun Zoo's goal is to educate and create lasting memories for you and your children, in both mind and heart.  I am sure that my daughter won't soon enough forget the experience the zoo provided, as I know this will be an experience I won't soon forget either.
Crococun Zoo is located only about 25 minutes by car, from the main hotel strip in Cancun. For more information about the park, tickets and directions visit the CrocoCun Zoo website.
We were provided with free entry into the Crococun Zoo for the purpose of reviewing it on our blog. Regardless, we would only recommend places, activities or services that we would use/visit personally and that we believe will be good for our readers.